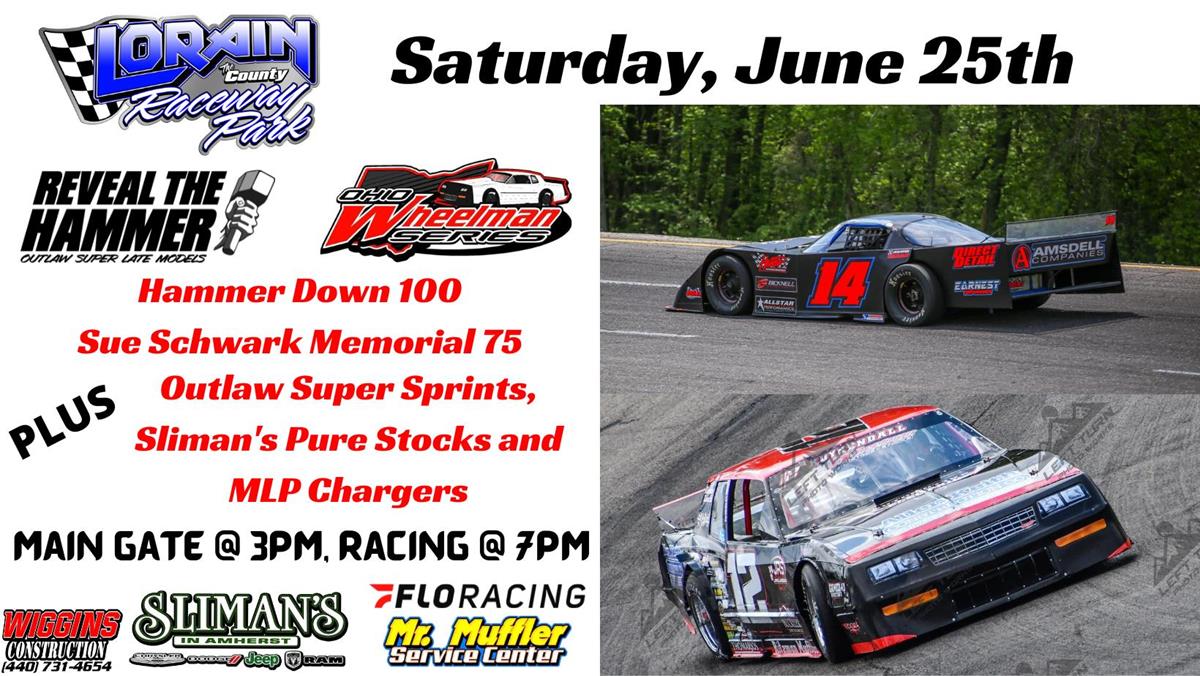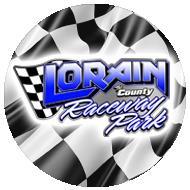 6/22/2022
Lorain Raceway Park
---
Saturday, June 25 - Hammer Down 100/Sue Schwark Memorial 75
Hammer Down 100 - Reveal the Hammer Outlaw Late Models and Sue Schwark Memorial 75 - Ohio Wheelman Series Informational Post
Everyone here at Lorain Raceway Park is so excited to welcome race fans, crews and drivers from multiple states and different backgrounds to the Hammer Down 100 and Sue Schwark Memorial 75! This event will feature multiple different divisions of racing and will be a show for the ages!
Lorain Raceway Park, 9100 Leavitt Rd Elyria, OH 44035
Saturday, June 25, 2022
Pits Open at 1pm, Main Gate Opens at 3pm, Hot Laps start at 3pm, Racing at 7pm
General Admission: Adults - $22, Seniors 65+ - $15, Kids 6-12 - $10, Kids 5 and under FREE
*** No presale tickets will be sold
Pit Admission: Adults - $30, Kids 12 and under - $15
No presale pit passes will be sold. We may open the gates early in order to keep traffic down. Teams are more than to come earlier to unload and prepare for the day, however, we will clear the pit area to sell pit passes when need be
The Hammer Down 100 for the Reveal the Hammer Outlaw Super Late Model Series is based off the price and appreciation of Truckers all around the country. In a very tough economy and way of life now in the United States, we need to be extra thankful for our truckers!
The Sue Schwark Memorial 75 for the Ohio Wheelman Series Street Stocks truly makes this race an event as Sue was heavily involved in promoting Late Models and Street Stocks in the Midwest for years. Her love for this sport was endless and we are beyond honored to host an event in her name!
5 divisions of racing action will be on hand including the Reveal the Hammer Outlaw Late Models in the Hammer Down 100, the Ohio Wheelman Series Street Stocks in the Sue Schwark Memorial 75, the inaugural show for the Outlaw Super Sprints, Sliman's of Amherst Pure Stocks and MLP Lawncare Chargers
FloRacing will be broadcasting the racing live through the Reveal the Hammer title!
Thanks to our friends at EMS Payment Solutions, we accept credit cards at the Pit Gate, Front Gate, Merchandise Trailer, Concession Stand and Beer Cave! Cash is king and still accepted and greatly appreciated!
The County Cafe concession stand will be open and ready for your eating enjoyment as always! There may also be a food truck on hand to help ease concession lines!
The Beer Cave will be open and stocked with all your iced cold beer! Bud Light, Budweiser, Labatt Blue, Labatt Light, Seltzers and more!!
Any questions, comments or concerns please contact Promoter, Randy Maggio Jr directly at 216-276-0522. Or through email at thepainesvillespeedway@gmail.com
---
Submitted By: Randy Maggio jr
Back to News