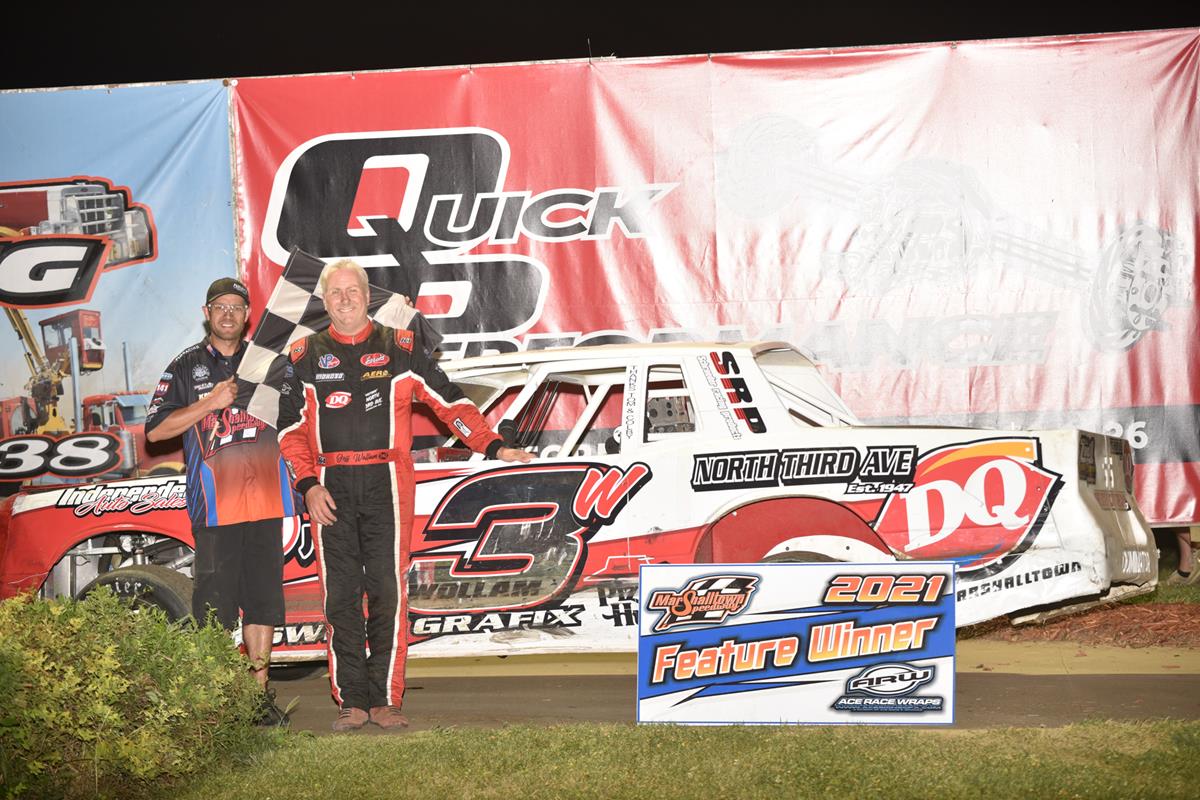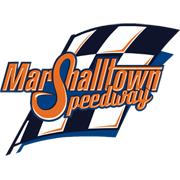 8/14/2021
Marshalltown Speedway
---
Schrage cashes in on $1,000 win, and Wollam takes it back to Victory Lane
August 13, 2021
It was Bob Harris Enterprises Night at the Marshalltown Speedway Friday night, with $1,000 on the line for winning the IMCA Northern SportMod feature. At the end of the night, three new drivers would find their way into the winner's circle,...one of those drivers after many year's absence, and two others would make return visits.
The IMCA STARS Mod Lites kicked off the feature racing with their 15 lap A main. Point leader Josh May started fourth, and had the lead with just a handful of laps in the books. It was all May's race from there on out, as he pulled away from the field to take the easy win. Cory Sonner finished as the runner up. Third went to Matamora, Illinois racer Brandon Freeburg who started ninth, fourth was Bryan Zehm, and early leader Mike Kennedy took fifth. The race went caution free. This was May's second feature win of the season at the track.
Up next was the $1,000 to win IMCA Northern SportMod 20 lap event, in a draw/redraw show for the class. Cory VanZante and Travis Petersen led the field to green, with Petersen taking command. Petersen held that lead for the first five laps but it only took Jenae Gustin to lap six to snatch it away. Gustin was then looking strong....and looking to repeat her previous three race wins. Meanwhile, ninth place starter Austin Schrage had made his way through the pack, fighting his way past Petersen and Shane Paris and was now in the second spot with his eyes set on the 19J of Jenae Gustin. Schrage kept digging low for a way around leader Gustin but just couldn't get it to work. A caution flew at lap sixteen, and on the restart it was Gustin out front and now Schrage was fending off Brayton Carter as well as Paris. After digging on the low side, Schrage changed his line, went up top, and at lap eighteen made that unaccustomed line work for him, taking over the top spot. He would then hold it the final circuits to take the $1,000 checkers. Twelfth place starter Brayton Carter finished as the runner up, Gustin fell back to finish third, Shane Paris was fourth, and Travis Petersen rounded out the top five. This was Schrage's first win at the High Banks this season.
Kaden Reynolds has been on a roll in the IMCA Hobby Stock division, chalking up win after win, and this night was no different for the driver out of Cedar Rapids. He started tenth, and took over the lead just after lap five was scored, and was able to hold off a hard charging Braden Richards, who finished second. Solomon Bennett, Luke Bird, and Luke Schluetter completed the top five. This was the tenth feature win of the season for Reynolds, plus he also won the Frostbuster special.
It was a popular win in the IMCA Stock Car class as veteran racer Jeff Wollam put the Dilly Bar Special 3W in victory lane! Wollam started eighth, caught early leader Will Sheen, Lamesa, Texas visitor and was able to make the pass into the lead on lap seven. The latter laps saw Wollam stretch it out from the field, and score the easy victory. Second went to Dallon Murty who advanced all the way from starting fourteenth, Jared Daggett ran up front all race long and finished third, fourth went to twelfth place starter Damon Murty, and Steve Meyer started tenth, and finished fifth. After a long absence from a visit to victory lane, dating back to June 3, 2016, Jeff Wollam found it once again.
The night cap was the 20 lap IMCA Modified feature. Kellogg, Iowa's David Brown flew around then leader Jesse Belize on lap two, and was looking strong, riding the rim in turns three and four, and dipping to the lower line in one and two. He had strong hitters running him down however, as Dylan Thornton, Jake McBirnie, and Tim Ward were big time company. Brown was still leading at lap thirteen, when he was suddenly off power, pulling into the infield without any incident. This now put Tim Ward in command, and he would keep it through the final laps, to take the checkers. Jake McBirnie came from eleventh to take the runner up position, Dylan Thornton took third place, fourth went to Ronn Lauritzen, and Paul Nagle hard charged from twenty-second to finish fifth. Ward, who started tenth, made his first appearance in victory lane this season.
Next Friday, August 20, is Toby K's Hideaway Night at the races. The IMCA Sport Compacts will join the IMCA Modifieds, Stock Cars, Northern SportMods, Hobby Stocks, and STARS Mod Lites for a full night of racing action. Hot laps are 6:50 with racing at 7:30.
---
Submitted By: Jerry Vansickel
Article Media
Back to News