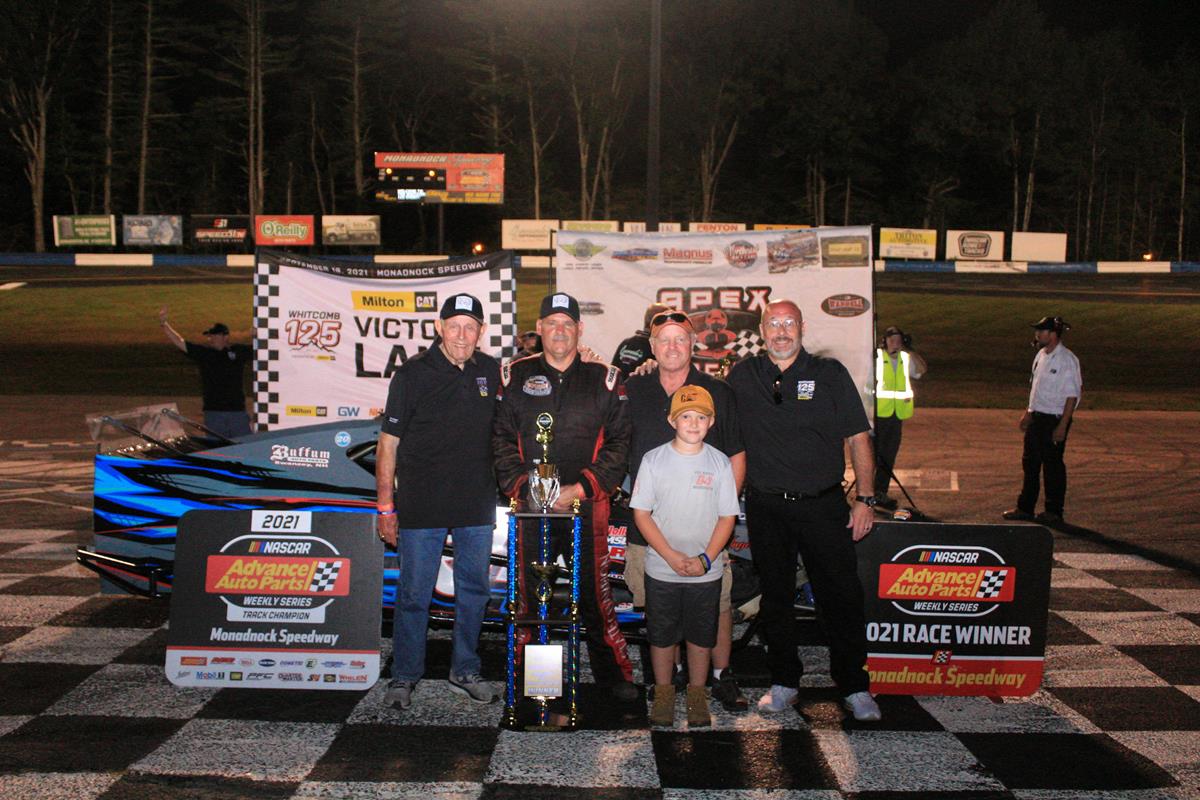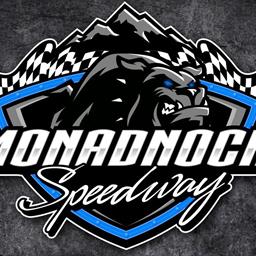 9/20/2021
Monadnock Speedway
---
CHAMPS CROWNED SATURDAY AT MONADNOCK SEASON FINALE
Monadnock Speedway September 18 event story
By Gary Dutton
WINCHESTER, N.H. – Todd Patnode raced into the record book Saturday at Monadnock Speedway, blasting to victory in the nightcap 50-lapper of the Whitcomb 125 presented by Milton Cat NHSTRA Modified main event to wrap up his eighth premier division championship at the high-banked speedplant.
Nate Wenzel came home third in the Street Stock feature to cap his second speedway crown in as many years, having titled in the Mini Stock division a summer ago. He finished third in Saturday's season finale, taking the checkers behind his brother Tim and former track champion Dave Greenslit.
Claremont's Haydon Scott scored his first career Monadnock Speedway Late Model Sportsman feature win, earning the top spot in a wild one, with one-time 2021 winner Austin Brehio finishing at his bumper to secure his first LMS championship.
In the Mini Stocks, 20 strong on Saturday, Louie Maher won his second track title, content to ride home sixth, as Fitzwilliam Flyer Gordon Farnum rocketed to his 11th win of the summer.
Pure Stock star Chris Davis locked up his fourth four-holer championship, putting an exclamation mark on his title run by winning his second race of the year. And in the Young Guns, Dominick Stafford, more than 35 years younger than both Patnode and Davis, scored the second victory of his rookie season.
Sunapee's Brian Robie, the NHSTRA Modified kingpin and former track champion, picked up a $500 bonus Saturday by setting fast time in early event time trials, turning a lap in 12.679 seconds and then wired the first Whitcomb 50-lapper.
Taking the green from Saturday's honorary Grand Marshal, NASCAR legend Bob Whitcomb, Robie never looked back, slowed by only one caution en route to victory. Matt Kimball finished at Robie's bumper, and Tyler Leary was third, while Patnode's conservative run brought him home fifth, with the 2021 championship all but wrapped up.
In the nightcap, Bay State ace Geoff Rollins set a fast pace over the first 28 laps, then giving way to Trevor Bleau, who was victorious a week earlier. Bleau's stay at the point was brief, though, as Patnode took charge on lap 32, then charging off to earn his sixth victory lap of the summer and, with it, the championship. Bleau was a close second, with Kimball strong in notching his second top-three of the day.
Justin Littlewood and Cam Curtis were racing eyeball-to-eyeball toward victory in the LMS feature when Littlewood went up and over a lap car on the final go-round and, with Curtis forced pitside for rubber, Haydon Scott moved to the front and powered off to his first win on the high banks.
Austin Brehio completed his one-win summer in second, with it earning his first LMS championship. Claremont's Leo Martin was steady all afternoon to earn the third-place hardware.
Four-time 2021 Street Stock winner Chris Buffone led every lap but one Saturday. He and Tim Wenzel banged and clanged on the last go-round, dropping Buffone out of the money, while Wenzel earned his fourth win, taking the checkers just ahead of former track champ Dave Greenslit and new champion Nate Wenzel.
Gordon Farnum took charge on lap three of the Mini Stock feature and then left the field far behind as he roared to his 11th win of the season. Strong and steady Kevin Clayton was second, while Louie Maher's conservative run brought him home sixth, his second track crown in hand.
In the Pure Stocks, hometown hot shoe Chris Davis led all the way to cap his 2021 championship season. Eight-time 2021 winner Nick Houle finished at his bumper in second, with teen star JD Stockwell third.
Young Gun Dominick Stafford dominated both his heat and feature races Saturday. Four-time winner Teagan Edson was the runner-up, and Zach Zilinsky third.
In the final event of the season, Leon Kenistion won the Linda Zuverino Memorial 62-lap Enduro. He took the lead when 2020 race winner Matt Gauffin's Saab suddenly slowed on lap 59. Drake Nelson, the King of Claremont, was unofficially second in the 40-car event.
Saturday's Whitcomb 125 event concluded Monadnock Speedway's successful 2021 racing season. During the summer, the storied oval completed 18 events, its schedule only wrinkled by two rainouts and one cancellation due to flooding.
---
Article Credit: Gary Dutton
Submitted By: Michelle Cloutier
Article Images
Back to News