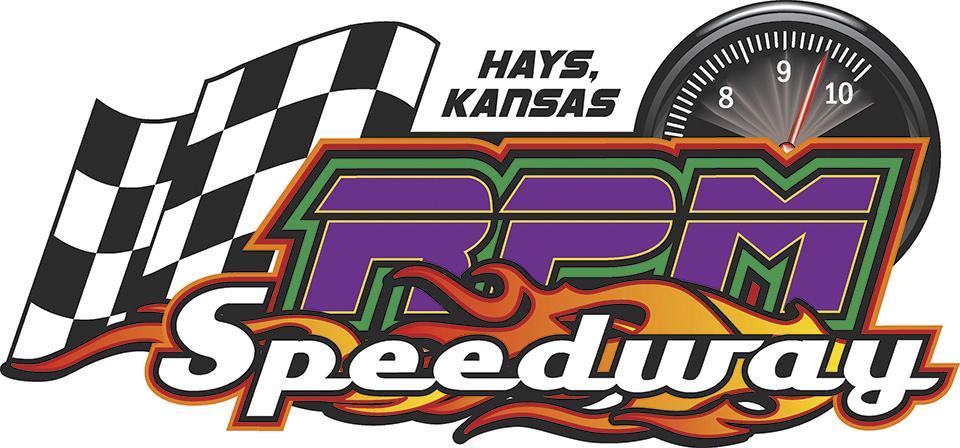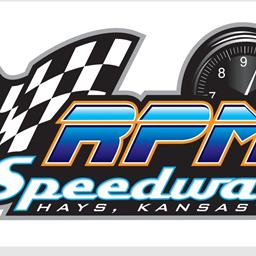 ---
Legendary RPM Speedway ready for the 2020 season
Fans are in for a treat when the green flag drops Friday, March 27 at RPM Speedway for the first official race of Ellis County's racing season.
The speedway's opener, the annual Mike Hughes Sunflower Classic Memorial, is not only one of the three biggest races of the season, but this year it will include 305 winged sprints, dirt track racing's elite class of high-powered cars.
"That's your biggest following, when sprint cars are here. The stands will be fuller," said Glenn Unrein, president of the nonprofit RPM Speedway. "We're trying to make this a bigger and better race track and offer more classes so more people will attend."
Despite Coronavirus entering the state, the race schedule stands for now, said Unrein, and Dean Haselhorst, a volunteer with RPM and an Ellis County Commissioner. "Everybody likes speed," said Haselhorst, who remembers when local racing enthusiasts and the county fair board succeeded in lobbying the county commission to build the track on the Ellis County fair grounds some 13 years ago.
A dirt track built and operated largely with volunteers, RPM operates the track, and a percentage of general admission goes back to the county.
"If you've never been to a race you need to come to it, there's a lot of sheet-metal grinding and paint exchanging," Haselhorst said.
"It's unbelievable how talented these drivers are," Unrein said.
"Those cars are all set up in a special way to drive on a dirt track," Haselhorst agreed. "Whether 40 mph or 80 mph, there's some true talent involved so you don't hit the wall and keep it on the track. You're racing with maybe 10 or 15, 20 other cars at the same time, and your neighbor might only be six inches away from you, and you're going 60 mph-plus. It takes a special person."
Unrein and Haselhorst on Friday at Golden Plains Trucking, where Unrein is a founder and president, gave an update on the upcoming season, knowing the virus could change that.
Like RPM Speedway's other special races, the Sunflower Classic with its bigger purse usually draws drivers from as many as 15 states, as well as some regulars from Canada. The payout for Sunflower, and the even more popular Fall Nationals, can run as much as $5,000, drawn from admission fees, sponsorship's, and pit passes paid by racing teams.
This is the first year for sprint cars at the Sunflower Classic, Unrein said. Besides that class, there will be five other classes of cars.
"Some people come to watch modified, some come to watch the hobby stocks, your beginner class. Some of these kids that are just starting racing, they start out at the entry level and keep working their way up." Haselhorst said. "On our track out here, some of those sprint cars, on a fast night, they'll go 100. Modified's are hitting 80. After that it probably drops down to 50, 60."
Sunflower Classic is season opener
The RPM grandstand holds 1,500 fans. This year's schedule lists 14 different racing events. On an average weekend, RPM will run 100 race cars and 300 people in the pits, Unrein said, and 300 to 500 fans in the grandstand.
"Sunflower Classic, we expect somewhere between 175 and 200 race cars," he said.
RPM Speedway's races are held every other week from March through October, with events scheduled opposite other big tracks like Dodge City.
Fans will notice some changes at the speedway from 2019.
Last year's severe August storm caused nearly $150,000 in damage. Repairs this fall included moving the grandstand back into position and re-anchoring it, building a new concession stand and scale house, and installing new power poles and lights.
The speedway's first event is Saturday, March 21, an annual car show and test and tune.
The day starts at 10 a.m. with a free car show until 2 p.m. at Briney Motorsports, 1000 E. US Highway 40 Bypass. Drivers will show off their new and remodeled cars for the public, followed by practice at RPM Speedway from 6-10 p.m. Admission is free to watch drivers take their practice laps.
Sponsors like Briney and Iowa-based Casey's General Stores Inc. make the difference. "Without sponsorship, some very good sponsors, this race track could not go on," Unrein said. "And every race track around the countryside is the same."
Many nearby small towns had tracks for years, but can't keep them going anymore, he said.
"Like Stockton, it no longer runs except at the fair. Norton is the same way, a few shows a year. Osborne used to have a speedway, and they run a few shows," said Unrein. "Colby still runs, Goodland still runs, more regularly."
2019: 2nd biggest Fall Nationals
The organizers are hoping for better weather this year than last, including for RPM's biggest special event, Fall Nationals.
Last year's was dampened by the weather, the worst of it Friday night, making for a long night Saturday that included Friday's races.
"It was 49 degrees," Haselhorst said. "That's a little tough to sit through in the stands, 49 degrees and windy."
Even so, the 2019 Briney Motorsports 13th Annual Fall Nationals was the second biggest in the track's history. There were 214 cars from 10 states, plus half-a-dozen from Canada.
The 2019 event was surpassed only by 2017 Fall Nationals, when 292 race teams competed from 11 states and Canada.
Unrein reminded that RPM Speedway fans sometimes get to see big-names from NASCAR returning to their dirt-track roots, including Emporia-native Clint Bowyer and Kenny Schrader.
"We have had some stars out here," he said.
"They're there with the rest of the drivers on the track," said Haselhorst. "They may be starting in 15th position, but they're racing with everybody. They compete pretty hard."
"They love a change," Unrein said. "Their rules and regulations with NASCAR are very, very strict. They like to come out and see something different."
3 free bicycle give-aways
This season, RPM will give away 120 bicycles at three different races, May 9 and 23, and Aug. 29. Businesses from Hays and the area, as well as race teams, donate for the give-away. In the past nine years, RPM has given away 559 bikes, assembled and transported by automotive students from NCK Technical College's Hays campus. Kids, admitted free with a paid adult at every race, enter the drawing at the gate, and winners are drawn the same night.
Other events will include: Ladies Night, Black Flag Cancer Night and Remembering Cody Younger Night, all June 13; First Responder's Night, June 27; Ellis County Fair races, July 11 and 12; and others.
"That brings a lot of money into Ellis County," Haselhorst said. "Every time there's a race at RPM Speedway, probably 60% of the teams, or more, have motel rooms here in Hays. It's a two-day event; they all go out and eat."
Besides motels, the restaurants and gas stations capture a lot of race business too, Haselhorst said.
"It helps the city of Hays and Ellis County a lot," he said. "It's one of the best drawing cards the county and city have. It's a great organization, great deal to have in our community."
Credit the volunteers
Most of the other tracks around are 50 years old or more. RPM Speedway has expanded the racing community in Hays, and brought together drivers and fans from all the towns around, Unrein said.
"People wanted something more than just a fair grounds that you use a week out of the year. This gets used a lot more, so you can draw people for the whole season," he said. "With the fair working with us, and the commissioners, we were able to build a state-of-the-art facility here. We've had compliments from people traveling 500 miles, say 'wow, what a facility.'"
At any given race, also, there are as many as 20 people helping, from handling the gate and manning the concession stand to working the pit or waving the flags on the track.
"It could never, ever, have gotten off the ground without all the volunteer help," said Unrein.
---
Article Credit: Margaret Allen The Hays Daily Post
Back to News