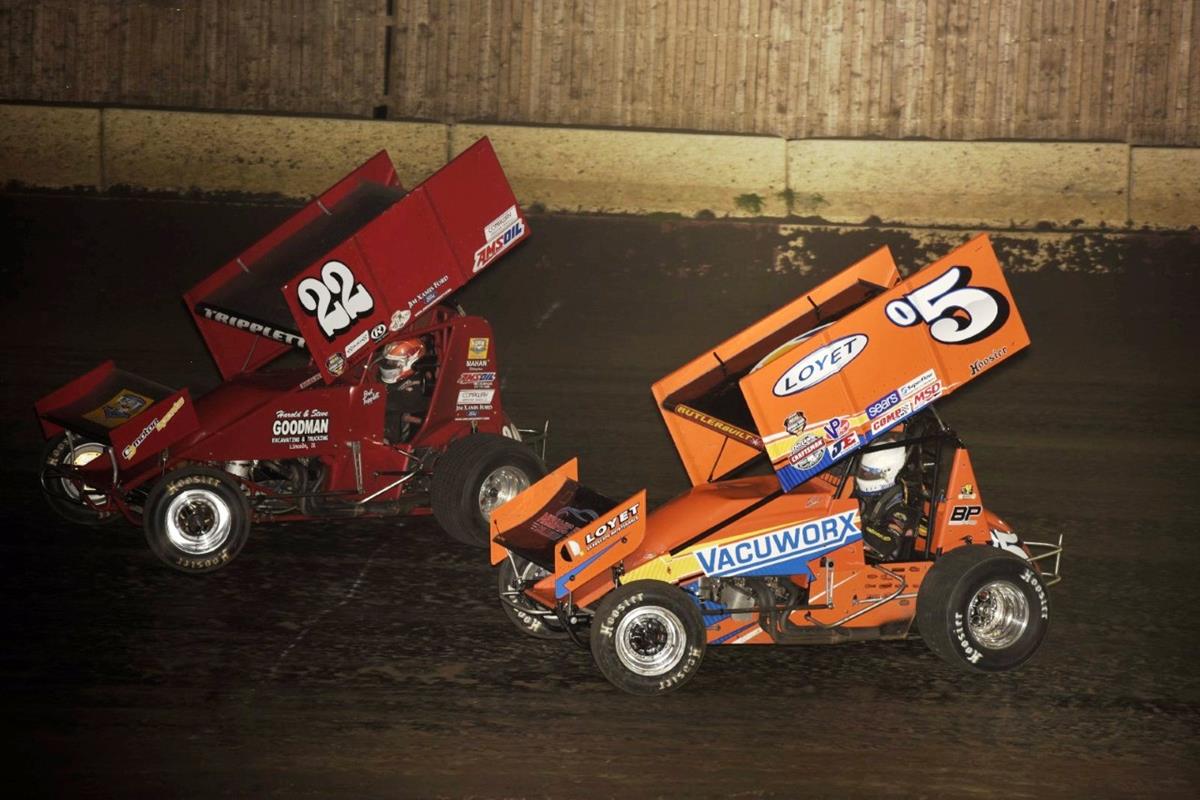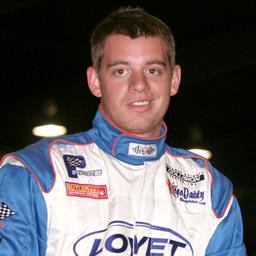 ---
Brad Loyet – Third and Fourth with MOWA!
Brad Loyet – Third and Fourth with MOWA!
(Bill W) September 7, 2017 – Brad Loyet and the Vacuworx Global #o5 team finished a solid third and fourth in Illinois MOWA events last weekend. At Peoria Speedway Thursday, the Sunset Hills, Missouri driver claimed fourth, before finishing third close to home at the Tri-City Speedway in Granit City, Illinois Friday. This weekend, Brad will compete with MOWA in Illinois in the sprint car at the Herb Barlow Memorial at Jacksonville Speedway Friday and the Tom Knowles Memorial at Spoon River Speedway south of Canton Saturday.
Things started well Thursday for Brad at Peoria. "We were able to post quick time," he says. "We started sixth in the heat race and ended up fourth. That was important to make the Dash."
Drawing a six for a starting spot didn't help and a sixth place finish in the Dash set him up outside row three for the feature. "The track ended up taking rubber about three laps in," says Brad. "We were able to get by a couple of guys early, but it was just lock-down from there. I tried to whoa up and save my tires. I turned it loose the last five laps, but I still couldn't get around anyone. It looked like everyone's tires were good at the finish, so it didn't really matter in the end."
Qualifying didn't go as well for Brad at Granite City Friday. "We've been messing around with the shocks a little bit after talking to (Matt) Hummel at FK Shocks," he says of timing in eighth quick. "I tried something that I thought would help us. I felt the track was a little more blown off than it was. It had enough of a good portion that I was snug (tight) out there."
He finished his heat third, and ended up qualifying for the Dash. "There were enough guys who didn't make the top four in the heats," says Brad. "The track was pretty narrow. It wasn't too conducive to passing. We were able to be in the Dash in the end."
A fifth place run in the Dash put him inside row three for the feature. "We were able to get to fourth pretty quickly," says Brad. "Then we snuck by Joe B. Miller and got into third. Lapped traffic was starting to work for us. Turn three was good for us and we were able to do our passing there. The yellow came out, and that got rid of the lapped traffic."
Brad restarted third. "With (Paul) Nienhiser out front, I knew he'd be tough to beat in clean air," he says. "I had a good shot at (Hunter) Schuerenberg once, but couldn't get him. We finished third, which wasn't bad. We'll take it."
Brad's Website
Visit Brad on the web at www.LoyetMotorsports.com!
Brad's Weekly Releases
If you'd like to be added to Brad's e-mail list for weekly releases, e-mail sprntcar@hotmail.com with "Loyet" in the Subject Line.
Brad and the Loyet Motorsports team would like to thank primary sponsors: Vacuworx Global and Loyet Landscape Maintenance. Associate sponsors: Maxim Race Cars, J and D Performance Racing Engines, Butlerbuilt Professional Seat Systems, Meramec Heights Collision Center, KSE Racing, Weld Wheels, Penske Shocks, Wilwood Disc Brakes, Hepfner Racing Products, DMI, Saldana Racing Products, Rod End Supply, Bell Helmets, TI 64, Conroy Control, The Engine Heater, Ealey Transportation, and Speedway Motors.
Photo: Brad races with Bret Tripplett at Peoria (Mark Funderburk Racing Photo)
Bill W Media
sprntcar@hotmail.com
Twitter: @BillWMedia
Website: www.OpenWheel101.com
Monroe, IA USA
Back to News