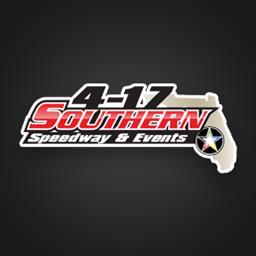 4-17 Southern Speedway
Punta Gorda, FL
Track Information
Mission:
"Our mission is to bring local short track racing back to life. In this effort, we hope future generations can experience our passion for the sport."
Who we are, What we do:
We are often asked: "Who, what, where, why?"
Who: Joseph and Janet Gentry - co owners of 4-17 Southern Speedway & Events, as well as other local businesses.
What: A race track and event grounds, of course! "If you build it, they will come". Our community needs and deserves an event grounds that is affordable and exciting for the entire family.
Where: The track and event center is located at: 8655 Piper Rd, Punta Gorda, Fl 33982. We are located on Airport Property. We are regulated by the Airport Authority and the FAA. 4-17 Southern Speedway is the Southernmost operating asphalt short track in Southwest Florida
Why: We are often asked: "What in the world were you thinking? Why would you take on such a large project?"....It is simple. Racing provides a sport for all ages, races, and genders. It does not matter where you are from, who you know, or how much money you have - racing is for everybody. Our four children grew up around racing. Their father (Joe- the owner) has raced since he was old enough to reach the pedal and steering wheel. Additionally- we believe in our community! Our community has been incredibly receptive and supportive throughout this entire process....we want to give that love and support back.
Our Promises to You:
Integrity of the Sport
We will help keep the industry alive, honor the rules of the sport, provide clean and safe environment, and create good working relations with others expressing similar core values.
Sustainability
We will keep racing affordable for both, drivers and spectators, while making improvements and renovations with cash on hand to ensure our business is stable through all economic times.
Equality
We will consistently treat all individuals as equals and with respect, regardless of race, religion, gender, age, or economic status. Pricing, rules, payouts and expectations will be provided in advance and will be honored.
Family-Friendly
We will provide entertainment and a facility that is safe, clean and appropriate for all ages.
Community
We will build deep rooted relationships and give back in ways that will make a positive difference in our community.
Facility renovations and progress:
1/21/16 - Negotiations begin to lease land owned by Punta Gorda Airport Authority.
8/18/16 - After seven long months of negotiations- Lease was approved- unanimously, and signed by PGAA and 4-17 Southern Speedway.
8/20/16 - Major renovations begin. Everything from bleachers, the kitchen sink, and even toilets being installed, replaced, or repaired.
10/1/16 - Leroy Davidson Memorial held at 4-17 SSE. The original builder and founder, Leroy Davidson passed away unexpectedly in September 2016. The Memorial was held at 4-17 SSE. Family, friends, fellow track owners came to celebrate the Davidson family.
11/21/16 - 2017 racing schedule and rules released. First race scheduled for 1/6/2017
11/30/16 - First safety inspection scheduled. Passed inspection with flying colors!! Inspector made mention of all the renovations to date, "This just might be my "example" track, when I have owners that need help. You have gone above and beyond"
12/18/16 - Final parts and pieces of bleachers retrieved....So close to the finish line.
12/26/16 - Santa and his Elves were hard at work over the Holiday. A new entrance sign appeared over the Christmas Holiday!! It is beautiful and very eye catching.... Thank you Santa
What forms of payment do you accept?
All entry fees, concessions, and souvenir items can be paid with cash. As of 9/9/17 - we will no longer accept credits cards or personal checks. An ATM is located on the premise during races, for you convenience
Race Day Times:
Pit Gates Open at 2:00 PM
Grandstands Open at 5:00 PM (Not Open for Go Kart Races)
Heat Races start at 5:30 PM
Feature Races start directly after Heat Races/ Qualifying- typically around 7:00 PM
**Please no outside food or beverages. All bags, personal items, chairs, diaper bags, etc will be checked.
Fan Info
No camping allowed
No coolers allowed
ATM on site
No credit card accepted
Grass parking
Grandstand seating
No Wi-Fi available
Family Info
Open family seating
Free play area
No family restrooms
Pit Info
Fans allowed in pits
Pit concessions available
No electricity in the pits
Fuel available at the track
MRP Card accepted at the backgate
Pits located outside the track
Concrete pit surface
Tires available at the track