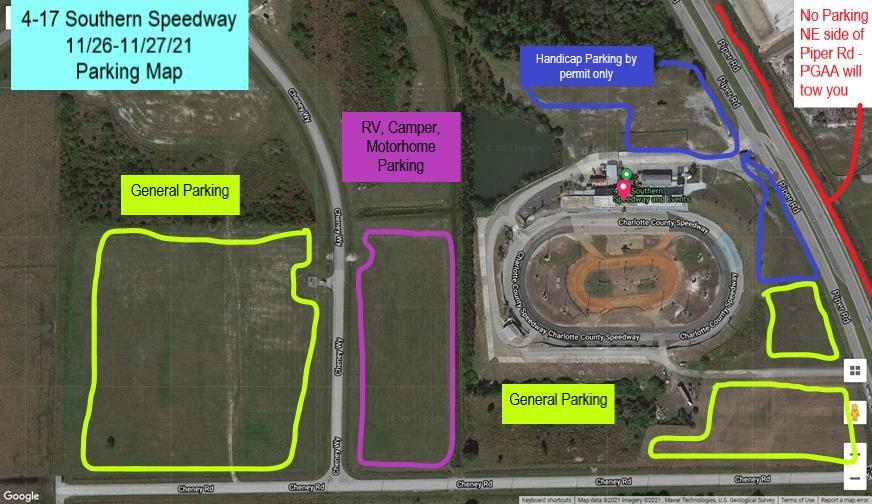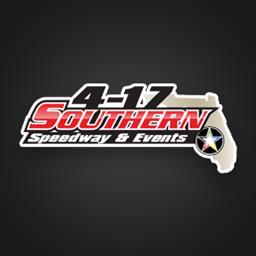 11/25/2021
4-17 Southern Speedway
---
Bigley Memorial Parking Guide
PARKING for 11/26-11/27/21 Bill Bigley Sr Super Late Model 128 Memorial:
Please take note of parking areas for this event. Normal parking at the facility has been modified to accommodate the driver's rigs and handicap parking. Please look at the diagram and follow signs for parking. Buses will transport fans to the facility on Saturday 11/27/21 beginning at 3pm. Buses will return fans to the parking areas until 11:59pm.
HANDICAP & limited Motorcycle Parking:
Main lot of facility: Handicap only - must have certified handicap placard or license plate - no exceptions
FANS, DRIVER CREW:
Cheney Rd & Cheney Way: (street on side and behind facility) all passenger vehicles.
MOTORHOME, RV, CAMPER:
Cheney Way (street next to & behind facility) Motorhomes, RV's, campers lot on right of Cheney way. All units must be fully self contained - no hook ups available
NO PARKING on PG Airport side of the road - they will tow you
No charge for parking or bus transport. Bus transportation provided from parking areas to facility 3pm - 9pm returning 9pm - 11:59pm. PLEASE park close and in line to allow all fans a place to park.
You may tailgate, but no open flames, fireworks, etc. No drones. All parking areas and the event facility is located on Federal Aviation Property. Please put your trash in appropriate waste receptacles. Please extinguish cigarettes and cigars completely prior to disposal.
This is a no re-entry event. Please bring all items that may possibly be needed with you. No exceptions will be made. Bring your chairs, blankets, jackets, medications, phones, cameras, ear muffs/ ear plugs, etc - NO outside food or beverages. All personal items will be checked prior to entering the grandstand gates.
Pit access does allow re-entry with appropriate ID
---
Submitted By: JANET & JOSEPH GENTRY
Back to News