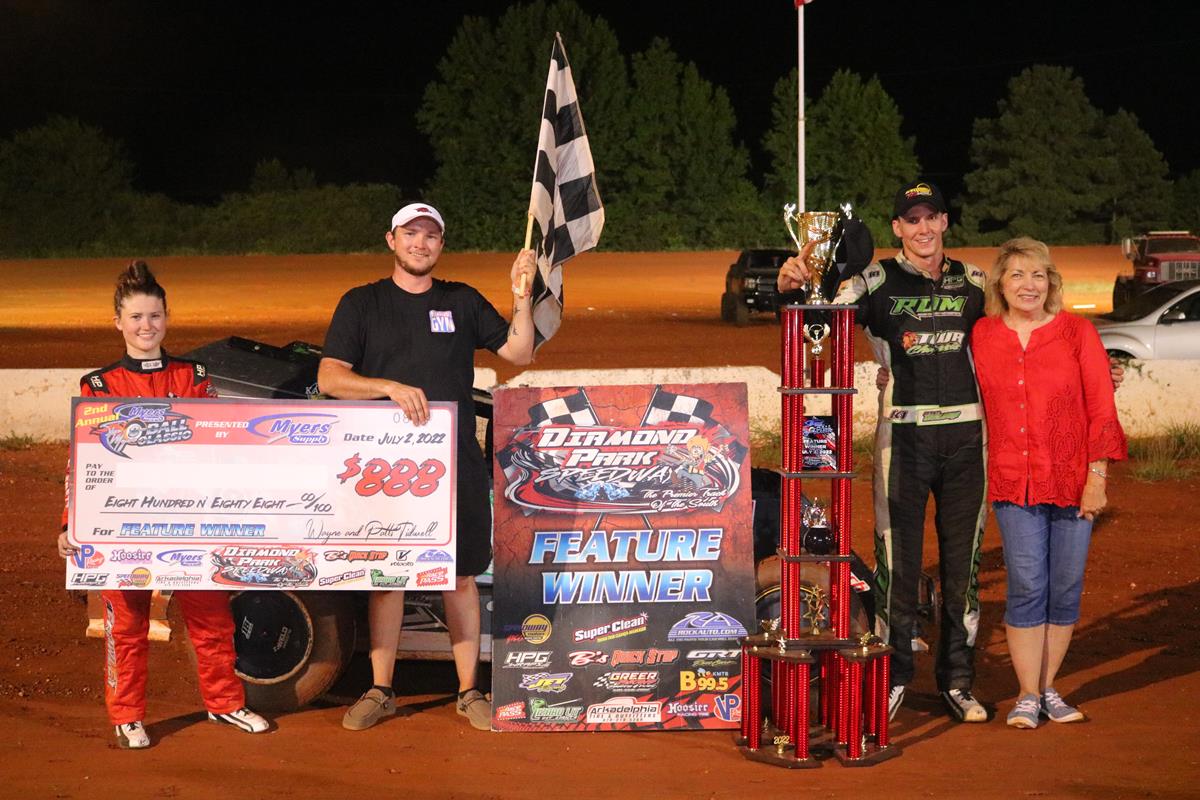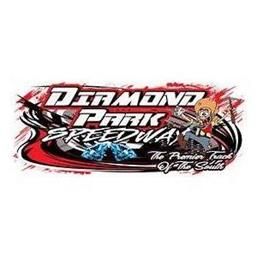 7/2/2022
Diamond Park Speedway
---
Wilson Repeats in Tex Myers 8Ball Classic at Diamond Park
(MURFREESBORO, AR) July 2, 2022 – Blake Wilson repeated his performance, this time – not so easily, in the second annual Tex Myers 8Ball Classic presented by Myers Supply this past weekend at the Diamond Park Speedway.
Wilson was able to top a field of (27) mod lite drivers from Arkansas, Texas, and Louisiana enroute to his second $888 payday in the second year of the event at the proclaimed "Mod Lite Capital of the World". He was also able to pick up the $200 quick time award presented by Beene's Towing and Recovery, as well as pick up the $250 podium bonus from IMCA and Yoshimura.
His bonus money would continue as he was able to lead (19) of the 25 laps in the A Main picking up an extra $25 per lap on laps 7, 8, 10, 12, 16, 18, 20, and 23. Bonus monies were paid out by generous race sponsors Arkadelphia Tire & Outfitters, RCM Racing and Caleb's Legacy, Alban Automotive, and Landon Crawly Racing.
Wilson started on row 2 of the (25) lap affair and had some work to do early on contending with fellow TWR teammate #78 JJ Borden, #777 Louis Harris, and current Diamond Park and IMCA State points leader, #45 Jace Reid.
It was Reid who got out to the point early with Borden, Harris, and Wilson in tow. Quick work put Wilson digging behind teammate Borden for 3rd and on lap three he settled in for second. On lap 7 he slid under the #45 of Reid and it was off to the races. The lead duo pulled away and started working back markers by lap 9 and the race's single caution flew on lap 11 for a spinning #59 of Monte Stuenkel.
On the restart, Reid picked the outside line and by this time, a 7th starting KO of Chad Kirkpatrick had made his way passed Borden and was in third. The lead group of four broke away again and the battle was for second between Reid and Kirkpatrick. The leaders again were in lap traffic by lap 19 and Wilson's lead evaporated quickly. The final 5 laps the lead group would battle it out and Wilson would hold them off for his second win of 2022 at Diamond Park and repeat as the event winner. He would be followed by #45 Jace Reid, #K0 Chad Kirkpatrick, and #78 JJ Borden.
Fifth through tenth would go to #94KB Paul McCollett, #39 Steve Sweere, #2C Justin Hughes, #14 Chris Tucker, #777 Harris, and #327 Andrew Lincoln.
Wilson, Reid, and Kirkpatrick all picked up extra cash in the Yoshimura Podium Bonuses of $250/$150/$100 respectively.
The $100 A Main Hard Charger was #G0 Bobby Garth. 10th place Lincoln received a Hoosier Tire certificate from ModLite STARS and heat race winners, Wilson, Kirkpatrick, Borden, and Reid all received certificates to Rod End Supply.
The B Main winner was #56 Cameron Beene and he received a Hoosier Tire certificate and product certificate from Rod End Supply. and the Hard Charger $100 bonus went again to #G0 Bobby Garth.
The $100 longest tow bonus went to Charles Armstrong of Joshua, TX.
The next race for the Mod Lites will be July 16th as a regular show and again on July 23rd at Diamond Park For $1,000 to win and $200 to start.
A Feature 1 25 Laps | 00:11:11.559
18-Blake Wilson[3]; 2. 45-Jace Reid[2]; 3. KO-Chad Kirkpatrick[7]; 4. 78J-JJ Borden[1]; 5. 94KB-Paul McCollett[5]; 6. 39-Steve Sweere[6]; 7. 2C-Justin Hughes[10]; 8. 14-Chris Tucker[11]; 9. 777-Louis Harris[4]; 10. 327-Andrew Lincoln[14]; 11. 916-Grant Rollins[15]; 12. G0-Bobby Garth[18]; 13. 11C-Chloe Tucker[8]; 14. 74A-Paul Alban[16]; 15. 7S-Cody Rogers[21]; 16. 3X-Skyler Starr[19]; 17. 1F-Fisher Tucker[9]; 18. (DNF) 56B-Cameron Beene[17]; 19. (DNF) 09-James Stuenkel[13]; 20. (DNF) 20-David Heard[20]; 21. (DNF) 7-Brock Byers[12]
B Feature 1 15 Laps | 00:08:01.608
56B-Cameron Beene[4]; 2. G0-Bobby Garth[11]; 3. 3X-Skyler Starr[1]; 4. 20-David Heard[5]; 5. 24-Todd Looney[3]; 6. (DNF) 9X-Taylor Crawley[6]; 7. (DNF) 59-Monte Stuenkel[2]; 8. (DNF) 55-Tryan Starr[8]; 9. (DNS) 7S-Cody Rogers; 10. (DNS) 9C-Charles Chapmond; 11. (DNS) 3-Charles Armstrong Jr
Heat 1 10 Laps | 00:21:41.810
78J-JJ Borden[5]; 2. 1F-Fisher Tucker[3]; 3. (DNF) 56B-Cameron Beene[6]; 4. (DNF) 3-Charles Armstrong Jr[1]; 5. (DNF) 55-Tryan Starr[2]; 6. (DNF) 9C-Charles Chapmond[7]; 7. (DQ) G0-Bobby Garth[4]
Heat 2 10 Laps | 00:06:29.870
KO-Chad Kirkpatrick[1]; 2. 777-Louis Harris[5]; 3. 94KB-Paul McCollett[7]; 4. 916-Grant Rollins[4]; 5. 3X-Skyler Starr[2]; 6. (DNF) 9X-Taylor Crawley[6]; 7. (DNF) 20-David Heard[3]
Heat 3 10 Laps | 00:03:26.284
18-Blake Wilson[3]; 2. 2C-Justin Hughes[2]; 3. 39-Steve Sweere[6]; 4. 327-Andrew Lincoln[1]; 5. 74A-Paul Alban[4]; 6. 11C-Chloe Tucker[5]; 7. (DNS) 7S-Cody Rogers
Heat 4 10 Laps | 00:05:54.322
45-Jace Reid[4]; 2. 14-Chris Tucker[2]; 3. 09-James Stuenkel[1]; 4. 7-Brock Byers[6]; 5. 59-Monte Stuenkel[5]; 6. 24-Todd Looney[3]
Photo credits: Chad Brzeski RFS Photography
---
Article Credit: Justin Newman
Back to News