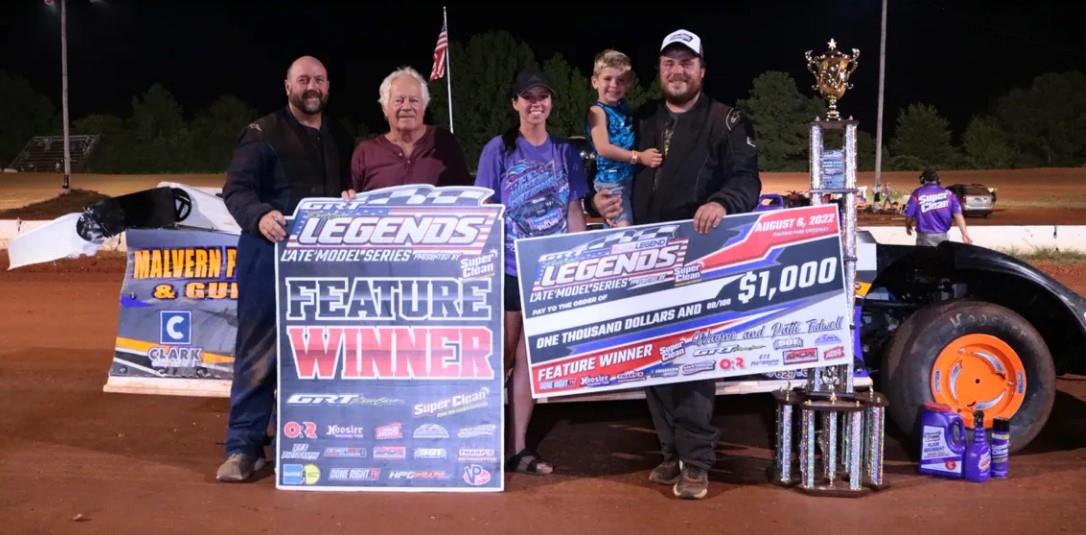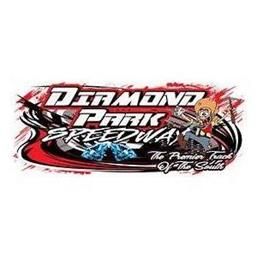 8/7/2022
Diamond Park Speedway
---
Holmes scores first #LocalLegends Payday at Diamond Park
Holmes scores first #LocalLegends Payday at Diamond Park
(MURFREESBORO, AR) August 6th, 2022 – Dustin Holmes picked up his first win of the 2022 GRT Legends Late Model Series by turning in an impressive performance this past Saturday night at the Diamond Park Speedway.
Holmes was the beneficiary of the invert and found his second row starting position swapped for the front row after Eckie's DCR Racing and Parts second heat race winner Rick Hearnsberger drew the #4 pill. This would put he (Hearnsberger) and John R Nelson Trucking and Excavating heat race number 1 winner, Wesley Wise, on row two and put Geoff Aitken's Doug's Electrical Service/Mullins/Rocket XR 1 #16 alongside Holmes on row one.
Holmes took his Malvern Pawn and Gun/Odell Chase/Rocket XR 1 out front from the point and never looked back. Early on, Wise and his Wise Excavating/Hatfield/GRT Bag 1 challenged for the point until lap traffic became a factor and he tangled with the 10H of Allen Hamilton. Aitken and Hearnsberger's MidState Golf Cars/Craft Performance/Rocket would both battle it out until about halfway and the tire issue for Aitken left him out of the hunt. 
By lap 15 of the scheduled 25 lap affair Hearnsberger and Holmes had pulled away from the field until a hard charging Ross Farmer in his Farmers Tree Service/Odell Chase/Rocket XR 1 came blazing by Hearnsberger to take over second. It would set up a 1-2 finish for the Farmers Tree Service, Malvern Pawn and Gun, Marty Pipkens Timber Management, Action Fishing Trips, Chase Contractors, Arkadelphia Pawn, Hum's hardware and Rental, Trolling Motor shop teammates.  Hearnsberger, Aitken, and Little Rock's Bobby Blankenship rounded out the top 5.
"I love seeing him win! He had set a goal to win a (GRT) Legends race this year and he had a lot of motor problems early on. I'd like to thank our lord Jesus Christ and our amazing crew Dustin, Preston, Cole, and Odell. Special thanks to Jack Sullivan (Comp Cams Super Dirt Series) and the Marlar's in Tennessee," said teammate (and dad) Farmer after the checkers.
Leaving #ThePark with the Eckie's DCR Racing and Parts point leader "Marked Man" fluorescent red spoiler will be the #16 of Geoff Aitken. Geoff has been perfect in his attendance this year and had consistent finishes. Of the (5) events thus far, Aitken has finished in the top 5 four times and the top 10 all 5 trips out this season. "I hate to take the points lead with Chandler being absent because I'd rather race him for it. I know he's going to be tough to beat the rest of the year," said Aitken. Saturday night, he scored his second worst finish of the season, 4th. "I want to have some better runs. With my right front going down I was doing my best to stay competitive and up front. We only had 6 lbs. of (air) pressure in it after the race," continued Aitken.
The series is off for a few weekends and will pick back up on Saturday, September 3rd, at the Batesville Motor Speedway. The event will feature a full racing card in Hobby Stocks, Sport Compacts and the conclusion of the 27thAnnual Schoenfeld Headers Stock Car Championship plus the #LocalLegends.
  
Admission is $20 for adults, Kids 12-15 $10 and kids 11 and under are FREE. Pit passes are $35 and Junior Pit Passes are $20. The weekend will be televised live on www.imca.tv if you cant make it in person.
For more information on the Legends Late Model Series, you can find them on the web at www.legendslatemodels.com or on Facebook @LegendsLateModels 
For more information about the Super Clean family of products and to find the retailer nearest you, visit their website at www.superclean.com or on Facebook @SuperCleanBrands
Dirt Late Models 13 Entries
A Feature 1 25 Laps | 00:33:58.390
24H-Dustin Holmes[1]; 2. 26R-Ross Farmer[5]; 3. XXX-Rick Hearnsberger[3]; 4. 16-Geoff Aitken[2]; 5. 75-Bobby Blankenship[6]; 6. (DNF) 7W-Wesley Wise[4]; 7. (DNF) 10H-Allen Hamilton[9]; 8. (DNF) 16H-Wesley Hamilton[8]; 9. (DNF) 4PLAY-Edward Hoyer III[11]; 10. (DNF) 10-David Dunn[10]; 11. (DNF) 21-Dale Hamilton[12]; 12. (DNS) 13N-Derrick Nichols
Heat 1 10 Laps | 00:03:24.974
7W-Wesley Wise[2]; 2. 16-Geoff Aitken[3]; 3. 26R-Ross Farmer[4]; 4. (DNF) 13N-Derrick Nichols[5]; 5. (DNF) 10H-Allen Hamilton[1]; 6. (DNF) 4PLAY-Edward Hoyer III[6]
Heat 2 10 Laps | 00:05:52.922
XXX-Rick Hearnsberger[1]; 2. 24H-Dustin Holmes[3]; 3. 75-Bobby Blankenship[2]; 4. 16H-Wesley Hamilton[4]; 5. (DNF) 10-David Dunn[5]; 6. (DNS) 21-Dale Hamilton
---
Article Credit: Justin Newman
Back to News