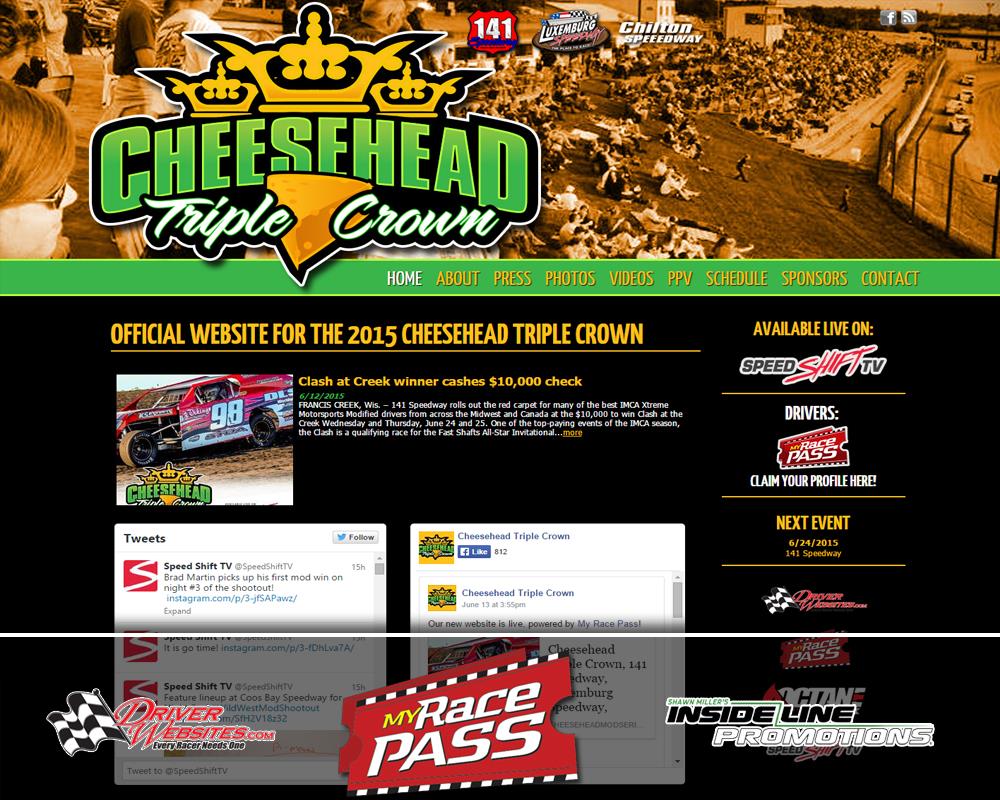 6/17/2015
Inside Line Promotions
---
Driver Websites Establishes Website for Cheesehead Triple Crown
Inside Line Promotions – SIOUX FALLS, S.D. (June 17, 2015) – Driver Websites has developed a website for the Cheesehead Triple Crown.
The custom event package website – http://www.CheeseheadModSeries.com – will showcase the latest news as well as an updated schedule and results page. Biography, sponsors, photos, videos and Pay-Per-View information are also highlighted pages on the website.
The Cheesehead Triple Crown is a marquee modified event June 24-27 at 141 Speedway, Luxemburg Speedway and Chilton Speedway. There is a $20,000 bonus for any driver who wins a feature at all three tracks.
WHY DO YOU NEED A WEBSITE –
DRIVERS – There are so many aspects of running a successful race team outside of what you do on the track. It's what you do off the track that draws the attention you need to help with your team's recognition throughout the sport. A website is a very useful tool to keep your sponsors and marketing partners up to date with your racing. With our website packages, you have the ability to track the impressions and clicks your sponsor logos receive while being on your website. You can use that as a tool to show your current marketing partners the benefits of being involved with your race team – solely on the website. You can also use those same tools to help generate new, long-lasting marketing partnerships. On top of that, a website is a great database for your career and with the power of your information gets spread throughout that entire fast-growing network of websites.
TRACKS – With our packages for race tracks or series, you are not getting "just" a website. Our packages come with a whole line of online management tools to help you as the promoter/track owner/manager successfully carry out the day-to-day duties. Automatic point calculations, Mobile Web Apps for lineups, payouts, reporting structures for drivers, teams, 1099s and more are all aspects of our packages. With the principals of Driver Websites having its own dirt track in 2012, the company was able to bring everything it had learned throughout that weekly race season to the web packages offered to all the tracks and series. Also, while having a Driver Websites track/series web package, you will always get the latest updates to the Integrated Content Management System and updates to the management online software as well as the great aspects of content sharing throughout the MyRacePass network.
The All-New MyRacePass Pit Board is now available! The Pit Board allows the track or series to relay information that is only needed to be seen by the drivers to the drivers via the MRP Driver Profile accounts. Drivers can claim their MRP Bio and have their Free MRP Basic Profile in which they can update their news, schedules, bios, sponsor information, photos, crew member information and more – as well as using the MRP Pit Board. Drivers can sign up for Text Message Alerts using the Pit Board and whenever the track or series updates the Pit Board they will be able to get a Text message to view the updates.
REGISTRATION OVERVIEW –
MyRacePass offers online registration for yearly memberships, specific events and non-racing events such as banquets. Our registration process allows unlimited registration events and unlimited entries. Registration events can have a fee per class or be completely free for your drivers.
Online registration allows you to gauge how many drivers and who will be racing with your organization before the season starts. This can save tons of time on opening night as you could already have all the driver's information on file. Find out more by visiting http://www.myracepass.com/updates/?i=27096.
MYRACEPASSPRO –
MyRacePass Pro offers a full set of tools for drivers, tracks and series to GET RECOGNIZED quickly and easily. Whether you're a weekend warrior or travel the full ASCS or World of Outlaws tours, MRP Pro has the features you need in an online presence. Using MyRacePass PRO you can get a very professional, templated website that comes with all the tools and menu options of most of our custom websites. Most importantly, you can set everything up yourself with a custom domain name and background/header images. Starting out at simply $10 per month, you can set yourself apart from your competition and start utilizing the power of MyRacePass. There is a free 30-Day trial, so get to http://www.myracepass.com/pro today to see just how easy it is to "Get Recognized."
PRESS RELEASE PACKAGES –
Driver Websites now offers press release packages for its clients. In correlation with the importance of a routinely updated website, professional press releases showcase drivers, teams, manufacturers and tracks as recognizable partners in the racing community. Press releases continually keep your name in the spotlight with a positive image and most importantly, demonstrate the valuable partnership and message of each sponsorship. To learn more about the press release packages, contact Driver Websites at http://www.DriverWebsites.com or Inside Line Promotions at http://www.InsideLinePromotions.com.
DRIVER WEBSITES –
Driver Websites was assembled in order to give racers a way to get recognized through the Internet inexpensively so the racer can put their money where it needs to go – the ride. If you have ever experienced having your own website before, you will understand the fact that being able to update your own site was only a dream. Too many times you come across a site that has results, press releases and pictures from more than a year ago. Either the web developer is no more or you are tired of paying the monthly charges to update your site. Driver Websites has made uploading your own content to your own site a reality. With the tutorial videos DW offers you will see how easy of a system we have created. For more information, visit http://www.DriverWebsites.com.
INSIDE LINE PROMOTIONS –
Inside Line Promotions specializes in affordable public relations and media management for motor sports drivers, teams, sponsors, tracks, series, events, organizations and manufacturers. ILP Founder Shawn Miller leverages professional journalism with new media technologies and social networking to improve your exposure and the return on investment for your sponsors.
To meet the media relations needs of your program by joining Team ILP, contact Shawn at 541-510-3663 or Shawn@InsideLinePromotions.com. For more information on Inside Line Promotions, visit http://www.InsideLinePromotions.com.
---
Article Credit: Inside Line Promotions
Submitted By: Shawn Miller
Back to News