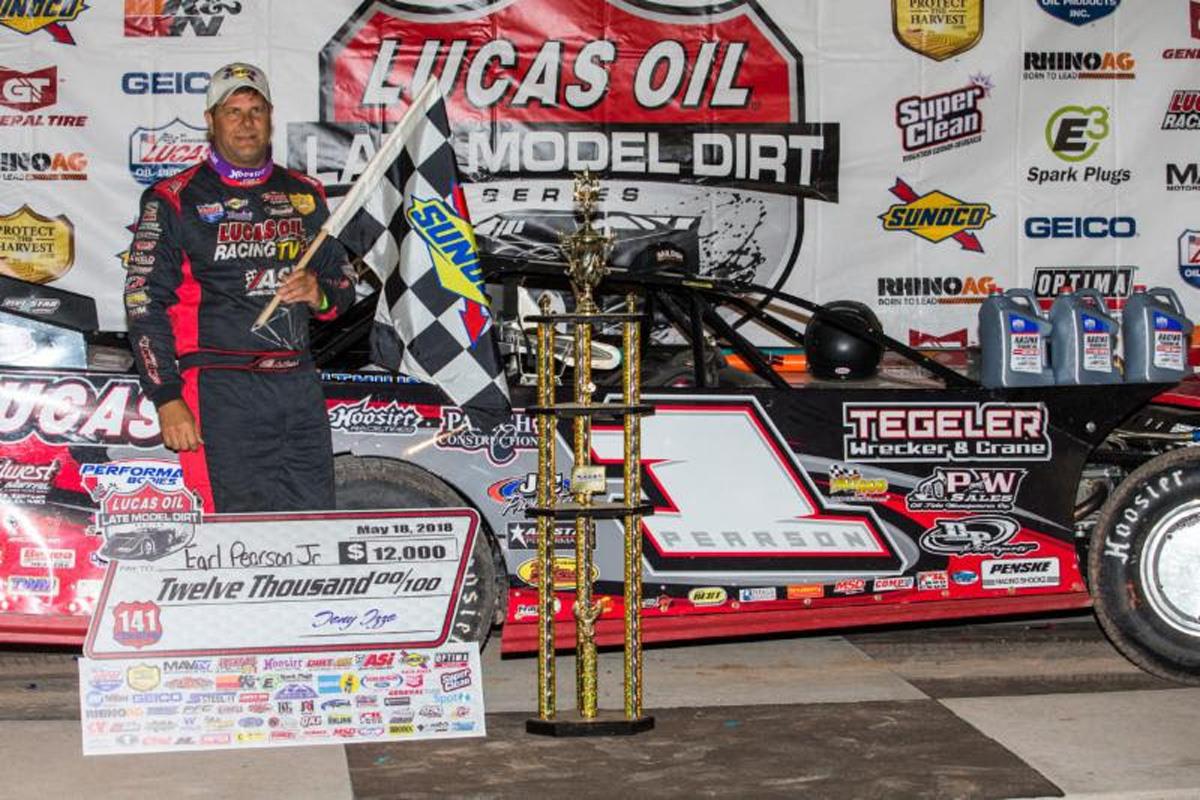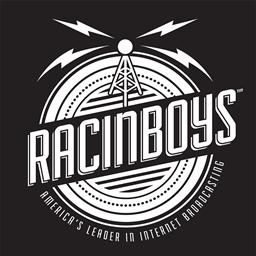 ---
Late pass propels Pearson at 141 Speedway
By Lucas OilLate Model Series (Maribel, WIL) -- Earl Pearson Jr. made the leap into the infield pond on Friday night, a tradition for first-time winners at 141 Speedway.
Pearson, in the Ronnie Stuckey-owned, Lucas Oil Products, Black Diamond Chassis passed race-long leader Bobby Pierce on lap 44 and then sped on to win his second Lucas Oil Late Model Dirt Series event on the season.
Pierce led the first 43 laps of the 50-lap main event until Pearson made his way underneath the 21-year-old driver of the Dunn Benson Ford, Campbell University, Rocket coming off of turn four. Pearson then quickly pulled away to claim his 34th career LOLMDS victory.
Hudson O'Neal's Todd Burns-owned, Dyno One, Club 29 entry came home in third. Jimmy Mars gave his home state their best finish with a fourth-place run, in his career debut at the 141 Speedway. Darrell Lanigan came from 11th to finish in fifth.
Pierce grabbed the lead at the start of the race and was looking for his third win of the season. Pierce fought off the challenges of the younger O'Neal early on until he started to pull away. After a caution on lap 26, Pierce had to contend with O'Neal and Josh Richards in a side-by-side battle for several circuits. Pearson then began making his move on the leaders as he took second from O'Neal and started to track Pierce down. On several occasions, Pearson pulled to the rear quarter-panel of Pierce's car but was only able to muscle his way around him with six laps to go.
"We got into lapped traffic and I don't know if I could have done anything with him [Pierce]. We just rode around the bottom and you had to be patient. You just had to stay on those tires. He [Pierce] is one heck of a race-car driver. To run first and second tonight, this finish is for Carlton Lamm. I have a friend back home who is in pretty bad shape and this one's for him as well," said the 46-year-old veteran driver in Lucas Oil Victory Lane.
"I hope the fans saw one heck of a show tonight. It was pretty racy for the first time being here. I think we all learned what to do next time we are here at this track. We just took our time and made all the right moves. All the Dunn-Benson Team does a great job. Whether he won, or I won I know it was for Carlton."
Pierce commented on his race as well, "We had a good car here tonight. I don't know what happened, the longer the race went I got looser and looser. That turn three was actually kind of tricky a few times. You had to miss the corner to come off good. I missed it way too much there at the end. Congrats to Earl on the win."
Hudson O'Neal, who started alongside his father, Don in row two, enjoyed a podium finish. "I was pretty good there early in the race. I stayed there with Bobby for the first 25 laps of the race and then Josh [Richards] got up there and we had a good race. Thanks to my crew for all of the hard-work they have done on this car. To get another podium finish is great for the team."
Rounding out the top ten were Scott Bloomquist, Josh Richards, Don O'Neal, Cade Dillard, and Jonathan Davenport.
Lucas Oil Late Model Dirt Series
Race Summary
Friday, April 18th, 2018
Spring Shootout
141 Speedway - Maribel, WI
Miller Welders Time Trials
Fast Time Group A: Bobby Pierce / 13.040 seconds (overall)
Fast Time Group B: Josh Richards / 13.353 seconds
Eibach Springs Heat Race #1 Finish (10 Laps, All Transfer): Bobby Pierce, Don O'Neal, Earl Pearson, Jr., Jimmy Owens, Scott Bloomquist, Tim McCreadie, Dennis Erb, Jr., Turk Letizia, Gregg Satterlee
FK Rod Ends Heat Race #2 Finish (10 Laps, All Transfer): Mason Zeigler, Josh Richards, Kyle Bronson, Darrell Lanigan, Cade Dillard, Allen Murray, Brent Larson, Joey Moriarty
Simpson Performance Products Heat Race #3 Finish (10 Laps, All Transfer): Hudson O'Neal, Jonathan Davenport, Jimmy Mars, Brett Swedberg, Nick Anvelink, Paul Parker, Mitch McGrath, Luke Goedert
Lucas Oil Feature Finish (50 Laps):
FINISH START CAR # DRIVER NAME HOMETOWN EARNINGS
1 7 1 Earl Pearson, Jr. Jacksonville, FL $12,800
2 1 32 Bobby Pierce Oakwood, IL $6,300
3 3 71 Hudson O'Neal Martinsville, IN $4,200
4 9 28m Jimmy Mars Menomonie, WI $2,750
5 11 14 Darrell Lanigan Union, KY $2,950
6 13 0 Scott Bloomquist Mooresburg, TN $2,600
7 5 1R Josh Richards Shinnston, WV $2,500
8 4 5 Don O'Neal Martinsville, IN $2,100
9 14 97 Cade Dillard Robeline, LA $1,200
10 6 49 Jonathan Davenport Blairsville, GA $2,000
11 19 28 Dennis Erb, Jr. Carpentersville, IL $1,075
12 16 39 Tim McCreadie Watertown, NY $1,750
13 2 25Z Mason Zeigler ® Chalk Hill, PA $1,125
14 10 20 Jimmy Owens Newport, TN $1,800
15 8 40B Kyle Bronson ® Brandon, FL $1,700
16 17 2M Allen Murray San Antonio, TX $1,000
17 20 B1 Brent Larson Lake Elmo, MN $1,000
18 21 74m Mitch McGrath Waukesha, WI $1,000
19 12 3 Brett Swedberg Shawano, WI $1,000
20 25 22 Gregg Satterlee Indiana, PA $1,700
21 22 D1 Turk Letizia Milwaukee, WI $1,000
22 15 15A Nick Anvelink Bonduel, WI $1,000
23 24 44 Luke Goedert Guttenberg, IA $1,000
24 18 10 Paul Parker DePere, WI $1,000
25 23 51M Joey Moriarty Phoenix, AZ $1,000
Race Statistics
Entrants: 25
Lap Leaders: Bobby Pierce (Laps 1 – 43); Earl Pearson Jr. (Laps 44 – 50)
Wrisco Feature Winner: Earl Pearson Jr.
Margin of Victory: 1.056 seconds
Cautions: Luke Goedert (Lap 26)
Optima Batteries Hard Charger of the Race: Dennis Erb Jr. (Advanced 8 Positions)
Midwest Sheet Metal Spoiler Challenge Point Leader: Jonathan Davenport
Allstar Performance Power Move of the Race: Earl Pearson Jr.
Sunoco Race for Gas Highest Finisher: Earl Pearson Jr.
Hot Rod Processing Rookie of the Race: Mason Zeigler
COMP Cams Engine Builder of the Race: Clements Racing Engines
Ohlins Shocks Chassis Builder of the Race: Black Diamond Chassis
Outerwears Crew Chief of the Race: Garrett Alberson (Earl Pearson Jr.)
Fastest Lap of the Race: Bobby Pierce (Lap #3 – 14.3070 seconds)
STEEL-IT Most Laps Led: Bobby Pierce (43 Laps)
Dirty Girl Racewear Farthest Traveler: Joey Moriarty
PFC Brakes Pole Award: Bobby Pierce
Time of Race: 16 minutes 21 seconds
Lucas Oil Championship Point Standings:
POS CAR # DRIVER NAME HOMETOWN POINTS EARNINGS
1 49 Jonathan Davenport Blairsville, GA 2970 $83,400
2 1R Josh Richards Shinnston, WV 2755 $67,800
3 1 Earl Pearson, Jr. Jacksonville, FL 2740 $61,900
4 0 Scott Bloomquist Mooresburg, TN 2695 $64,325
5 39 Tim McCreadie Watertown, NY 2620 $40,675
6 32 Bobby Pierce Oakwood, IL 2600 $53,900
7 5 Don O'Neal Martinsville, IN 2505 $35,325
8 71 Hudson O'Neal Martinsville, IN 2475 $36,375
9 20 Jimmy Owens Newport, TN 2465 $32,500
10 14 Darrell Lanigan Union, KY 2390 $27,400
11 40B Kyle Bronson ® Brandon, FL 2375 $42,725
12 22 Gregg Satterlee Indiana, PA 2220 $27,550
13 28 Dennis Erb, Jr. Carpentersville, IL 2215 $22,225
14 25Z Mason Zeigler ® Chalk Hill, PA 2180 $16,825
Points are unofficial until Close of Business on the Tuesday following Race Day
---
Submitted By: Kirk Elliott
Back to News