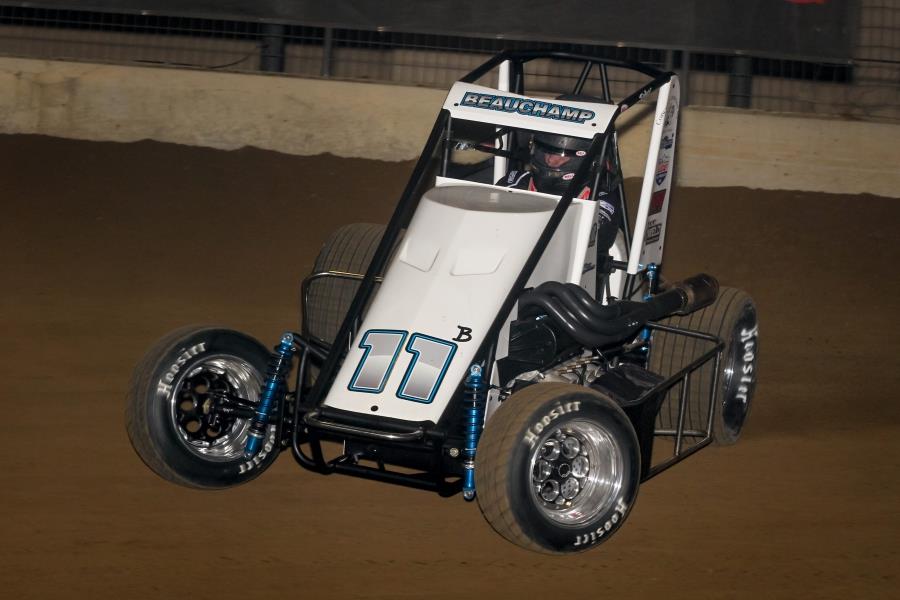 ---
KNEPPER 55 FIELD NEARS 40 AS WEASE, BEAUCHAMP AND PECK ENTER
A "Turkey Night Grand Prix" winner, an Indiana Sprint Week feature winner and an All Star Circuit of Champions feature winner are among the latest of 38 entries, thus far, for the Saturday, December 16th "Junior Knepper 55" USAC Midget special event at the Southern Illinois Center.
Billy Wease, the 2006 "Turkey Night" winner, finished 9th at Du Quoin in March's "Shamrock Classic." The Noblesville, Ind. driver has entered for the indoor dirt race in Amanda Wease's No. 12w. Brent Beauchamp has filed his entry to pilot his own No. 11 at the "Knepper 55." Beauchamp was a 5th place finisher at Du Quoin in March and has been strong on the tough, local Indiana bullring scene in a sprint car where he is a two-time Lincoln Park Speedway champion (2012 & 2017) and captured an Indiana Sprint Week feature win at Bloomington (Ind.) Speedway in 2016. Justin Peck of Monrovia, Indiana is set to wheel Kenny and Reva Irwin's No. 7K in Du Quoin. Back in June, Peck topped the competition in an Arctic Cat All Star Circuit of Champions feature at Macon (Ill.) Speedway.
As entries continue to pour in daily, the field already features a talented field of champions and race winners across the board including 2016 ARCA champ and 2017 NASCAR Camping World Truck Series Rookie of the Year Chase Briscoe of Mitchell, Indiana, two-time Indiana Midget Week champ and four-time Kokomo Speedway titlist Shane Cottle of Kokomo, Indiana.
Third-place "Knepper 55" finisher Chris Andrews of Oklahoma is entered along with Tony Bruce, Jr. (6th), Nick Drake (14th) and Daniel Adler (20th). Jim Neuman has entered three cars for Jake Neuman, late model standout Brian Shirley and Austin Blair.
Philo, Illinois driver Kyle Schuett, the 2015 "Indy Invitational" victor, aims to repeat his indoor racing success from a few years back while Chris Ursih, of Elkhart, Illinois, has already tamed the "Magic Mile" at the Du Quoin State Fairgrounds in a USAC Silver Crown car back in 2013, but hopes to bring the magic indoors in his Tom Casson-owned No. 77u.
The Knepper family is once again sponsoring FREE entry for competitors to enter their midgets for the Saturday, December 16th "Junior Knepper 55" USAC Special Event at the Southern Illinois Center in Du Quoin, Illinois.
After visiting https://usacracing.ticketspice.com/2017-knepper-car-entry, use the coupon code "KNEPPER" to enter your car for the race at no charge. The offer expires Sunday, December 10th, 2017. The complete pre-entry list for the event will be published the following day, Monday, December 11th.
Additionally, tickets are now on sale for the 3rd annual "Junior Knepper 55" at http://www.usactickets.com/. The race will serve as the final event of the 2017 USAC racing season. Adult general admission tickets are available for just $18 in advance compared to the $20 price at the gate on race day.
Furthermore, on http://www.usactickets.com/, you may order your "Junior Knepper 55" event t-shirt now for just $25. Sizes small through 4XL are available, but make sure to get yours soon while supplies last.
The event carries no points toward the USAC National Midget season championship, but has quickly become one of the most coveted races to win on the series calendar, annually boasting a large car count and a star-studded field to boot.
In the inaugural running in 2015, Ricky Stenhouse, Jr. electrified the crowd in the 55-lap feature, coming from the back of the pack to score the victory in the final laps. In 2016, Tyler Courtney earned his first career USAC-sanctioned Midget feature victory in his first start for the Clauson/Marshall Racing team.
The 55-lap event honors the memory of one of USAC's most accomplished car owners – Walter "Junior" Knepper of Belleville, Illinois – whose famed yellow number 55 midgets and sprint cars raced to 58 career USAC feature victories, including 34 in Sprints and 24 in Midgets, with drivers Bob Wente, Tom Bigelow, Mel Kenyon, George Snider, Dana Carter, Rich Vogler and his son Steve Knepper.
Nick Knepper, grandson of Junior and son of 13-time USAC National Midget winner Steve Knepper, will promote the event along with Derek LeMaster.
Cars are scheduled to hit the track at 4pm (Central). A format utilizing passing points will be used to seed the feature lineups.
The event will be streamed LIVE on http://www.SpeedShiftTV.com/. You can also catch on-demand coverage of the event a day after the race on http://www.Loudpedal.TV/.
38 CARS ENTERED AS OF DECEMBER 4, 2017:
CAR # / DRIVER / HOMETOWN / TEAM
0 KEVIN WOODY, JR./Victor, NY (Buckwalter Motorsports)
0B MIKE McSPARIN/Stonefort, IL (Mike McSparin)
1cc CLAYTON CHRISTENSEN/Spencer, IA (Jody Rosenboom Racing)
1ST SHANE COTTLE/Kokomo, IN (Daryl Saucier/Shane Hmiel)
1T TONY RONEY/Herculaneum, MO (Tony Roney)
3 ALEX WATSON/Columbus, OH (3W Racing)
3B AUSTIN BLAIR/St. Louis, MO (Jim Neuman)
3N JAKE NEUMAN/New Berlin, IL (Jim Neuman)
3s BRIAN SHIRLEY/Chatham, IL (Jim Neuman)
5 CHASE BRISCOE/Mitchell, IN (Chase Briscoe Racing)
5c COLTEN COTTLE/Kansas, IL (Rick Cottle)
5x DANNY FRYE/St. Charles, MO (Danny Frye Motorsports)
6D DON DAWSON II/Indianola, IA (Don Dawson II)
7JR J.D. BLACK/Grain Valley, MO (J.D. Black)
7K JUSTIN PECK/Monrovia, IN (Kenny & Reva Irwin)
9JR DEREK HAGAR/Marion, AR (Hagar/Proctor Racing)
9K KYLE SCHUETT/Philo, IL (Schuett Racing)
11 BRENT BEAUCHAMP/Fairland, IN (Brent Beauchamp)
12w BILLY WEASE/Noblesville, IN (Amanda Wease)
14R JODY ROSENBOOM/Rock Rapids, IA (Jody Rosenboom Racing)
15m SHANE MORGAN/Morton, IL (Morgan Motorsports)
15s JIM PICARDI/Mapleton, IL (Morgan Motorsports)
18 TONY BRUCE, JR./Liberal, KS (Tony Bruce, Jr.)
23LL LEE LENGEL/Wellsville, KS (Lee Lengel)
25p DYLAN PETERSON/Sioux Falls, SD (Vance Peterson)
25s ALEX SCHRIEVER/Sioux Falls, SD (Vance Peterson)
29 JOEY MOUGHAN/Springfield, IL (Tom Casson)
32 TREY MARCHAM/Newcastle, OK (Trey Marcham)
D33 JACOB PATTON/Bethalto, IL (Jeff & Jill Davis)
35 TYLER ROBBINS/Bethalto, IL (Tyler Robbins)
50 DANIEL ADLER/St. Louis, MO (Adler Motorsports)
55D NICK DRAKE/Sherrills Ford, NC (Troy Cline)
56x MARK CHISHOLM/Cheyenne, WY (Fifty6x Race Team)
57D DANIEL ROBINSON/Ewing, IL (McCreery Motorsports)
66 TBA (Amati Racing)
77u CHRIS URISH/Elkhart, IL (Tom Casson)
91 TYLER NELSON/Kansas City, KS (Harris Racing)
95 CHRIS ANDREWS/Tulsa, OK (Miller Racing)
Back to News