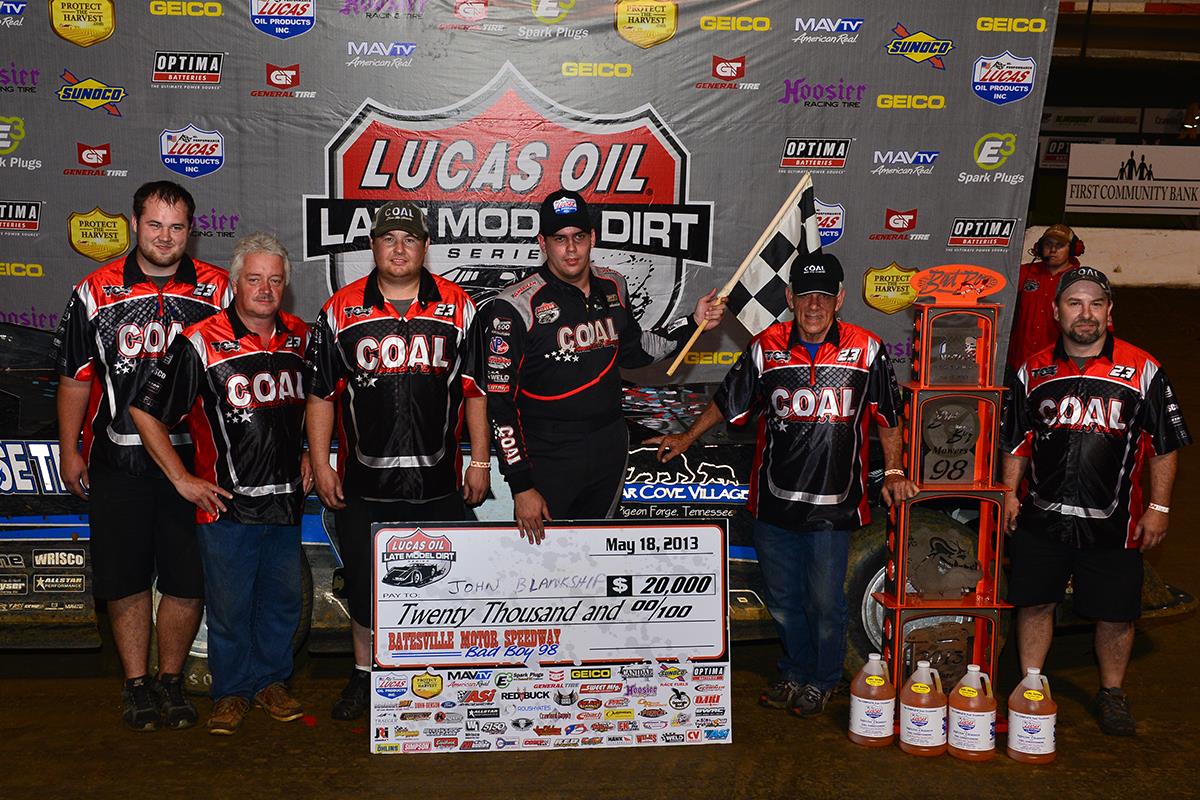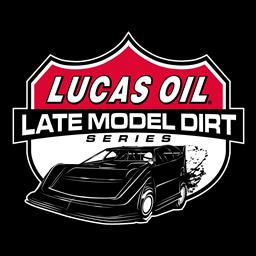 5/18/2013
Lucas Oil Late Model Dirt Series
---
Blankenship Banks Biggest Win of Career in Bad Boy 98 at Batesville
LOCUST GROVE, AR (May 18, 2013) – John Blankenship took home the biggest win of his racing career tonight at Batesville Motor Speedway. Blankenship won $20,000 by winning the Second Annual Bad Boy 98 sanctioned by the Lucas Oil Late Model Dirt Series, and marked the first series win for him this year.
Blankenship pulled away at the end to score a convincing win over Brady Smith, Steve Francis, Billy Moyer and Jimmy Owens. While Blankenship enjoyed the fruits of the win, Dennis Erb Jr. was left with what could have been. Erb led the first 67 laps of the race until smoke bellowed from his number 28 car forcing him pitside.
Erb and Blankenship had put on a side-by-side battle for the top spot for most of the race until that point. Blankenship then ran away with the race as he went unchallenged over the last 30 laps of the event.
"I have to thank all of my crew, Tom Buckingham and everyone else, this is the biggest win we have ever had," exclaimed Blankenship in Lucas Oil Victory Lane. "That was quite a race for the lead between Dennis and me, and then I saw smoke out of his car and I knew he was in trouble. This Rocket Chassis car has been good all year long, we have been knocking on the door for a big win like this since last year, and tonight it finally happened."
"The track was really racy tonight," said the winner afterwards. Blankenship started sixth in the stout field, but first had to withstand a solid challenge from Wendell Wallace early in the race. "Wendell was really good there early on until he had that flat; once he went out, we were able to stay close to Dennis with the caution flags. I have to thank all of my sponsors of course, Coal, Todd Case Trucking, Bear Cove Village, VP Fuels, Integra Shocks, and Cornett Engines."
Smith, who won last week at LaSalle Speedway, came from seventh as he fought his way to a second finish. "Congrats to John on the win, he was gone there at the end! I couldn't see him on the track anymore! Our car was tight early on, but as the race wore on, we got a whole lot better. Hey, this has been a solid two weeks for us. A win and a second place, we'll take it, as we head to the Show-Me 100 next weekend."
Francis, last August's winner of Batesville's biggest race, the COMP Cams Topless 100, had a solid finish in third as he held off Billy Moyer and Owens. Owens retook the championship points lead from Don O'Neal, who finished eighth.
Completing the top ten were Scott Bloomquist, Earl Pearson Jr., O'Neal, Eric Jacobsen, and Jack Sullivan.
In preliminary action, Earl Pearson Jr. set the overall time (Group A) amongst the 40 entrants, with a lap of 13.679 seconds. Bobby Pierce set the fastest time in Group B with a time of 13.738 seconds. Earl Pearson Jr., Steve Francis, Dennis Erb Jr., and Wendell Wallace won their respective heat races. Jimmy Owens and Billy Moyer Jr. won their respective B-Mains.
The Lucas Oil Late Model Dirt Series will be back in action next weekend at the "Diamond of the Dirt Tracks", Lucas Oil Speedway in Wheatland, MO with the 21st Annual Lucas Oil "Show-Me 100" presented by Protect the Harvest. Events will get underway on Thursday, May 23rd with a complete show for the Lucas Oil MLRA late models. The LOLMDS will take to the track on Friday, May24th and Saturday, May 25th. For more information on the "Show-Me 100" or Lucas Oil Speedway, check out www.lucasoilspeedway.com.
For the latest breaking news on the Lucas Oil Late Model Dirt Series, log onto www.lucasdirt.com and follow the series on www.facebook.com/lucasdirt and www.twitter.com/#!/lucasdirt.
Lucas Oil Late Model Dirt Series
Race Summary
Saturday Night, May 18th, 2013
Bad Boy 98 – Batesville Motor Speedway – Batesville, AR
Red Buck Fast Time Group A: Earl Pearson Jr. / 13.679 seconds
Red Buck Fast Time Group B: Bobby Pierce / 13.738 seconds
Wiles Drive Shafts Heat Race #1 (12 Laps, Top 4 Transfer): Earl Pearson Jr., Don O'Neal, Eddie Carrier Jr., Chris Simpson, Jimmy Owens, Brandon Smith, Jack Sullivan, Jay Brunson, Shawn Knuckles, Robert Baker
Eibach Springs Heat Race #2 (12 Laps, Top 4 Transfer): Steve Francis, Brady Smith, Jared Landers, Jesse Stovall, Chris Wall, David Breazeale, Stacy Taylor, Jerry Lierly, Braden Mitchell, Brian Ritchie
Simpson Performance Products Heat Race #3 (12 Laps, Top 4 Transfer): Dennis Erb Jr., John Blankenship, Timothy Culp, Kyle Beard, Tyler Reddick, Keith Craft, Terry Phillips, Jeff Floyd, BJ Robinson, Bobby Pierce
FK Rod Ends Heat Race #4 (12 Laps, Top 4 Transfer): Wendell Wallace, Jimmy Mars, Eric Jacobsen, Billy Moyer, Billy Moyer Jr., AJ Diemel, Mark Whitener, Brian Birkhofer, Austin Rettig, Scott Bloomquist
CV Products B-Main #1 (15 Laps, Top 3 Transfer): Jimmy Owens, Chris Wall, Jack Sullivan, David Breazeale, Brandon Smith, Robert Baker, Stacy Taylor, Jay Brunson, Shawn Knuckles, Jerry Lierly, Braden Mitchell, Brian Ritchie
Wrisco Aluminum B-Main #2 (15 Laps, Top 3 Transfer): Billy Moyer Jr., Mark Whitener, AJ Diemel, Jeff Floyd, Kyle Beard, Terry Phillips, Scott Bloomquist, BJ Robinson, Brian Birkhofer, Keith Craft, Austin Rettig, Bobby Pierce
Feature Finish (98 Laps): 1. 23-John Blankenship; 2. 2-Brady Smith; 3. 15-Steve Francis; 4. 21-Billy Moyer Sr; 5. 20-Jimmy Owens; 6. 0-Scott Bloomquist; 7. 44-Earl Pearson Jr; 8. 71-Don O'Neal; 9. 5J-Eric Jacobsen; 10. 1X-Jack Sullivan; 11. 5-Jared Landers; 12. 11T-Tyler Reddick; 13. 58-AJ Diemel; 14. 21JR-Billy Moyer Jr; 15. 28E-Dennis Erb Jr; 16. 71W-Chris Wall; 17. 58W-Mark Whitener; 18. 6M-Wendell Wallace; 19. 28-Eddie Carrier Jr; 20. 32X-Chris Simpson; 21. 14W-Jesse Stovall; 22. 28M-Jimmy Mars; 23. C8-Timothy Culp; 24. 7L-Jerry Lierly; 25. 32-Bobby Pierce
Race Statistics
Entrants: 40
Lap Leaders: Dennis Erb Jr. (Laps 1 – 67); John Blankenship (Laps 68 – 98)
Caution Flags: Chris Wall (Lap 4); Bobby Pierce, Chris Wall (Lap 5); Chris Simpson (Lap 10); Scott Bloomquist, Jared Landers, Jesse Stovall, Jerry Lierly, Timothy Culp (Lap 14); Wendell Wallace (Lap 42); Mark Whitener (Lap 52); Dennis Erb Jr. (Lap 68)
Lucas Oil Late Model Dirt Series Provisionals: Scott Bloomquist, Bobby Pierce
Lucas Oil Late Model Dirt Series Emergency Provisionals: Jerry Lierly
Optima Batteries Hard Charger of the Race: Scott Bloomquist (Started: 23rd, Finished: 6th, Advanced: 17 positions)
Allstar Performer of the Race: John Blankenship
Sunoco Race for Gas Highest Finisher: Billy Moyer
JRi Shocks/Dunn Benson Ford Rookie of the Race: Billy Moyer Jr.
COMP Cams Engine Builder of the Race: Cornett Racing Engines
Ohlins Shocks Chassis Builder of the Race: Rocket Race Cars
Outerwears Crew Chief of the Race: Tom Buckingham (John Blankenship)
HAWK Performance Fastest Lap of the Race: Billy Moyer Jr. (Lap# 2; 13.567 seconds)
Time of Race: 57 minutes 52 seconds
---
Submitted By: Jeremy Shields
Back to News