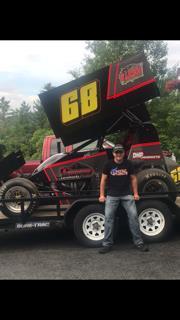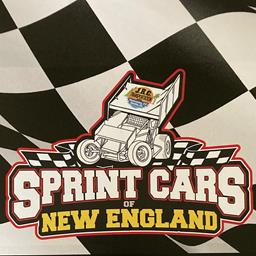 1/1/2021
Sprint Cars of New England
---
2021 IS FINALLY HERE / 2020 ROTY
Lisbon Ct. Well 2021 is finally here and hoping it is better than 2020 for all. SCoNE has been busy the last month or so putting together stuff for our 2021 season. With all six New England states having some type of travel restrictions and group gathering restrictions our series awards banquet will not be scheduled until those restrictions have been lifted. Our 2021 winter meeting may have to be done with a virtual type meeting which is being planned . We will honor the 2020 Champion Chris Donnelly at some point as well as the teams that supported SCoNE during 2020. At this time we would like to reflect on the rookies for the 2020 season. SCoNE had three new teams and one that returned after some time off. Travis Billington ran a couple sprint car a couple times during 2019 and had a great 2020 . Travis had a great first full season with SCoNE with four top five finishes and ten top ten finishes out of eleven races, and finished fifth in points. Caleb Lamson ran all eleven events and finished in the top ten , nine times. Caleb had one DNF due to a infraction not of his doing at one race. Caleb finished sixth in points. Mike Horsch Jr came to SCoNE from ice racing in NH. Mike had a decent first year after a few mechanical issues to start the season and had five top ten finishes and tenth in points.
Your 2020 SCoNE Rookie of the Year is awarded to Caleb Lamson. Before 2020 Caleb never drove any type of race car and jumped into a sprint car for his first ever laps. And that was in a 360 sprint car. Caleb has always had the need for speed . Caleb started out racing motocross at the age of five. Winning many races and championships at Rider Hill in VT and Cannan Lions club in NH. During the fall you will find Caleb in the woods as he loves to go deer hunting. Hunting in VT, NH and ME is one of his outdoor hobbies. Caleb also loves riding his snowmobile once the snow falls on the VT and NH trails and shredding the mountain tops of Bolton Valley. Once springtime comes along you find Caleb right next to dad at many central VT mud bog locations. Caleb and his dad found SCoNE and sprint car racing supporting former series champion Will Hull during the 2019 season. During the COVID shutdown this past spring Caleb and his dad Justin went to look at a sprint car that was for sale. (A little hint from me when you bring a trailer your not looking) Mom Sandy was not to impressed when they got home. With never sitting in a race car Caleb went to Bear Ridge Speedway for a practice session. His first race was at the fast half mile of Devil's Bowl Speedway. Caleb had loved what he was feeling even a spin and not lifting to continue on showed he does have the need for speed. Caleb turned sixteen years old in March of 2020 and was really a true rookie. That is why he earned the 2020 ROTY. His family is very proud of his efforts and how he presents himself at the race track. Also his family is proud of the support that fellow SCoNE teams showed him during his rookie year.
Caleb Lamson would like to thank his team for his 2020 season.
His dad and best friend Justin Lamson
His Papa who never misses a shop night or a race Stanley Lamson
His mom Sandy for packing the cooler with food and drinks
His girlfriend Kayla for keeping him in check
and also Will Hull for his support and guidance , they knew nothing about a sprint car.
Congratulations to you all and hope to see you in 2021.
And I can't leave you without asking one more time. If you know a business that would be willing to support SCoNE in any way ,please get in touch with me. Our series need help to grow and I am sure there are some small businesses that could use a little help advertising during these tough times. SCoNE can offer many low cost ways to advertise them and help us both. Stay tuned for more information on our winter meeting.
Stay safe,
Ron
Article Media
Back to News