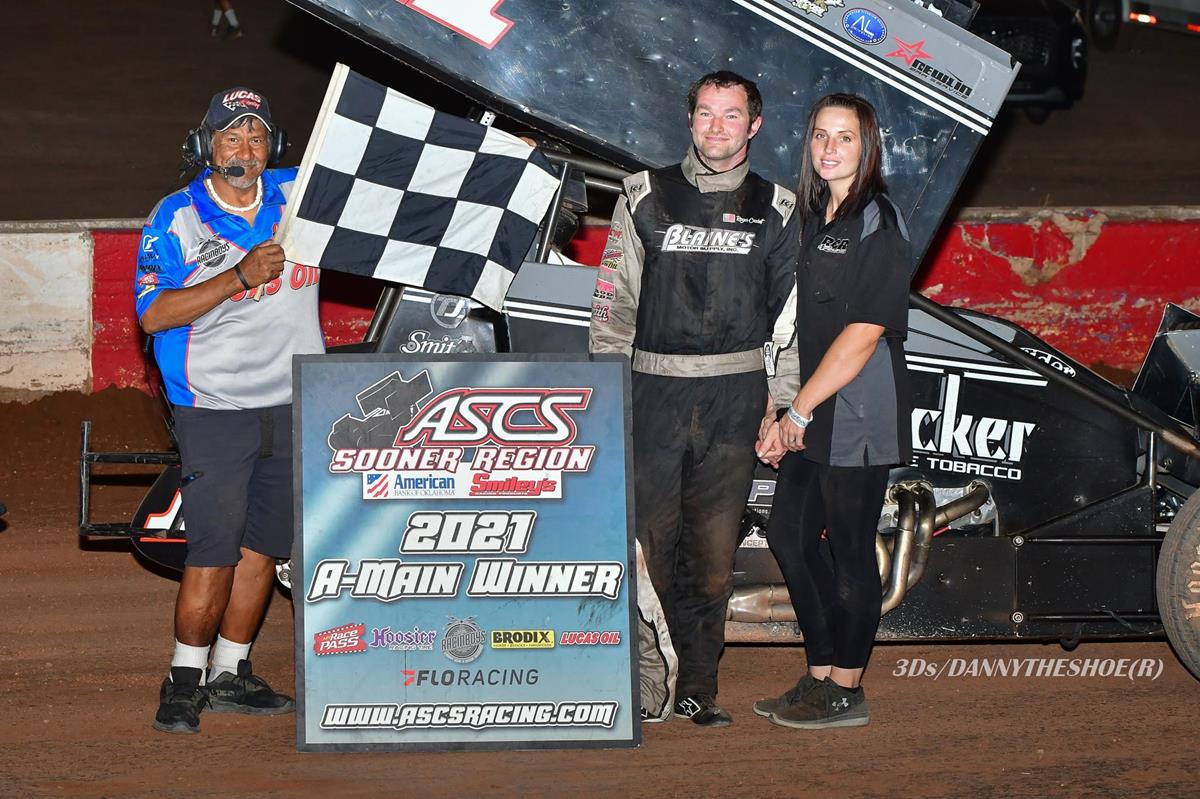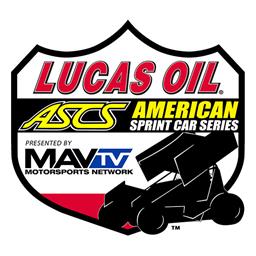 ---
Roger Crockett Rockets To ASCS Sooner/Mid-South Win At Tri-State Speedway
(Image Credit: Danny Clum)
Bryan Hubert – POCOLA, Okla. (October 9, 2021) Earning his second victory of the season with the American Bank of Oklahoma ASCS Sooner Region presented by Smiley's Racing Products, and first with the ASCS Mid-South Region, Roger Crockett was untouchable at the mighty Tri-State Speedway.
Chasing through two attempts at the start, the lead was in the hands of Tim Crawley until contact in traffic on Lap 7 rendered the steering inoperable on the Coke-Zero No. 0. Giving the lead to Crockett, he was chased by Blake Hahn until Lap 9 when mechanical issues sidelined the Sage Fruit Co. No. 52.
Able to fend off the field through several more restarts, Roger was chased through the closing laps by Garet Williamson, but the No. 24 came up 1.451-seconds shy as the checkered flag dropped. Picking up an extra $100 from http://www.oklahomatidbits.com as the night's Hard Charger, the final podium step when to Brandon Anderson, who worked the hub of the high-banked oval to take third on Lap 20.
Taking a page from the X-Games, Kyle Clark's fourth-place run was the talk of the night as it nearly ended in a shower of sparks on Lap 14. Crawling the wall down the back straightaway, No. 9$ rode the top of the concrete before launching out of the park, somehow getting the car pointed in the right direction, and shooting back onto the track without bringing out the red or a caution.
Another driver making the bottom of the track work in the final laps, Jeremy Campbell rolled from 12th to fifth.
Alex Sewell was sixth with Michael Day going from 11th to seventh. Rolling forward 11 spots, Fred Mattox made it to eighth with Terry Easum following from 20th to ninth. Dylan Postier made up the top ten.
The American Bank of Oklahoma ASCS Sooner Region presented by Smiley's Racing Products races next on Friday, October 29, and Saturday, October 30 at Creek County Speedway. The ASCS Mid-South Region is at I-30 Speedway on Friday, October 21, and Saturday, October 22.
The 2021 season marks the 30th year of competition for the American Sprint Car Series. Spearheaded by the Lucas Oil American Sprint Car Series presented by the MAVTV Motorsports Network, the ASCS Nation also includes 11 Regional Tours that encompass both wing and non-wing competition.
For other news, notes, and information on any of the tours under the ASCS banner, log onto http://www.ascsracing.com, follow on Facebook, Instagram, and Twitter (@LucasOilASCS).
Race Results
ASCS Sooner vs ASCS Mid-South
Tri-State Speedway (Pocola, Okla.)
Saturday, October 9, 2021
Car Count: 24
Schure Built Suspensions Heat 1 (8 Laps): 1. 11-Roger Crockett[4]; 2. 7F-Noah Harris[3]; 3. 55B-Brandon Anderson[6]; 4. 30-Joseph Miller[1]; 5. 9H-Emilio Hoover[2]; 6. 10P-Dylan Postier[5]; 7. 30X-Larry Bratti[8]; 8. 21K-Kevin Hinkle[7]
Lightning Wings Powder Coating Heat 2 (8 Laps): 1. 52-Blake Hahn[6]; 2. 9$-Kyle Clark[2]; 3. 1S-Joey Schmidt[4]; 4. 8-Alex Sewell[8]; 5. 24-Garet Williamson[3]; 6. 23B-Steven Shebester[5]; 7. 90-Lance Norick[1]; 8. 0Z-Landon Crawley[7]
Smith Titanium Heat 3 (8 Laps): 1. 25-Blaine Baxter[2]; 2. 2C-Whit Gastineau[4]; 3. 0-Tim Crawley[8]; 4. 91-Michael Day[6]; 5. 10C-Jeremy Campbell[7]; 6. 26M-Fred Mattox[1]; 7. 88-Terry Easum[5]; 8. 3G-Paxton Gregory[3]
American Bank of Oklahoma A-Main (25 Laps): 1. 11-Roger Crockett[4]; 2. 24-Garet Williamson[14]; 3. 55B-Brandon Anderson[5]; 4. 9$-Kyle Clark[9]; 5. 10C-Jeremy Campbell[12]; 6. 8-Alex Sewell[8]; 7. 91-Michael Day[11]; 8. 26M-Fred Mattox[19]; 9. 88-Terry Easum[20]; 10. 10P-Dylan Postier[16]; 11. 0Z-Landon Crawley[22]; 12. 23B-Steven Shebester[17]; 13. 25-Blaine Baxter[1]; 14. 30-Joseph Miller[13]; 15. 21K-Kevin Hinkle[21]; 16. 90-Lance Norick[23]; 17. 30X-Larry Bratti[18]; 18. 3G-Paxton Gregory[24]; 19. 9H-Emilio Hoover[15]; 20. 7F-Noah Harris[6]; 21. 52-Blake Hahn[3]; 22. 1S-Joey Schmidt[10]; 23. 0-Tim Crawley[2]; 24. 2C-Whit Gastineau[7]
---
Submitted By: Bryan Hulbert
Back to News