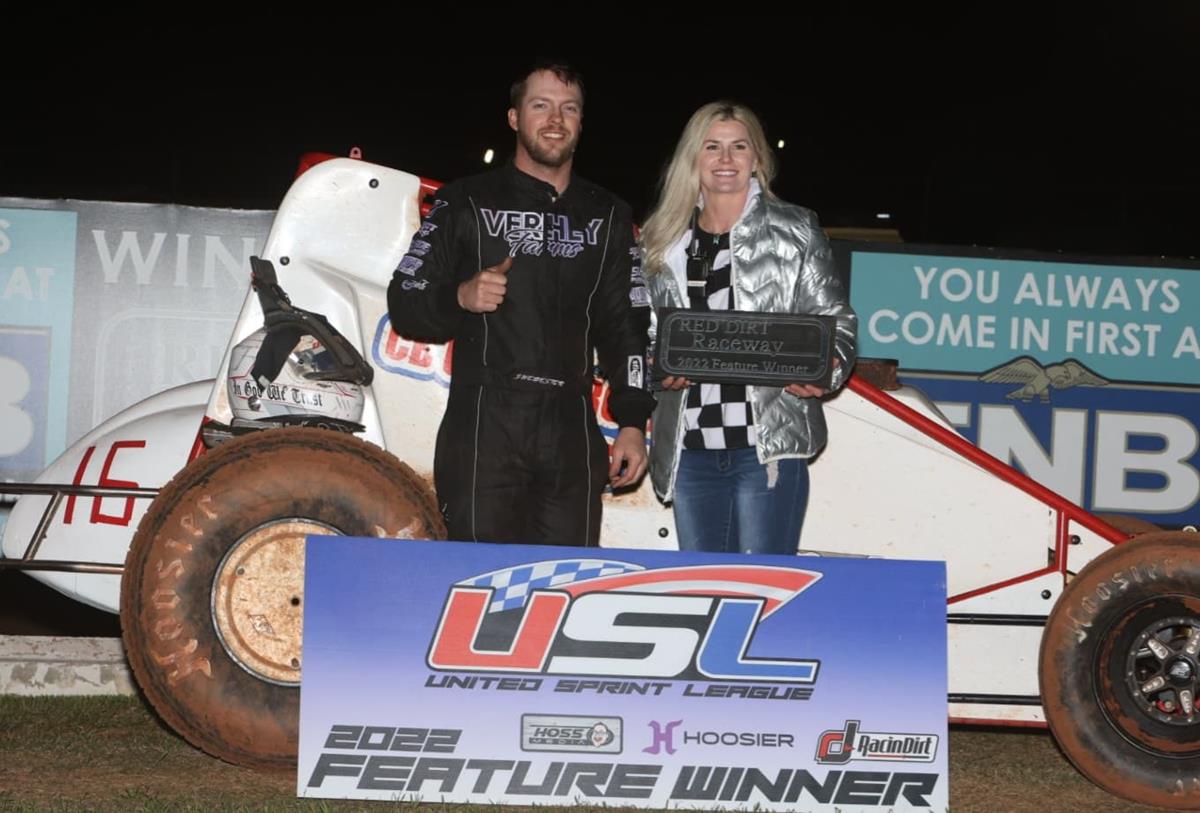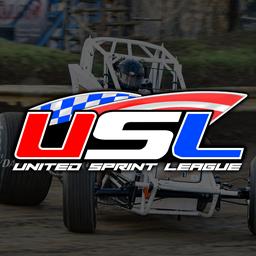 4/9/2022
United Sprint League
---
Shebester Dominates United Sprint League Debut At Red Dirt Raceway
(Image Credit: Ashley Allinson)
Bryan Hulbert – MEEKER, Okla. (April 8, 2022) Leading start to finish on Friday night, Oklahoma's Steven Shebester topped the field of 23 at Red Dirt Raceway in the debut event for the United Sprint League.
Able to cut through traffic with ease as Johnny Kent chased in the No. 55, the final five laps saw things get interesting as Steven's nearly three-second lead was cut to just over a second. Threading needles with less than three to go, the race's lone caution came as the field came around to the white flag.
Green, White, Checkered to the finish, Kent shot the bottom on the restart but couldn't get the run needed to stay with Shebester, who made it to the finish with 1.420-seconds to spare. Johnny Kent held on to second, as seventh starting Tanner Conn made the last-lap pass for third. Cameron Hagin settled for fourth, with Rees Moran taking fifth.
Danny Smith crossed sixth, followed by David Stephenson in seventh. Rolling from 14th, Ty Hulsey made it to eighth, followed by Cody Whitworth and Gerald Smith to complete the top ten.
The United Sprint League races again on Saturday, April 16, at Lawton Speedway in Lawton, Okla. Fans not able to attend can see the race online at http://www.racindirt.com.
The United Sprint League is the continuation of Wingless Sprint Car Racing in Oklahoma. Founded in 2018 as the Wingless Sprint Cars of Oklahoma, the series was purchased by Terry Mattox and Kerry Gorby in 2022 and transformed it into the United Sprint League. For the complete lineup of events, notes, news, and points log onto https://www.myracepass.com/series/1794.
Race Results
United Sprint League
Red Dirt Raceway (Meeker, Okla.)
Friday, April 8, 2022
Car Count: 25
Heat 1 (8 Laps): 1. 16S-Steven Shebester[2]; 2. 71-Tanner Conn[1]; 3. 24C-Craig Carroll[3]; 4. 22-David Stephenson[6]; 5. 24H-Ty Hulsey[5]; 6. 31-Grady Mercer[7]; 7. 51-Ryan Dean[4]; 8. 33-Justin Patocka[8]
Heat 2 (8 Laps): 1. 5X-Matt Sherrell[1]; 2. 55-Johnny Kent[7]; 3. 50-Cody Whitworth[6]; 4. 938-Bradley Fezard[4]; 5. 38-Jimmy Forrester[5]; 6. 97-Kevin Cummings[8]; 7. 69-Greg York[2]; 8. 39-Kimberly Tyre[3]
Heat 3 (8 Laps): 1. 5-Cameron Hagin[1]; 2. 22M-Rees Moran[2]; 3. 5$-Danny Smith[6]; 4. 29G-Gerald Smith[5]; 5. 18-Dillon Laden[3]; 6. 37-Jack Hall[7]; 7. (DQ) 007-Cody Carter[4]
A-Main (25 Laps): 1. 16S-Steven Shebester[1]; 2. 55-Johnny Kent[4]; 3. 71-Tanner Conn[7]; 4. 5-Cameron Hagin[5]; 5. 22M-Rees Moran[8]; 6. 5$-Danny Smith[2]; 7. 22-David Stephenson[9]; 8. 24H-Ty Hulsey[14]; 9. 50-Cody Whitworth[3]; 10. 29G-Gerald Smith[11]; 11. 938-Bradley Fezard[12]; 12. 24C-Craig Carroll[10]; 13. 007-Cody Carter[20]; 14. 31-Grady Mercer[17]; 15. 33-Justin Patocka[18]; 16. 97-Kevin Cummings[13]; 17. 38-Jimmy Forrester[15]; 18. 39-Kimberly Tyre[19]; 19. 18-Dillon Laden[16]; 20. 37-Jack Hall[22]; 21. 5X-Matt Sherrell[6]; 22. 69-Greg York[21]; 23. 51-Ryan Dean[23]
---
Submitted By: Bryan Hulbert
Back to News