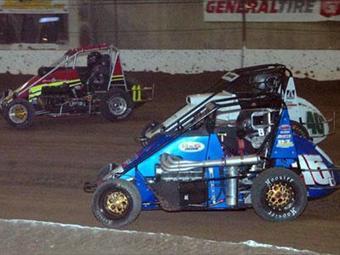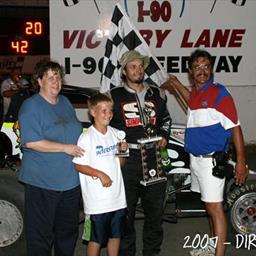 ---
Peterson Ready To Tackle Chili Bowl
Donovan Peterson is ready to hit the Chili Bowl for the second time in his 25 years of racing. "We had alot of good runs down at Kemper and being able to race with Darland and Swindell gives me some confidence going into the Chili Bowl" All indoor racing is tight and Donovan was at the end of everything. With a win the C Main Saturday Night. Donovan would start at the tail of the B main and make his way up to 5th. "The car was awesome and I felt like I would be able to make the A but for some reason after the yellow came out they sent me back to 9th with only 3 laps to go and I finished 6th."
Wednesday, January 14 – Creek Nation Casino Qualifying Night
Four-time Chili Bowl king Sammy Swindell, 2006 winner Tim McCreadie and 1990 victor Johnny Heydenreich headline a loaded Wednesday night lineup that includes that likes of J.J. Yeley, Jon Stanbrough and Kemper conqueror Bryan Clauson among others.
Josh Ford cashed in on last year's Creek Nation Casino qualifier for the second time in four years.
Past Feature Starters (16): Sammy Swindell (15), Kevin Olson (10), J.J. Yeley (5), Jon Stanbrough (4), Gary Wright (4), Joe Boyles (3), Johnny Heydenreich (3), Tim McCreadie (3), Bubba Altig (2), Josh Ford (2), Brady Bacon (1), Bryan Clauson (1), Levi Jones (1), Johnny Rodriguez (1), Brandon Waelti (1), Chris Windom (1).
2008 Chili Bowl Main Event Starters: B. Clauson, J. Stanbrough, K. Swindell, B. Bacon, L. Jones, J. Ford.
Pick Six - Trying to Crack Saturday's Feature: Darren Hagen, Chad Boat, Shane Golobic, Kevin Ramey, Nick Wean, Matt Sherrell.
Rookies (16): Justin Barger, Cale Conley, Bruce Douglass, Nic Faas, Gavin Galbraith, Justin Grosz, Shane Hmiel, Doug Kammerzell, Brock Lemley, Donovan Peterson, Casey Riggs, Jacob Rosario, Tim Spurgeon, Kevin Studley, Brent Swift, Austin Wheatley.
On the Chili Bowl Seniority Charts: Sammy Swindell 18, Johnny Heydenreich 17, Kevin Olson 16, Dave Camfield, Jr. 14, J.J. Yeley 12, Gary Wright 11, Joe Boyles 10.
Wednesday's Entries: www.chilibowl.com/2009qualwed.asp
Back to News