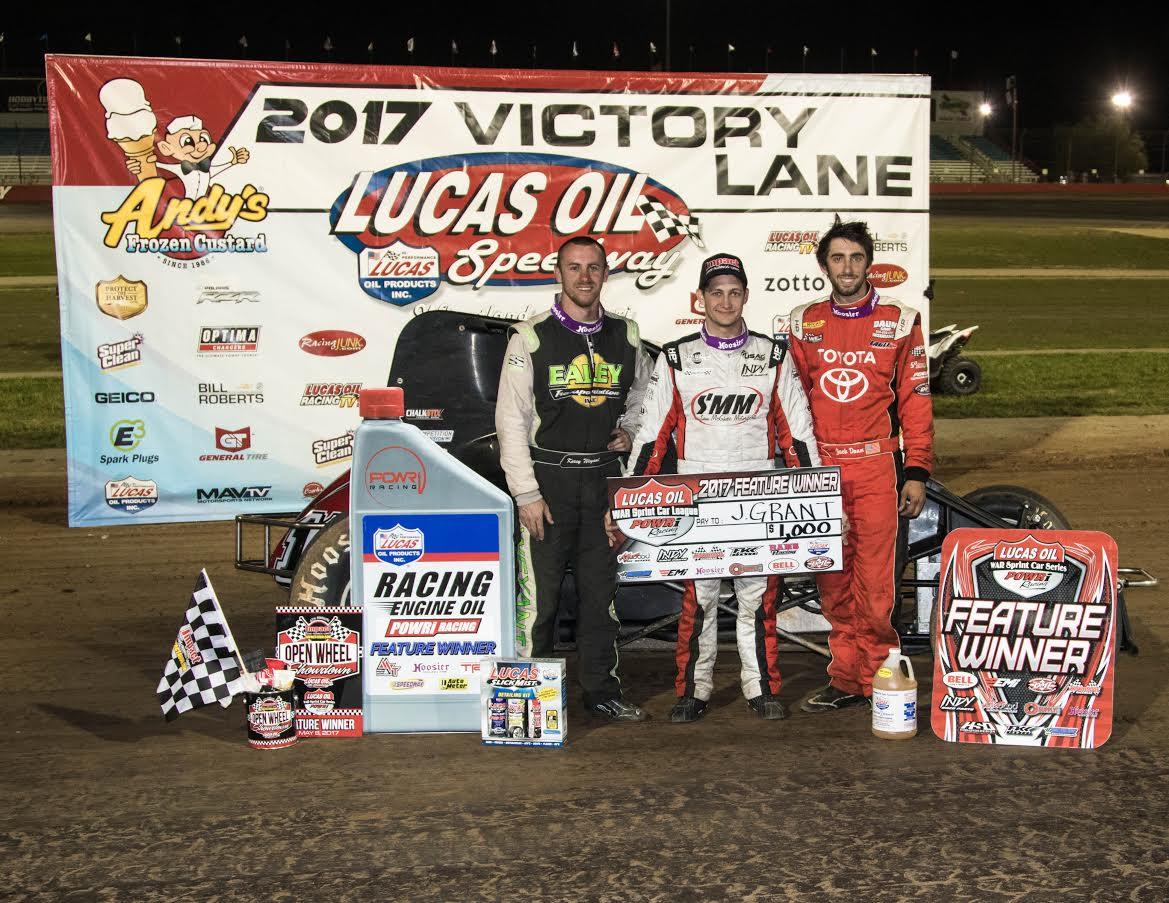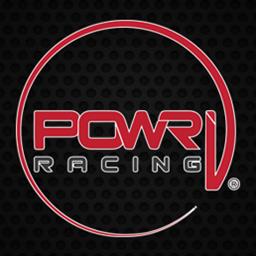 ---
GRANT GRABS LUCAS OIL SPEEDWAY WIN
GRANT GRABS LUCAS OIL SPEEDWAY WIN
Wheatland, MO (May 6, 2017) - In a race that went twenty-five non stop laps and saw all twenty two starters complete the A-Main, Justin Grant picked up a win on Saturday night with the POWRi Lucas Oil WAR Sprints at Lucas Oil Speedway. Korey Weyant, Zach Daum, Clinton Boyles, and eighteenth starting Brandon Mattox rounded out the top five.
Grant, who has been one of open wheel racing's hottest drivers in 2017, moved from his outside starting spot into the lead as he was chased by Daum and Weyant. Daum and Weyant put on a great battle for the runner-up spot as Grant steadily built his lead. Weyant would see his attempt to get by Daum come to an end when he made contact with a lapped car in the closing laps. Weyant was able to save it and continued on, but the contact allowed Boyles to move by into third.
Grant picked up his second career series win aboard his Sam McGhee Motorsports/Mike McGhee and Associates/Brown & Miller Racing Solutions Foxco-powered Maxim. Daum was second in his Daum Crop Insurance/5D Composites Eagle. Weyant would rebound to get back by Boyles for third in his Weeble's Bar and Grill/Ealey Transportation/Tosti's Transmission Eagle with Automotive Machine power. Boyles was fourth in the Jesse Hockett Racing/Lucas Oil/Rod End Supply RMS-powered Maxim. Mattox was the Indy Race Parts Hard Charger as he passed thirteen cars to finish fifth in his Mattox-Nigg Racing/Gene Nigg Construction/Air Source One Chevy-powered DRC. Layne Himebaugh was sixth in the Risley Trash Service entry normally piloted by Craig Carroll, who was away on his honeymoon. Chance Morton was seventh with Ty Hulsey, Warren Johnson, and Andrew Deal completing the top ten.
The POWRi Lucas Oil WAR Sprints will next be in action on Thursday May 11 at Lakeside Speedway in Kansas City, KS and on Friday May 19 at US 36 Raceway in Osborn, MO.
POWRi Lucas Oil WAR Sprint Cars
5/6/17
Lucas Oil Speedway - 32 cars
Hinchman Racewear Heat 1 - 8 laps
99-Korey Weyant, Springfield, IL (8); 2. 11W-Wyatt Burks, Topeka, KS (5); 3. 7M-Chance Morton, Coweta, OK (7); 4. 77H-Rob Hockett, Lone Jack, MO (4); 5. 75-Glen Saville, Razorback, NSW (1); 6. 52-Isaac Chapple, Willow Branch, IN (6); 7. 77K-Katlynn Leer, Moulton IA (3); 8. 82-Vinny Ward, Warrenton, MO (2)
Wilwood Disc Brakes Heat 2 - 8 laps
5D-Zach Daum, Pocahontas, IL (4); 2. 77-Clinton Boyles, Greenwood, MO (2); 3. 71-Robert Bell, Colfax, IA (3); 4. 9$-Kyle Clark, Sapulpa, OK (8); 5. 15D-Andrew Deal, Caney, KS (6); 6. 9L-Hunter Lane, Milo, IA (1); 11M-Michael Tyre, Kiefer, OK (7); 8. 28-Brandon Mattox, Terre Haute, IN (5)
Bell Helmets Heat 3 - 8 laps
24L-Layne Himebaugh, Collinsville, OK (7); 2. 5$=Danny Smith, Sand Springs, OK (1); 3. 24H-Ty Hulsey, Owasso, OK (4); 4. 75-Glen Saville, Razorback, NSW (6); 5. 22-David Stephenson, Porter, OK (5); 6. 65M-TJ Muths, Sedalia, MO (2)-(DNF); 7. 20-Steve Thomas, Ludlow, IL (3)-DNF; 8. 17-Max McGhee, Camby, IN (DNS)
Schure Built Suspensions Heat 4 - 8 laps
51B-Joe B. Miller, Millersville, MO (1); 2. 11-Justin Grant, Ione, CA (8); 3. 42-Warren Johnson, Overland Park, KS (6); 4. 97-Kevin Cummings, Tulsa, OK (5); 5. 65-Chris Parkinson, Gladstone, MO (4); 6. 22S-Slater Helt, Harrisonville, MO (3); 7. 31S-Austin Sears, Macomb, IL (7); 8. 93-Steve Mahannah, Springfield, MO (2)
B-Main- 12 laps
15D-Andrew Deal (1); 2. 28-Brandon Mattox (11); 3. 65-Chris Parkinson (3); 4. 22-David Stephenson (2); 5. 75-Glen Saville (4); 6. 17-Max McGhee (15); 7. 52-Isaac Chapple (5); 8. 77K-Katlynn Leer (9); 9. 20-Steve Thomas (12); 10. 31S-Austin Sears (7); 11. 93-Steve Mahannah (13); 12. 22S-Slater Helt (6); 13. 11M-Michael Tyre (8); 14. 82-Vinny Ward (14); 15. 9L-Hunter Lane (10); 16. 65M-TJ Muths (DNS)
POWRi Lucas Oil WAR Sprints A-Main - 25 laps
11-Justin Grant (2); 2. 5D-Zach Daum (1); 3. 99-Korey Weyant (4); 4. 77-Clinton Boyles (10); 5. 28-Brandon Mattox (18); 6. 24L-Layne Himebaugh (3); 7. 7M-Chance Morton (6); 8. 24H-Ty Hulsey (12); 9. 42-Warren Johnson (7); 10. 15D-Andrew Deal (17); 11. 22-David Stephenson (20); 12. 11W-Wyatt Burks (5); 13. 17-Max McGhee (22); 14. 9$-Kyle Clark (9); 15. 78-Rob Caho Jr. (13); 16. 51B-Joe B. Miller (8); 17. 65-Chris Parkinson (19); 18. 5$-Danny Smith (11);19. 71-Robert Bell (14); 20. 77H-Rob Hockett (16); 21. 75-Glen Saville (21); 22. 97-Kevin Cummings (15)
Photo Credit: Redlined Photography
---
Article Credit: Chad Buford
Article Media
Back to News