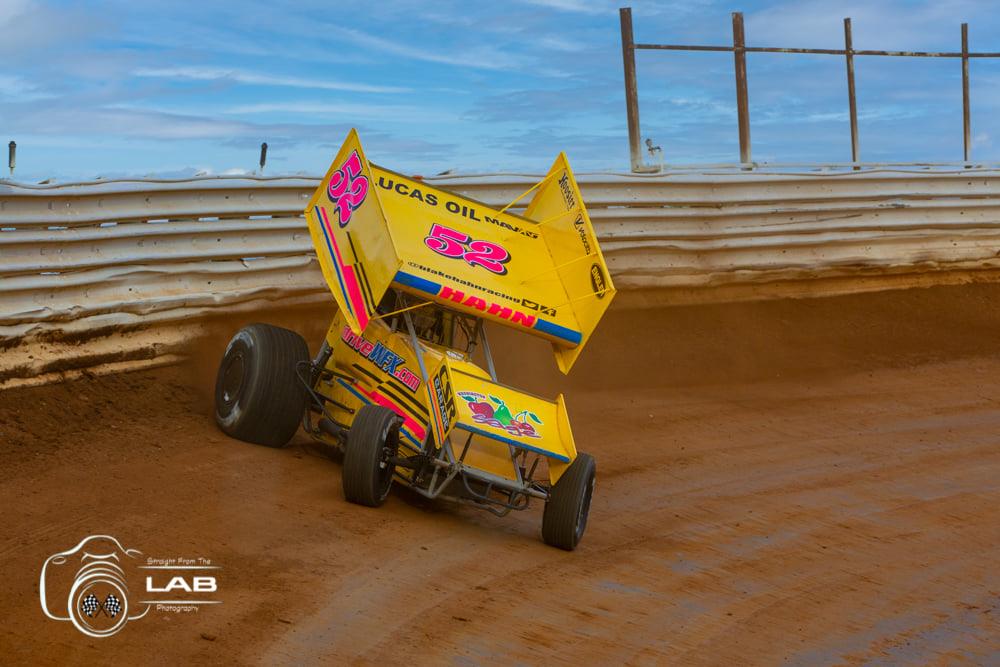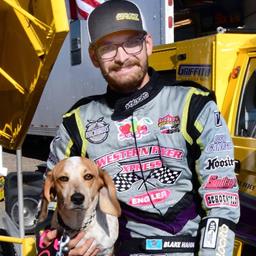 ---
Blake Hahn Rolls To Second Win Of 2021 Season
(Image Credit: Larry Burnett)
Bryan Hulbert – SAPULPA, Okla. (May 19, 2021) Collecting his second win of the season, Blake Hahn led start to finish Saturday night at Volunteer Speedway with the Lucas Oil American Sprint Car Series presented by the MAVTV Motorsports Network.
Keeping up a trend for the No. 52, Hahn has better than most success when he rolls into a track for the first time.
"I'm not sure why, but we just roll good at new tracks," stated Hahn. "I've said it before, that the only thing I can think of is we don't, and mainly I don't, have time to overthink the track and what to do. Frankly, that's easy to do in this game, and sometimes the lack of notes is the best thing you can have going for you."
Of all the tracks that Blake has been to, he admitted that Volunteer Speedway presented some new challenges.
"The banking is more than I've ever been on. The first time I ever won a National Tour race was at Salina Highbanks, and that banking is nothing compared to Volunteer. The way it plants the car, plus having the wing, you had to really be aware because you could not see out either side of the car, but it was fun. The speed you carry into a corner and the way it plants the car is an awesome feeling."
Held up by slower traffic in the closing laps, that did allow Seth Bergman to close rapidly but never gave the No. 23 a chance to challenge.
"I knew someone was coming. I had to slow way down, and that's the most dangerous thing you can do as the leader because you are a sitting duck. Luckily, the track had cleaned off enough through three and four that the rubber was going to make it tough to get by me, but it still wasn't good."
Next on the lineup is Tri-City Speedway on Friday, May 21, another new track for the No. 52 team, and I-30 Speedway on Saturday, May 22. This weekend can be seen live on http://www.floracing.com and http://www.racinboys.com.
The 2021 season is Blake Hahn's 19th year of racing. Starting in Jr. Sprints at the Tulsa Shootout, Hahn has progressed through the ranks with over 90 victories across Micros, Midgets, and Sprint Cars. For continued updates on Blake Hahn Racing, log onto http://www.blakehahnracing.com.
2021 Season to Date:
Events: 16; Wins -2; Top 5 - 8; Top 10 – 10; Top 20 – 14;
Coming Up:
May 21 – Tri-City Speedway (Granite City, Ill.) w/Lucas Oil ASCS
May 22 – I-30 Speedway (Little Rock, Ark.) w/Lucas Oil ASCS
How To Follow Blake Hahn Online:
Facebook: https://www.facebook.com/Blake-Hahn-Racing-139549836107030/?fref=ts
Website: http://www.blakehahnracing.com
Instagram: BHAHN52
The Sponsors:
DriveWFX.com, Lucas Oil Products, CSR Garage, Sage Fruit, Co., Speedway Vending, Semi Crazy Truck Wash, JR1, Triple X Race Co., Engler, Smiley's Racing Products, Hoosier Tire Southwest, Penske Shocks, Maxwell Industries, Best Graphics, Schoenfeld, Rod End Supply, and EFH.
---
Submitted By: Bryan Hulbert
Back to News