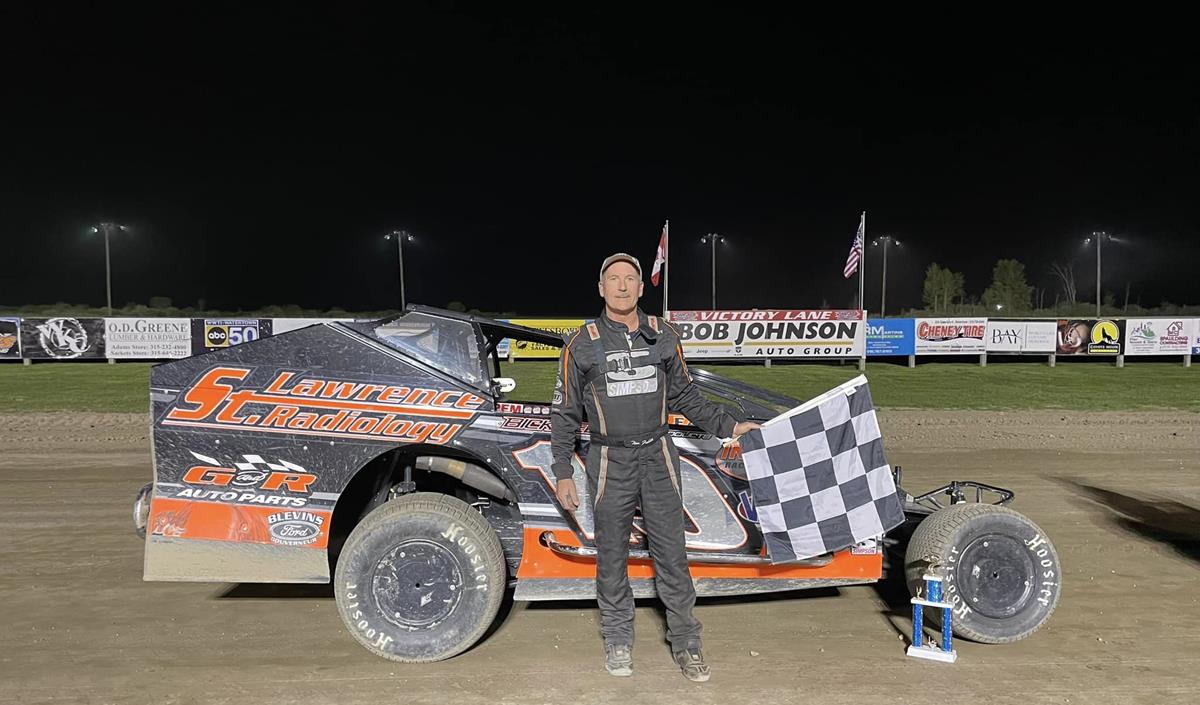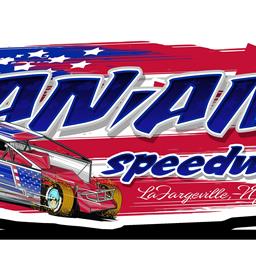 ---
Late Caution Propels Fuller to Can Am Speedway Victory Lane
By: Tim Baltz
LAFARGEVILLE, NY - Mother's Day weekend kicked off in a big way this past Friday night at the Can Am Speedway with 6 classes on hand as the FABCO DIRTCar Pro Stocks made their second visit of the season. After a week of first-time winners, victory lane was dominated by familiar faces.
Brady Howard took advantage of a great starting spot as he powered to the lead early in the 12 lap Donath Motorworx Limited Sportsman feature with Dylan Moore and Keegan Nier not too far behind. Howard had a fast car but Keegan Nier was quick as he closed in for the lead. It came down to another Howard versus Nier battle for the win, until Nier broke in turn 2 with three laps to go. Over the final laps Brady Howard was able to hold on and go back-to-back in Limited Sportsman action. Joey Wilcox started 5th and ended up second with Dylan Moore finishing 3rd.
Brasher Falls New York's Eli Gilbert was quick early on in the 20 lap FABCO DIRTCar Pro Stock feature. However hot on his heels was opening day runner up, Sid Harmer Jr., who pressured Gilbert for the lead. On Lap 8 Harmer got the opening he was looking for as he shot by in turn 2 to take the lead. Harmer led comfortably at halfway until the yellow flew as Pete Stefanski and Tyler Bushey tangled in turn 2. When the green flew it was Harmer in control over Bushey once again. After a solid run opening day, which saw him nearly come from behind to win, Sid Harmer Jr. turned in a solid performance to score his first win since May 14th of 2021 in the FABCO DIRTCar Pro Stocks at Can Am. Tyler Bushey, missing a hood, fenders and a bumper cover, was able to rebound to second with Stefanski coming across in third.
One week ago, in the Whitesboro Plow Shop DIRTCar 358 Modified feature, Ryan Bartlett had a huge fire in his car, but escaped serious injury. On this night he used his front row starting spot to grab the lead at the start of the 25-lap event, over Preston Forbes, Derek Webb, Tim Fuller and Shaun Shaw. Bartlett was on a mission on this night but 2-time and defending track champion Tim Fuller was slowly making his way forward in the early laps. Fuller would get by Derek Webb to take third on lap 12 then patiently ran down Preston Forbes who was have an amazing night, running second. On lap 17 Fuller was able to get by for the runner up spot, but Bartlett had checked out at this point and was looking to be well on his way to victory lane. On lap 21 the big lead that Bartlett had was gone as Jordan McCreadie came to a stop in turn 2. On the final restart it would be a battle between the top two drivers in the points from last year. Bartlett would hold the lead using the middle groove, but Fuller was mounting a serious challenge on the bottom. On lap 22 Fuller found the fast lane and drove by Bartlett. After two solid weeks, it was Tim Fuller's night, as he scored career Modified win number 39 at Can Am, which is third most all time. Bartlett, who was looking for his 5th career Can Am win, would settle for 2nd with Derek Webb, Shaun Shaw and Scott Webb completing the top 5.
Dustin Hutton led early as the green flag flew in the 20 lap Bob Johnson Auto Group DIRTCar Sportsman feature. The story on this night was Kingston Ontario's Greg Brinklow. Using the outside lane Brinklow would put the pressure on Hutton for the lead. On lap 8 Brinklow finally made the move as he took over the lead in turn 4 and begin to pull away, but also making a charge was Gavin Eisle. After two disappointing weeks to start the year, Eisle just wanted to finish a race and looked well on his way to doing just that. Eisle took second from Hutton with 7 to go but Brinklow had a big lead and was looking well on his way to his first career win. With 4 laps to go Brinklow entered traffic as Eisle stayed within striking distance hoping for an opportunity. On lap 18 Eisle got the chance as Brinklow got caught behind a lapped car, allowing Eisle to grab the lead from the bottom in tun 4. From there Gavin Eisle would drive on and leave the bad luck in the rearview mirror, scoring his first win of the season. Greg Brinklow would claim a career best second over Dustin Hutton, Mike Fowler and Tyler Corcoran.
Picton Ontario's Andrew Hennessey would lead early in the Panther Frameworx 602 Crate Sprint car 20 lap event. The former Canadian Modified and Crate Late Model star, would have a strong run early but defending track champion and so far, undefeated Josh Verne Jr., would close in for the top spot. After a great battle, Verne took over the lead on lap 7, with Hennessey and Mike Bowman making up the top 3 spots. On the next lap, Michael Cousins and Tiger Chapman made contact in turn two resulting in both drivers making an early exit from the event with damage. On the restart it was all Josh Verne Jr. as he rocketed to the lead and began to pull away. Behind him Andrew Hennessey and former Modified driver Mike Bowman put on a great show for 2nd while Bruno Richard closed in making it a three-car fight for position. Up front, it was all Josh Verne Jr as he marched to his third win in three weeks at Can Am. Hennessey would hold off Bowman for second with Bruno Richard and Tucker Donath making up the top five finishers.
OJ White led at the drop of the green flag in the Sundance Leisure Thundercar 15 lap event, over Francis White, Damien Bechler, Remington Hamm and Justin Pope. The time up front was short lived however, as Francis White took over the lead on lap 4 with Bechler and Hamm moving into the top three spots. OJ White's great night came to an end with a broken front end in turn one on lap 8 and the yellow flew. This allowed Taylor Doxtator to charge to the head of the class in a borrowed ride for the night. Doxtator looked well on his way to the win but a blown tire would take him out of contention, handing the lead back to Francis White. It appeared White was on his way to the win, but the story of the night was Justin Pope. Making his first start of the year, Pope caught a flat tire early, would go pit side and get it change. No big deal. Just past halfway Pope would suffer another blown tire and would get it changed, but would need to run hard to catch the leaders. With five to go Francis White was looking strong but remember Justin Pope? Well, he was running hard and would close in on White setting up a spirited side by side battle for the win. Heading to the checkers the top two raced to the line and would cross nearly even at the checkered flag. By 0.047 seconds, Justin Pope would claim win number one of the season. Francis White would have to settle for second, over Damien Bechler, Michael Greenfield and Steve Smith.
Next week it will be a Night of Remembrance at Can Am with all six classes back in action. Gates open at 5pm with racing beginning at 7pm. Opening ceremonies and National Anthems by Miss Adirondak and Miss Thousand Islands will take place prior to the first green flag. To view updated results and points along with the latest news and updates, head to our website at racecanam.com. To get instant information give the speedway a follow-on Facebook.
WHITESBORO PLOW SHOP DIRTCAR 358 MODIFIED
Feature (25 Laps): 1. 19-Tim Fuller[9]; 2. 39-Ryan Bartlett[1]; 3. 66W-Derek Webb[3]; 4. 7S-Shaun Shaw[7]; 5. 18W-Scott Webb[6]; 6. 9-Tyler Meeks[5]; 7. 49-Billy Dunn[12]; 8. 45R-Preston Forbes[2]; 9. 27W-Nick Webb[10]; 10. 23J-Jeff Sykes[4]; 11. 21R-RJ Tresidder[15]; 12. 26-Michael Mandigo[13]; 13. 24-Jordan Kelly[17]; 14. 28-Jordan McCreadie[8]; 15. 21-Andrew Howard[11]; 16. 31-Lance Willix[16]; 17. 21C-Taylor Caprara[14]
Heat 1 (8 Laps): 1. 9-Tyler Meeks[4]; 2. 28-Jordan McCreadie[6]; 3. 66W-Derek Webb[3]; 4. 7S-Shaun Shaw[5]; 5. 27W-Nick Webb[7]; 6. 21-Andrew Howard[8]; 7. 26-Michael Mandigo[1]; 8. 21R-RJ Tresidder[9]; 9. (DNS) 24-Jordan Kelly
Heat 2 (8 Laps): 1. 45R-Preston Forbes[2]; 2. 19-Tim Fuller[6]; 3. 39-Ryan Bartlett[1]; 4. 18W-Scott Webb[4]; 5. 23J-Jeff Sykes[3]; 6. 49-Billy Dunn[7]; 7. 21C-Taylor Caprara[5]; 8. 31-Lance Willix[8]
Hot Laps (3 Laps): 1. 49-Billy Dunn, 00:20.127[3]; 2. 28-Jordan McCreadie, 00:20.210[9]; 3. 18W-Scott Webb, 00:20.329[16]; 4. 39-Ryan Bartlett, 00:20.453[1]; 5. 27W-Nick Webb, 00:20.541[15]; 6. 45R-Preston Forbes, 00:20.648[4]; 7. 7S-Shaun Shaw, 00:20.697[11]; 8. 21-Andrew Howard, 00:20.749[6]; 9. 9-Tyler Meeks, 00:21.040[10]; 10. 21R-RJ Tresidder, 00:21.237[13]; 11. 21C-Taylor Caprara, 00:21.261[2]; 12. 66W-Derek Webb, 00:21.597[14]; 13. 24-Jordan Kelly, 00:22.013[7]
BOB JOHNSON DIRTCAR SPORTSMAN
Feature (20 Laps): 1. 18-Gavin Eisele[5]; 2. 7O7-Greg Brinklow[2]; 3. 7D-Dustin Hutton[1]; 4. 410-Mike Fowler[10]; 5. 64-Tyler Corcoran[12]; 6. 6-Brian Hudson[6]; 7. 57H-Remington Hamm[9]; 8. FOX28-Tyler Stevenson[8]; 9. 91-Josh Reome[7]; 10. 52-Jessica Power[13]; 11. 32RS-Ryan Shanahan[17]; 12. 92-Frank Sibley[4]; 13. 10B-Jamie Brown[23]; 14. 35B-Brennan Moore[21]; 15. 25-George Sanford[20]; 16. 62-Jonathan Murphy[15]; 17. 1D-Paul DeRuyter[3]; 18. 95-Kearra Backus[16]; 19. 17-Owen Nier[18]; 20. 44X-Dylan Breen[19]; 21. 34-Eric Nier[11]; 22. 2-Taylor Doxtater[14]; 23. (DNS) 5R-Steve Roberts
Heat 1 (8 Laps): 1. 7D-Dustin Hutton[1]; 2. 410-Mike Fowler[6]; 3. 64-Tyler Corcoran[7]; 4. 1D-Paul DeRuyter[2]; 5. 52-Jessica Power[5]; 6. 95-Kearra Backus[3]; 7. 44X-Dylan Breen[8]; 8. (DNS) 5R-Steve Roberts
Heat 2 (8 Laps): 1. 18-Gavin Eisele[3]; 2. 7O7-Greg Brinklow[1]; 3. 34-Eric Nier[6]; 4. FOX28-Tyler Stevenson[5]; 5. 2-Taylor Doxtater[4]; 6. 32RS-Ryan Shanahan[7]; 7. 25-George Sanford[8]; 8. 10B-Jamie Brown[2]
Heat 3 (8 Laps): 1. 92-Frank Sibley[2]; 2. 6-Brian Hudson[3]; 3. 57H-Remington Hamm[5]; 4. 91-Josh Reome[4]; 5. 62-Jonathan Murphy[1]; 6. 17-Owen Nier[6]; 7. 35B-Brennan Moore[7]
Hot Laps (3 Laps): 1. 18-Gavin Eisele, 00:20.200[8]; 2. 25-George Sanford, 00:20.425[20]; 3. 32RS-Ryan Shanahan, 00:20.559[21]; 4. 34-Eric Nier, 00:20.574[15]; 5. 2-Taylor Doxtater, 00:20.643[7]; 6. 1D-Paul DeRuyter, 00:20.648[6]; 7. FOX28-Tyler Stevenson, 00:20.662[23]; 8. 410-Mike Fowler, 00:20.670[9]; 9. 52-Jessica Power, 00:20.672[17]; 10. 91-Josh Reome, 00:20.748[18]; 11. 57H-Remington Hamm, 00:20.792[10]; 12. 35B-Brennan Moore, 00:20.794[13]; 13. 6-Brian Hudson, 00:20.808[11]; 14. 92-Frank Sibley, 00:20.842[22]; 15. 62-Jonathan Murphy, 00:20.903[14]; 16. 5R-Steve Roberts, 00:20.965[19]; 17. 95-Kearra Backus, 00:21.026[1]; 18. 17-Owen Nier, 00:21.036[16]; 19. 10B-Jamie Brown, 00:21.069[4]; 20. 44X-Dylan Breen, 00:21.111[2]; 21. 7D-Dustin Hutton, 00:21.220[12]; 22. 64-Tyler Corcoran, 00:21.311[5]; 23. 7O7-Greg Brinklow, 00:21.338[3]
FABCO DIRTCAR PROSTOCK
Feature (20 Laps): 1. 690R-Sid Harmer Jr[4]; 2. X15-Tyler Bushey[6]; 3. 2-Pete Stefanski[3]; 4. 75-Eli Gilbert[2]; 5. 3-Rick Dusckas[1]; 6. 00C-Michael Clark[7]; 7. (DNS) 16X-Tim Bailey
Heat 1 (8 Laps): 1. 75-Eli Gilbert[2]; 2. 2-Pete Stefanski[3]; 3. 3-Rick Dusckas[7]; 4. 690R-Sid Harmer Jr[4]; 5. 16X-Tim Bailey[1]; 6. X15-Tyler Bushey[5]; 7. 00C-Michael Clark[6]
Hot Laps: 1. 690R-Sid Harmer Jr, 00:25.624[5]; 2. 16X-Tim Bailey, 00:26.978[1]; 3. 2-Pete Stefanski, 00:27.078[6]; 4. X15-Tyler Bushey, 00:27.469[2]; 5. 75-Eli Gilbert, 00:28.538[4]
PANTHER FRAMEWORX 602 CRATE SPRINT CARS
Feature (20 Laps): 1. 1V-Josh Verne Jr[4]; 2. 87-Andrew Hennessy[1]; 3. 71-Mike Bowman[5]; 4. 88-Bruno Richard[3]; 5. Z28-Tucker Donath[10]; 6. 85C-Cam MacKinnon[8]; 7. 13-Evan Reynolds[7]; 8. 23-Dylan Shannon[9]; 9. 271-Tiger Chapman[6]; 10. 73-Michael Cousins[2]
Heat 1 (6 Laps): 1. 1V-Josh Verne Jr[6]; 2. 73-Michael Cousins[2]; 3. 71-Mike Bowman[7]; 4. 88-Bruno Richard[3]; 5. 87-Andrew Hennessy[1]; 6. 271-Tiger Chapman[4]; 7. 13-Evan Reynolds[10]; 8. 85C-Cam MacKinnon[9]; 9. 23-Dylan Shannon[8]; 10. Z28-Tucker Donath[5]
Hot Laps: 1. 1V-Josh Verne Jr, 00:18.054[10]; 2. 71-Mike Bowman, 00:18.148[1]; 3. Z28-Tucker Donath, 00:18.165[4]; 4. 87-Andrew Hennessy, 00:18.291[5]; 5. 73-Michael Cousins, 00:18.407[3]; 6. 13-Evan Reynolds, 00:18.996[7]; 7. 271-Tiger Chapman, 00:19.546[2]; 8. 88-Bruno Richard, 00:19.616[8]; 9. 85C-Cam MacKinnon, 00:19.656[6]; 10. 23-Dylan Shannon, 00:21.774[9]
SUNDANCE LEISURE THUNDERCAR
Feature (15 Laps): 1. 27-Justin Pope[6]; 2. 60-Francis White[5]; 3. 26-Damien Bechler[3]; 4. 61-Michael Greenfield[10]; 5. 16-Steve Smith[8]; 6. 111-Pat Sullivan[9]; 7. 100-Taylor Doxtater[13]; 8. 5M-Ray Bechler[11]; 9. 13-Remington Hamm[4]; 10. 22J-Jared Gilson[7]; 11. 60R-Ron White[12]; 12. 94-OJ White[2]; 13. 111J-Anthony St Mary Jr[1]
Heat 1 (6 Laps): 1. 13-Remington Hamm[4]; 2. 27-Justin Pope[7]; 3. 26-Damien Bechler[3]; 4. 22J-Jared Gilson[1]; 5. 111-Pat Sullivan[5]; 6. 5M-Ray Bechler[2]; 7. 100-Taylor Doxtater[6]
Heat 2 (6 Laps): 1. 60-Francis White[4]; 2. 111J-Anthony St Mary Jr[1]; 3. 94-OJ White[2]; 4. 16-Steve Smith[3]; 5. 61-Michael Greenfield[5]; 6. 60R-Ron White[6]
DONATH MOTOR WORX LIMITED SPORTSMAN
Feature (12 Laps): 1. 54-Brady Howard[2]; 2. 93-Joey Wilcox[5]; 3. 35D-Dylan Moore[4]; 4. 11-Genavieve Bartlett[6]; 5. 34-Keegan Nier[3]; 6. 33-Alan McDonald[1]
Heat 1 (6 Laps): 1. 34-Keegan Nier[6]; 2. 33-Alan McDonald[1]; 3. 54-Brady Howard[4]; 4. 35D-Dylan Moore[3]; 5. 93-Joey Wilcox[5]; 6. 11-Genavieve Bartlett[2]
Hot Laps (3 Laps): 1. 54-Brady Howard, 00:24.144[2]; 2. 35D-Dylan Moore, 00:24.303[4]; 3. 33-Alan McDonald, 00:24.620[3]; 4. 34-Keegan Nier, 00:26.095[5]; 5. 93-Joey Wilcox, 00:27.569[6]; 6. 11-Genavieve Bartlett, 00:28.991[1]
---
Article Credit: Tim Baltz
Submitted By: Tyler & Michelle Bartlett
Article Media
Back to News