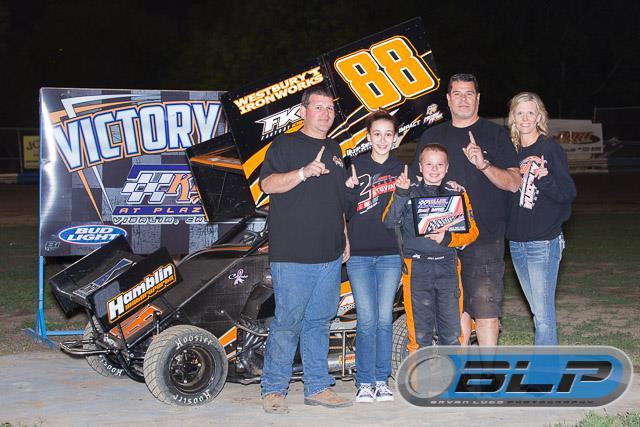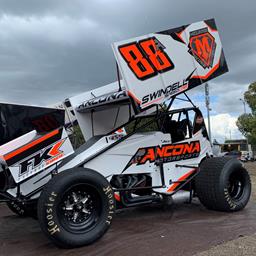 ---
Joey Ancona Racing Adds Second Win with Plaza Park Raceway Victory, Steals Third at Lemoore Raceway!
Story by Walker Racing Promotions (Bryan Lugo Photography)
Lemoore, CA | April 21, 2016 – Coming off of his first win of the year just two weeks prior at Lemoore Raceway, Joey Ancona continued his early season hot streak with this weekend's doubleheader. Piloting his Dryco Construction, Pace Chassis, Factory Kahne No. 88 to new heights, the Concord, California native opened the two-night stand with a dominant feature victory at Plaza Park Raceway and followed it up with an impressive eighth-to-third bid on a dry slick Lemoore surface.
Kicking the weekend off on Friday night with the second event of 2016 in Visalia, Ancona quickly rebounded from his DNF on April 1st and set quicktime aboard his Hamblin Motorsports powered machine. Laying down a rocket fast time of 11.221 seconds, the 11-year old young gun defended his qualifying run with a fourth place heat race bid.
Starting fifth in the 25-lap main event, Ancona immediately advanced to fourth on the start and prepared to play the waiting game. Slowly, but surely taking over the second spot at the halfway mark, the methodical driver then set his sights on the top spot. Reeling in his close friend Brody Fuson, Ancona stalked and hunted the race leader before striking on the 23rd circuit and taking the lead. Fending off a hard fought challenged in the closing laps, Ancona refused all bids for P1 and hung on for his second win of the season and first at Plaza Park!
Moving onto Lemoore Raceway in Lemoore on Saturday night, Ancona again showed his threat in qualifying as he tacked on another quicktime award with a blistering fast 11.976. After stealing a third place run in heat race action, Ancona was set to start on the pole of the feature, but an eight-car invert set him back four rows.
Rolling out for his seventh main event of the year, Ancona entered the top five by lap four and was making miraculous moves around the 1/5th mile. Storming into the third spot at halfway, Ancona worked vigorously to sweep the weekend, but a dry slick track left him no room to pass. Hanging onto his third place position, Ancona crossed the finish line with a strong podium finish to cap the weekend off.
Ancona would like to send a special thanks to Dryco Construction, Inc., Westbury Ironworks, Steve Hamblin, Motion Media, Factory Kahne, and crew member Jeff Tucker for their continued support.
EVENT RESULTS –
4/15: Plaza Park Raceway in Visalia, CA – Qualifying: 1st (11.221), Heat Race: 4th (5), A-Main: 1st (5).
4/16: Lemoore Raceway in Lemoore, CA – Qualifying: 1st (11.976), Heat Race: 3rd (4), A-Main: 3rd (8).
UPCOMING EVENTS –
4/23: Lemoore Raceway in Lemoore, CA.
SEASON STATS –
Feature Starts (7), Feature Wins (2), Top Fives (3), Top Tens (5), Heat Wins (1), QuickTimes (2).
MEDIA LINKS –
Facebook: https://www.facebook.com/pages/Joey-Ancona-Racing/375564655857870?fref=ts
WALKER RACING PROMOTIONS -
WRP is a public relations based business, and with our extended knowledge of press releases, websites, social media coverage, and more, we plan to propel you and your team to the top with the best public image imaginable. Whether you race at local dirt tracks, compete full-time in a traveling series, manage a sanction body, or own a business, WRP can help expand the coverage associated with you in the best way possible.
For more information e-mail walkerracingpromotions@gmail.com, like Walker Racing Promotions on Facebook, follow @WRPromotion on Twitter, follow @WRPromotions on Instagram, or visit our site at www.walkerracingpromotion.com.
---
Article Credit: Walker Racing Promotions
Submitted By: Shari Ancona
Back to News