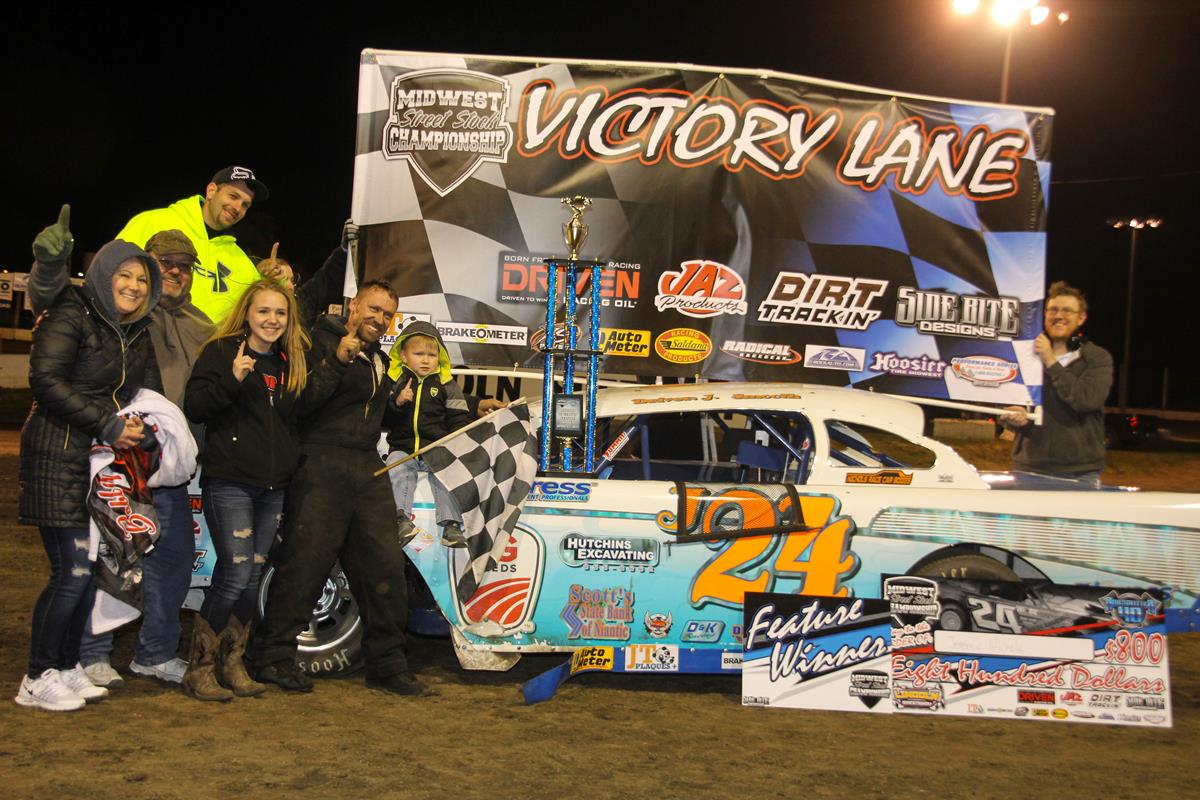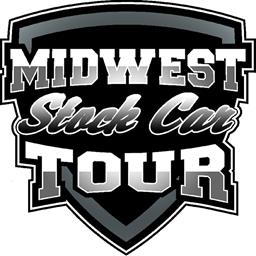 4/23/2017
Midwest Stock Car Tour
---
Jeremy Nichols Picks Up Inaugural Railsplitter 40 Victory!
FOR IMMEDIATE RELEASE
(Buckingham, IL) Twenty of the toughest UMP Street Stock competitors in the Midwest were on hand for the first race ever for the Midwest Street Stock Championship Series. The "Railsplitter 40" turned out to be a thriller, with three and four wide racing throughout. Modified star Dave Crawley, Jr., top qualifier Luke Gash, 2016 Midwest Big 10 champion Jeremy Nichols, veteran Darrell Dick, former UMP champion Jerrad Krick, and talented Street Stock driver Nick Macklin all mixed it up at the front of the field. At one point during the event, the top three were racing for the lead in a three wide battle, all while working lapped traffic. In the late stages of the event, Crawley and Nichols made it a two-car race out front, dicing back and forth for the top prize. Eventually, Nichols raced by with Crawley in pursuit. Over the last five laps, Crawley gave it a few more shots to the highside, with sparks flying as he used up the right rear of his car against the Lincoln Speedway wall. At the checkered, Nichols, of Lovington, IL, claimed the first event in series' history, while Crawley, Gash, Dick, and Macklin completed the top five.
---
Driven Racing Oil Qualifying (1 Lap): 1. 13-Luke Gash, 15.799; 2. 99K-Jerrad Krick, 15.951; 3. 22C-Dave Crawley Jr, 16.289; 4. 16-Nick Macklin, 16.291; 5. 22-Darrell Dick, 16.325; 6. J24-Jeremy Nichols, 16.397; 7. 67R-Rudy Zaragoza, 16.403; 8. 97-Josh Griffith, 16.470; 9. 711-Justin Layne, 16.525; 10. G1-Tyler Gilmour, 16.594; 11. 31K-Ken Gresham Jr, 16.660; 12. 23-Dennis Wernle, 16.661; 13. 2-Chad Rockefeller, 16.712; 14. 7-Sean Leatherman, 16.742; 15. 09-Dane Arvin, 16.926; 16. 83K-Nolan Kaufman, 16.956; 17. 14-Charles Biesenthal, 17.089; 18. 711W-Walt Layne, 17.107; 19. 14E-Edward White Jr, 17.189; 20. 24-Justin Crowell, 17.984
Heat 1 (10 Laps): 1. 16-Nick Macklin[2]; 2. 13-Luke Gash[1]; 3. 67R-Rudy Zaragoza[3]; 4. G1-Tyler Gilmour[4]; 5. 2-Chad Rockefeller[5]; 6. 83K-Nolan Kaufman[6]; 7. 14E-Edward White Jr[7]
Heat 2 (10 Laps): 1. 99K-Jerrad Krick[1]; 2. 22-Darrell Dick[2]; 3. 97-Josh Griffith[3]; 4. 7-Sean Leatherman[5]; 5. 14-Charles Biesenthal[6]; 6. 31K-Ken Gresham Jr[4]; 7. 24-Justin Crowell[7]
Heat 3 (10 Laps): 1. J24-Jeremy Nichols[2]; 2. 22C-Dave Crawley Jr[1]; 3. 711-Justin Layne[3]; 4. 09-Dane Arvin[5]; 5. 711W-Walt Layne[6]; 6. 23-Dennis Wernle[4]
JAZ Products Dash (5 Laps): 1. 99K-Jerrad Krick[2]; 2. 13-Luke Gash[4]; 3. 22C-Dave Crawley Jr[6]; 4. J24-Jeremy Nichols[3]; 5. 22-Darrell Dick[5]; 6. 16-Nick Macklin[1]
A Feature (40 Laps): 1. J24-Jeremy Nichols[4]; 2. 22C-Dave Crawley Jr[3]; 3. 13-Luke Gash[2]; 4. 22-Darrell Dick[5]; 5. 16-Nick Macklin[6]; 6. 23-Dennis Wernle[18]; 7. 99K-Jerrad Krick[1]; 8. 711-Justin Layne[9]; 9. G1-Tyler Gilmour[10]; 10. 2-Chad Rockefeller[13]; 11. 14-Charles Biesenthal[14]; 12. 67R-Rudy Zaragoza[7]; 13. 14E-Edward White Jr[19]; 14. 24-Justin Crowell[20]; 15. (DNF) 31K-Ken Gresham Jr[17]; 16. (DNF) 09-Dane Arvin[12]; 17. (DNF) 711W-Walt Layne[15]; 18. (DNF) 83K-Nolan Kaufman[16]; 19. (DNF) 7-Sean Leatherman[11]; 20. (DNF) 97-Josh Griffith[8]
---
Contingency Award Winners:
---
The Midwest Street Stock Championship is proud to partner with the following companies for the 2017 racing season:
---
Don't forget to follow us on Social Media!
Facebook: Midwest Street Stock Championship
Twitter: @Midwest_Streets
YouTube: MSSC
Instagram: @MidwestStreetStocks
Back to News