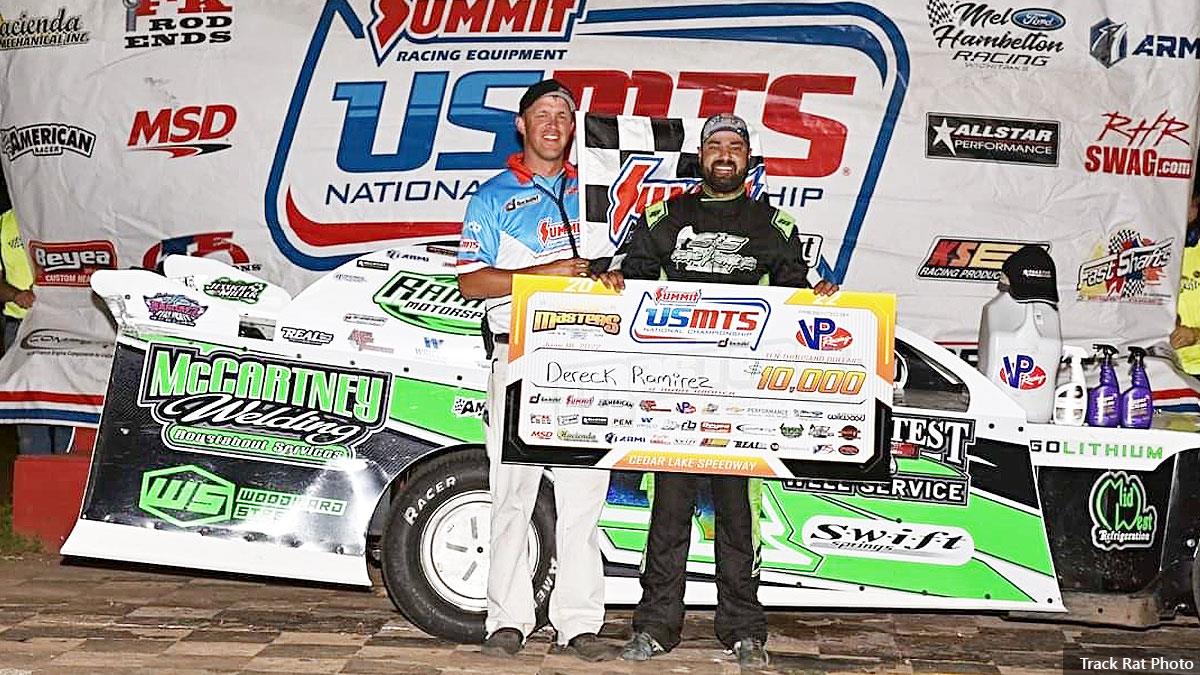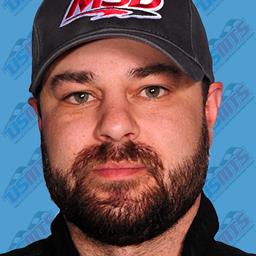 ---
Dereck Ramirez wins Masters finale at Cedar Lake Speedway
For the second-straight week Dereck Ramirez went to Victory Lane with the United States Modified Touring Series (USMTS). (Track Rat photo)
He bested a talent-laden field on Saturday night at Cedar Lake Speedway to claim the 2022 Masters crown aboard his S&S Fishing & Rentals No. 4R Koda Services/ Boom-Test Well Service/ Raw Truck Wash/ Hughes Racing Chassis/ Cornett Racing Engine Modified.
"We got off to a slow start on Thursday and Friday, but we were able to kick it into high gear on Saturday and got the win," Ramirez noted. "I always enjoy going to Cedar Lake (Speedway) but we just didn't have much luck to start things out, but thankfully it all swung in our favor by the end of the weekend.
"We're going to take the next few weeks off to get ready for the second half of the season. Thanks so much to all of our great supporters."
Dereck Ramirez followed the United States Modified Touring Series (USMTS) to Cedar Lake Speedway (New Richmond, Wis.) on Thursday afternoon to kick off the 23rd annual Masters weekend.
Drawing 56 cars, Ramirez followed up a second-place finish in is heat race with a 12-lap consolation victory. Wheeling his way into the Top-5 in the feature, Dereck passed 11 cars in the 35-lapper to register a fourth-place finish.
On Friday afternoon, Dereck had to rely on a provisional to start the main event after missing a transfer spot in his heat race and B-Main. Moving forward eight spots in the 40-lap affair, Ramirez recorded a 17th-place outing.
For the finale on Saturday, Ramirez jumped advanced spot in his eight-lap heat race to pick up the win. Starting the feature in the fourth position, Dereck stole the lead from Clayton Wagamon on lap 19 and paced the field for the remainder of the 45-lapper to claim his fourth win of the season and 22nd -career USMTS triumph. He collected a $10,000 payday ahead of Jake O'Neil, Jake Timm, Tanner Mullens, and Dustin Sorensen.
Full results from the weekend can be found at www.USMTS.com.
Ramirez Motorsports will now enjoy a three week break before returning to USMTS competition on Tuesday, July 12 at Mason City (Iowa) Motor Speedway. The race marks the beginning of a chaotic week, which also includes the second annual Mod Wars on Thursday – Saturday, July 14-16 as well as the 13th annual Summersota Nationals at Casino (S.D.) Speedway on Sunday, July 17.
Dereck Ramirez and Ramirez Motorsports would like to thank all of their sponsors and supporters including Boom-Test Well Service, Koda Services, Raw Truck Wash, Woodward Steel, Hughes Racing Chassis, S&S Fishing & Rentals, Midwest Refrigeration, Cornett Racing Engines, Go Lithium, Swift Springs, Sybesma Graphics, Afco Shocks, and MyRacePass Marketing Services.
Back to News