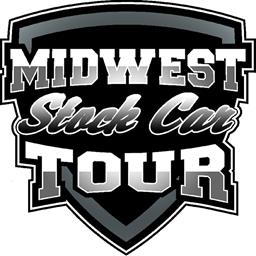 9/8/2017
Midwest Stock Car Tour
---
Meiferdt Wins as Nichols Spins
FOR IMMEDIATE RELEASE
(Peoria, IL) AJ Meiferdt grabbed his third series victory of the season but Jeremy Nichols stole the show.
Twenty-seven MSSC Street Stocks were on hand for the inaugural Bartonville Express Lube 50 at Peoria Speedway. Jerrad Krick started off the night on a good note, capturing the Driven Racing Oil Fast Time Award and the Fast Time Points Lead in the process. Krick would also win Heat Race #1, his fifth heat race win in the series (out of five). AJ Meiferdt won Heat Race #2 and Michael Clark won Heat Race #3. Jeremy Nichols grabbed top honors in the JAZ Products Dash but Krick sealed the deal in Dash Point Standings with his fourth place finish. Wally Zander won the B-Main and Ken Gresham, JR. would transfer with him to the A-Main. Series provisional went to Dane Arvin and track provisional went to Al Gray.
Jeremy Nichols would lead the first eight laps of the fifty lap main event before disaster struck. Racing hard with AJ Meiferdt going in to turn three, Nichols found himself in an unfamiliar position, spinning. The caution would come out and be charged to Nichols, relegating him to the tail of the field. Nichols then proceeded to put on a driving clinic, meticulously tearing his way through the field making it back up to second place with under ten laps to go. Meiferdt would prove to be too strong though as he would hold on and capture his third series win of the year. Nichols would finish a strong second with Dave Crawley, JR., Jerrad Krick, and Robert Cottom rounding out the top five.
At the end of the night, Jerrad Krick and Dave Crawley, JR. would find themselves in a TIE for the Series Championship. Krick also leads the Driven Racing Oil Fast Time Point Standings and has captured the JAZ Products Dash Point Standings. Nick Macklin leads the Dirt Trackin' Hard Charger standings and Dane Arvin remains in control of the Side Bite Designs and Race Wraps Rookie of the Year standings.
---
Driven Racing Oil Qualifying (1 Laps): 1. 99K-Jerrad Krick, 00:14.264[11]; 2. 14-AJ Meiferdt, 00:14.304[2]; 3. J24-Jeremy Nichols, 00:14.337[4]; 4. 1-Robert Cottom, 00:14.418[26]; 5. G1-Tyler Gilmour, 00:14.469[5]; 6. 91-Michael Clark, 00:14.515[13]; 7. 97-Josh Griffith, 00:14.596[25]; 8. 68-Wally Zander, 00:14.613[1]; 9. 67R-Rudy Zaragoza, 00:14.634[16]; 10. 37-Peter Odell, 00:14.666[10]; 11. 75-MIke Behm, 00:14.707[19]; 12. F5-Michael Schomas, 00:14.753[18]; 13. 16-Nick Macklin, 00:14.812[23]; 14. 46M-Keith Miller, 00:14.824[3]; 15. B5-Tyler Benson, 00:14.852[27]; 16. 31K-Ken Gresham Jr, 00:14.871[12]; 17. 24-Justin Crowell, 00:14.916[24]; 18. 5-Seth Studnicka, 00:14.960[20]; 19. 83K-Nolan Kaufman, 00:14.980[14]; 20. 22C-Dave Crawley Jr, 00:14.997[15]; 21. B4-John Farris, 00:15.020[9]; 22. 83H-Justin Hamm, 00:15.069[21]; 23. 77-Al Gray, 00:15.119[22]; 24. A4-Michael Wells, 00:15.358[17]; 25. 97X-Paul Bivins, 00:15.795[7]; 26. 3W-Mark Williams Jr, 00:16.553[6]; 27. 09-Dane Arvin, 00:16.861[8]
Heat 1 (10 Laps): 1. 99K-Jerrad Krick, [1]; 2. 1-Robert Cottom, [2]; 3. 97-Josh Griffith, [3]; 4. 83H-Justin Hamm, [8]; 5. 16-Nick Macklin, [5]; 6. 37-Peter Odell, [4]; 7. 83K-Nolan Kaufman, [7]; 8. 97X-Paul Bivins, [9]; 9. (DNF) 31K-Ken Gresham Jr, [6]
Heat 2 (10 Laps): 1. 14-AJ Meiferdt, [1]; 2. G1-Tyler Gilmour, [2]; 3. 75-MIke Behm, [4]; 4. 46M-Keith Miller, [5]; 5. 3W-Mark Williams Jr, [9]; 6. (DNF) 22C-Dave Crawley Jr, [7]; 7. (DNF) 77-Al Gray, [8]; 8. (DNF) 68-Wally Zander, [3]; 9. (DNF) 24-Justin Crowell, [6]
Heat 3 (10 Laps): 1. 91-Michael Clark, [2]; 2. J24-Jeremy Nichols, [1]; 3. F5-Michael Schomas, [4]; 4. 67R-Rudy Zaragoza, [3]; 5. B5-Tyler Benson, [5]; 6. B4-John Farris, [7]; 7. 5-Seth Studnicka, [6]; 8. A4-Michael Wells, [8]; 9. (DNF) 09-Dane Arvin, [9]
JAZ Products Dash (5 Laps): 1. J24-Jeremy Nichols, [6]; 2. 91-Michael Clark, [3]; 3. 1-Robert Cottom, [4]; 4. 99K-Jerrad Krick, [1]; 5. 14-AJ Meiferdt, [2]; 6. G1-Tyler Gilmour, [5]
B Feature (15 Laps): 1. 68-Wally Zander, [5]; 2. 31K-Ken Gresham Jr, [7]; 3. 24-Justin Crowell, [8]; 4. 5-Seth Studnicka, [3]; 5. (DNF) 83K-Nolan Kaufman, [1]; 6. (DNF) A4-Michael Wells, [6]; 7. (DNF) 77-Al Gray, [2]; 8. (DNF) 09-Dane Arvin, [9]; (DNS) 97X-Paul Bivins
A Feature 1 (50 Laps): 1. 14-AJ Meiferdt, [5]; 2. J24-Jeremy Nichols, [1]; 3. 22C-Dave Crawley Jr, [17]; 4. 99K-Jerrad Krick, [4]; 5. 1-Robert Cottom, [3]; 6. 97-Josh Griffith, [7]; 7. 91-Michael Clark, [2]; 8. 09-Dane Arvin, [21]; 9. 37-Peter Odell, [16]; 10. 16-Nick Macklin, [13]; 11. 31K-Ken Gresham Jr, [20]; 12. B4-John Farris, [18]; 13. B5-Tyler Benson, [15]; 14. G1-Tyler Gilmour, [6]; 15. F5-Michael Schomas, [9]; 16. 46M-Keith Miller, [11]; 17. 68-Wally Zander, [19]; 18. 67R-Rudy Zaragoza, [12]; 19. (DNF) 77-Al Gray, [22]; 20. (DNF) 3W-Mark Williams Jr, [14]; 21. (DNF) 75-MIke Behm, [8]; 22. (DNF) 83H-Justin Hamm, [10]
---
Contingency Award Winners:
---
MSSC Championship Point Standings
99K Jerrad Krick 576
-. 22C Dave Crawley, JR. -----
16 Nick Macklin -4
J24 Jeremy Nichols -50
09 Dane Arvin -64
13 Luke Gash -114
2 Chad Rockefeller -120
24 Justin Crowell -128
22 Darrell Dick -132
67R Rudy Zaragoza -230
---
MSSC Driven Racing Oil Fast Time Point Standings
99K Jerrad Krick 591
16 Nick Macklin -12
J24 Jeremy Nichols -18
22C Dave Crawley, JR. -27
09 Dane Arvin -44
---
MSSC JAZ Products Dash Point Standings
99K Jerrad Krick 596
13 Luke Gash -394
22C Dave Crawley, JR. -298
J24 Jeremy Nichols -399
1 Robert Cottom -497
---
MSSC Dirt Trackin' Hard Charger Point Standings
16 Nick Macklin 41
22C Dave Crawley, JR. -16
2 Chad Rockefeller -27
711W Walt Layne -30
31K Ken Gresham, JR. -34
---
MSSC Side Bite Designs and Race Wraps Rookie of the Year Point Standings
09 Dane Arvin 584
24 Justin Crowell -94
711W Walt Layne -294
31K Ken Gresham, JR. -392
14 Wes Biesenthal -434
---
The Midwest Street Stock Championship is proud to partner with the following companies for the 2017 racing season:
---
Don't forget to follow us on Social Media!
Facebook: Midwest Street Stock Championship
Twitter: @Midwest_Streets
YouTube: MSSC
Instagram: @MidwestStreetStocks
Back to News