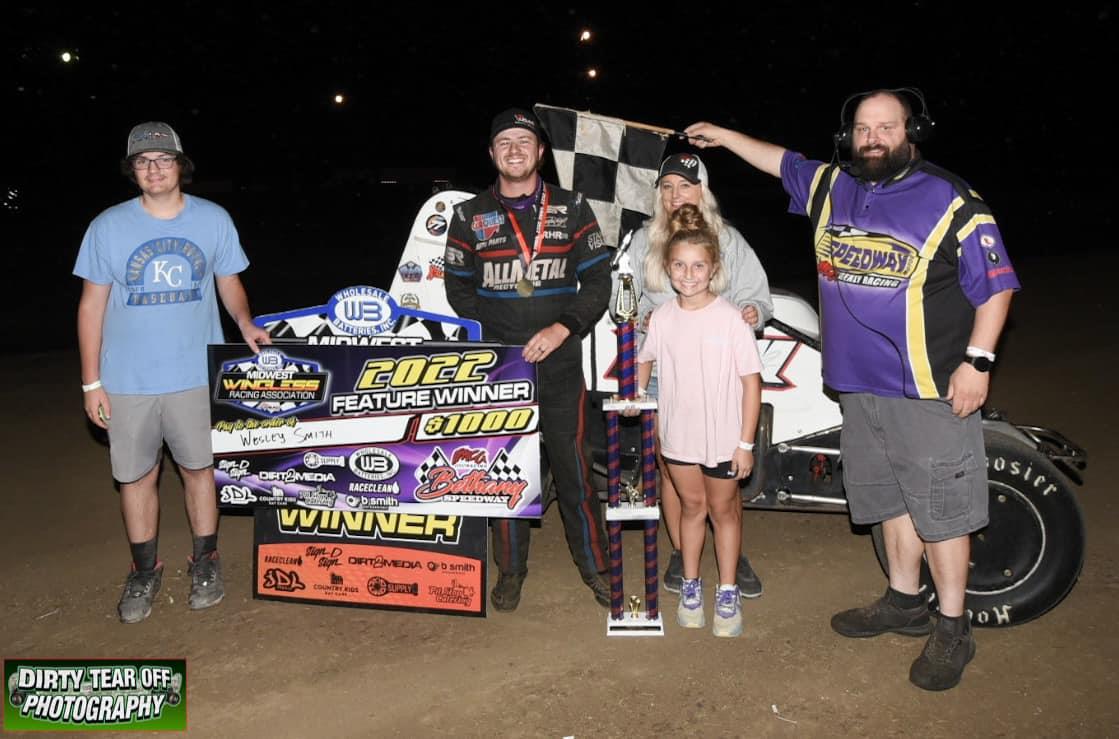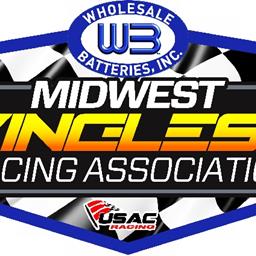 9/5/2022
Midwest Wingless Racing Association
---
Smith Speeds to Victory at Bethany!
Bethany, Mo. Wesley Smith sped to victory at the Northwest Missouri State Fairgrounds Sunday night winning the Wholesale Batteries USAC MWRA feature event over point leader Wyatt Burks, Chris Parkinson, Chad Goff, and Quinton Benson, rounding out the top 5.
For Smith from Nixa, Missouri, driving the John Helm/WSR Racing 12 it was his 3rd victory of the season racing with the MWRA, and his 3rd win in the series racing at Bethany Speedway in the last 3 years of competition there. While leading every lap of the 25 lap feature.
MWRA Point leader Wyatt Burks of Topeka, Kansas, driving the Don Rumsey 11w would pick up his 6th podium in 8 races running with the MWRA in 2022. While 2nd place in points, Chris Parkinson from Gladstone, Mo., running his 65 would garner another podium finish to stay in contention for the championship going into the season finale later this month.
Positions 6 thru 10 Sunday night would include promising young driver Garrett Hulsey of Lone Jack, Mo. running. 6th. Zach Clark of Olathe, Ks., finishing 7th after coming from 17th on the grid to win the JDL Justin Lawson Media Hard Charger award for passing the most cars in the feature event. As well as Overland Park, Kansas driver Warren Wojo Johnson racing for Rick and Deb Maycock-Smith running 8th, Oak Grove, Missouri, racer Brian Scott Beebe taking home 9th, and Friday nights victor Luke Howard of Overland Park taking the 10th spot tonight racing in the 22 car, 25 lap feature event.
Earlier in the evening at Bethany Speedway the 33 car field would participate in 4 heats, and 2 B Features, to determine the 22 car feature starters. With Smith, Zach Sanders of Kearney, Mo., Parkinson, and Benson winning the 4 eight lap heats. While Clark, as well as Doug Sylvester of Ottumwa, Ia. would win the twin 10 lap B features to determine the final 6 cars in the main event at Bethany.
The USAC MWRA Sprint Cars will next be in action on Saturday September 24th for the John E. Helm Memorial at Valley Speedway in Grain Valley, Mo. in honor of the late driver and car owner affectionately known as the "Colonel". This will be the final points paying race for the USAC MWRA Non winged sprints in 2022.
Photos Courtesy of Ryan Black D.T.O Photography in conjunction with John Lee High Fly'N Photos www.highfly-nphotos.com.
USAC Racing
JDLawsonMedia
Rod End Supply
dirt2media.com
Country Kids Day Care of Olathe
Wholesale Batteries, Inc.
Valley Speedway
Pit Stop Catering
BSmithEnterprises
---
Article Credit: Ray Cunningham
Back to News