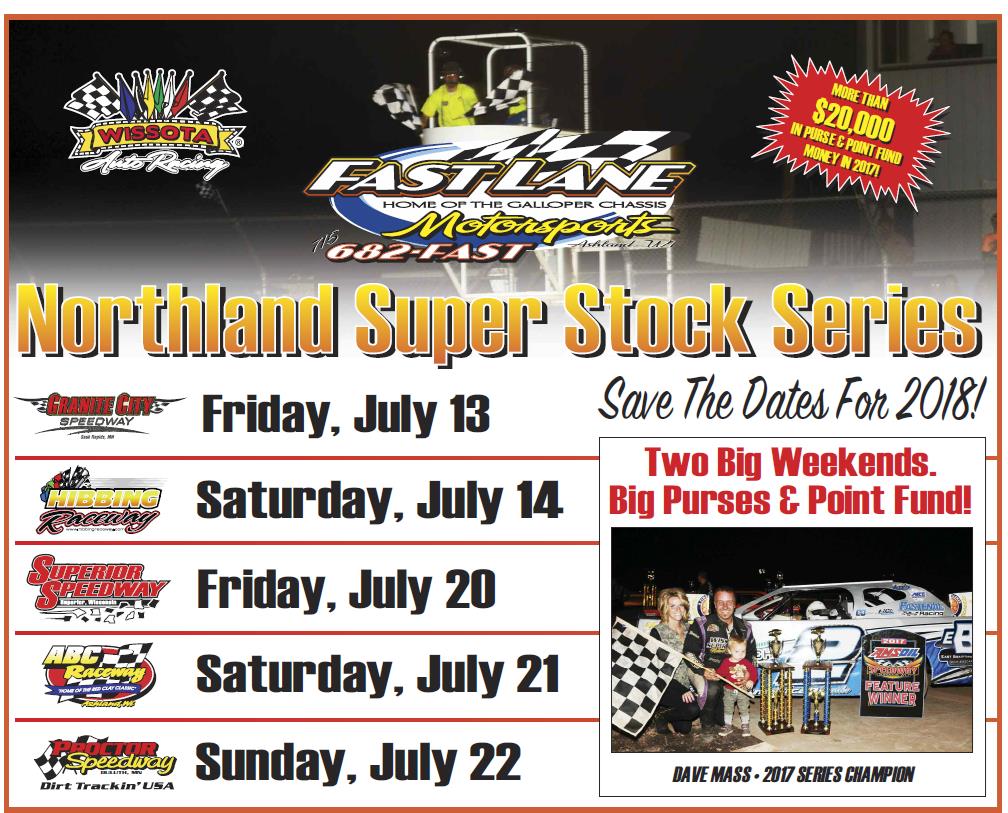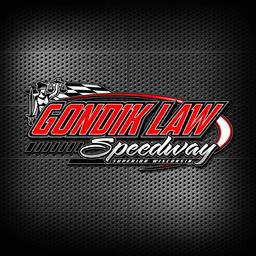 1/24/2018
Gondik Law Speedway
---
Northland Super Stock Series dates set!
The FastLane Northland Super Stock Series dates are all set for 2018 and it proves to be a challenging two weeks for WISSOTA Super Stock Drivers.
The Series will kick off the weekends beginning Friday July 13th at the Granite City Speedway in Sauk Rapids Minnesota for the first time in the Series short four years of existence. Drivers then will head a bit north to the Hibbing Raceway on Saturday July 14th for an inaugural appearance at the home of the Labor Day Shootout. Both tracks are new to the series for 2018 and are a welcome addition to the Super Stock Drivers who are happy to see more tracks offering enhanced payouts to the drivers during the season.
Drivers will then have a short week to get back home and get ready for the final weekend swing in the series to start at Superior Speedway Friday July 20th. The Series will take a trip down highway 2 to Ashland where the ABC Raceway will host their event on Saturday July 21st, where we had a series high 49 Super Stocks attend last year. The finale will then take place, barring any postponements from earlier dates, at Proctor Speedway on Sunday July 22nd.
Series Promoter Dennis McCauley has been actively seeking sponsorship for the series already and contacting drivers to participate in this years expanded series. With two additional tracks added this year we are looking at hopefully even more drivers visiting the existing tracks in the series and bringing a stellar field of Drivers to the added tracks who have participated in the series over the last 3 years. McCauley hopes to see upwards of 50 of WISSOTA's best Super Stock Drivers from Michigan, Wisconsin, and Minnesota attend races at the 5 participating tracks. Its also not out of the question to see a Canadian driver or two venture south and hopes of luring a few Dakota cars over is always a possibility, as they had showed great interest last year. McCauley would like to send out a special thanks to all 5 of the tracks in the Series for working together and allowing their drivers to travel to other locations of the Series by giving that class the night off when their competing tracks are hosting the Series. Fans will surely be able to travel to a few of the tracks to watch some of the best Super Stock Drivers around the area, some of which may only race together once a year right in your own back yard!
With two big weekends of racing your sure to have a great time for Drivers and Fans alike. See you in July to see if one of our past champions can repeat, Curt Myers 2015, Scott Lawrence 2016, Dave Mass 2017, or do we crown a new Series Champion for 2018?
Back to News