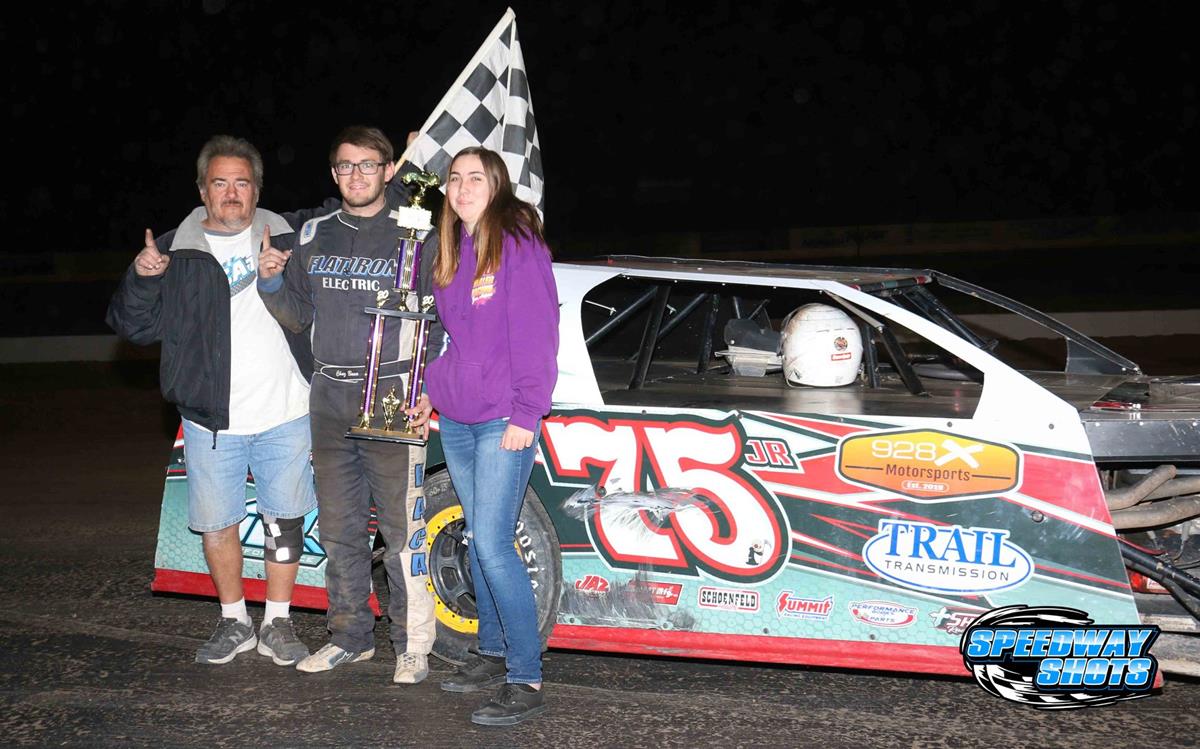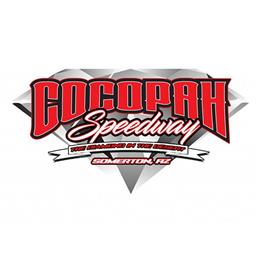 1/10/2020
Cocopah Speedway
---
Baca Jr. Cruises to Night 2 Win at Cocopah Speedway's Winter Nationals
By Mike Spieker
SOMERTON, Ariz. (January 10, 2020) – Chaz Baca Jr. raced to a convincing IMCA Modified feature win on Friday night at the Winter Nationals, presented by Yuma Insurance at Cocopah Speedway.
Baca Jr. started on the outside of the front row and took the point on the opening lap over Braxton Yeager. Baca Jr. pulled out to a seven car length lead over the rest of the pack as a great battle for second broke out between Yeager, Tom Berry Jr., and Marlyn Seidler.
Baca Jr. ran the low side of the speedway uncontested as he cruised to the feature win.
With the win, Baca is eligible for a $15,000 bonus if he can win the four remaining Winter Nationals events.
"After tonight, I think we might have a shot, but there are a lot of fast guys here. I'm just happy to win one of them," said Baca Jr. in victory lane. "I'm so happy to win this deal. I was kind of second-guessing myself before we pulled out onto the track, but then I saw the rubber come in and I knew we would be alright."
Yeager came home second, followed by Seidler, Lance Mari, and Bobby Hogge.
Cody Thompson charged from seventh to pick up the IMCA SportMod feature win. Thompson's No. 25C machine came on strong in the late going as he took the lead from hometown driver and pole-sitter, Miles Morris.
Brendon LaBatte made the trip to Somerton, Ariz. from Weyburn, Saskatchewan and took home the IMCA Stock Car win in just his second Winter Nationals start. LaBatte started third on the grid and dominated the 20-lap main event.
Tim Gonska debuted a new Dominator Chassis on the opening night of the Winter Nationals and brought it home with a runner-up finish on Thursday night. On Friday, he parked it in victory lane. Gonska came from fourth in the starting line up and raced to the win over Erick Knutson as Thursday night's winner, Joshua Cordova, rounded out the podium.
The Winter Nationals from Cocopah Speedway continues tonight with racing starting at 7pm MT.
FEATURE RESULTS
IMCA Modifieds:
A Feature (25 Laps): 1. 75JR-Chaz Baca[2]; 2. 33BY-Braxton Yeager[1]; 3. 7S-Marlyn Seidler[7]; 4. 19SB-Lance Mari[8]; 5. 2H-Bobby Hogge IV[3]; 6. 77S-Bricen James[10]; 7. 5T-Jeff Taylor[18]; 8. 0-Jake O'Neil[9]; 9. 96T-RC Whitwell[22]; 10. 4TW-Tim Ward[16]; 11. 2-Casey Arneson[20]; 12. 3-Bobby Horton[13]; 13. 27-Mark Carrell[12]; 14. 77X-Austin Kuehl[19]; 15. 2*-Don Gumke[5]; 16. 13-Jerry Flippo[23]; 17. 38T-Michael Thing[15]; 18. 31M-Travis Mosley[21]; 19. 24R-Regan Tafoya[6]; 20. 71-Jessie Hoskins[25]; 21. 48K-Kollin Hibdon[24]; 22. 10G-Don Geist[11]; 23. (DNF) 11X-Tom Berry Jr[4]; 24. (DNF) 33F-Jardin Fuller[14]; 25. (DNF) 75-Spencer Wilson[17]
B Feature 1 (15 Laps): 1. 4TW-Tim Ward[1]; 2. 5T-Jeff Taylor[5]; 3. 2-Casey Arneson[2]; 4. 96T-RC Whitwell[14]; 5. 48K-Kollin Hibdon[4]; 6. 13H-Anthony Hofbauer[3]; 7. 23R-Russell Allen[15]; 8. 68-Shawn LaRocque[11]; 9. 7-Tyson Evans[17]; 10. 5-Mike Magee[9]; 11. (DNF) 55X-Marvin Mueller[10]; 12. (DNF) 1-Rock Degele[7]; 13. (DNF) 4G-Bryan Gray[8]; 14. (DNF) 5G-Gatlin Leytham[6]; 15. (DNS) 36-Bill Miller; 16. (DNS) 1R-Doug Rivera; 17. (DNS) 8J-Leslie Gill
B Feature 2 (15 Laps): 1. 75-Spencer Wilson[2]; 2. 77X-Austin Kuehl[1]; 3. 31M-Travis Mosley[3]; 4. 13-Jerry Flippo[4]; 5. 71-Jessie Hoskins[8]; 6. 92P-John Parmeley[16]; 7. 4X-Joey Price[6]; 8. 55-Scott Sluka[12]; 9. 51-Dallas Caldwell[9]; 10. 3Z-Randy Havlik[7]; 11. 9C-Dillon Hill[13]; 12. K9-Mike Lerwill[5]; 13. 715-Paul Guglielmoni[11]; 14. (DNF) 24T-Terry Hurt[14]; 15. (DNS) 4R-Ross Statham; 16. (DNS) 7G-Gary Fraser; 17. (DNS) 33Y-Justen Yeager
IMCA Northern Sportmods:
A Feature (20 Laps): 1. 25C-Cody Thompson[7]; 2. 77B-Manny Baldiviez[4]; 3. 3-Miles Morris[1]; 4. 8T-Ty Rogers[9]; 5. 28-David Pitt[2]; 6. 2K-Taylor Kuehl[10]; 7. 1S-Shelby Frye[13]; 8. 22C-Michael Johnson[12]; 9. 57CT-Chris Toth[20]; 10. 22K-Joey Klemish[14]; 11. 144-Jimmy Davy[8]; 12. 216-Camron Spangler[11]; 13. 96E-Clay Erickson[17]; 14. 35-Slade Pitt[22]; 15. 55C-Brian Carey[15]; 16. 04J-Joshua Cordova[21]; 17. 925-Tony Miller[19]; 18. 77W-Mike Wells[18]; 19. 7J-Jimmy Wilson[23]; 20. 23-Justin Brierley[24]; 21. (DNF) 413-Tate Johnson[16]; 22. (DNF) 6K-Kyle Salo[3]; 23. (DNF) 5-Ron Schreiner[5]; 24. (DNF) 5T-Tyler Inman[6]
B Feature (10 Laps): 1. 925-Tony Miller[2]; 2. 57CT-Chris Toth[11]; 3. 04J-Joshua Cordova[7]; 4. 35-Slade Pitt[5]; 5. 7J-Jimmy Wilson[9]; 6. 23-Justin Brierley[8]; 7. 21H-Douglas Hilkemann[6]; 8. 13-Javier Navarro[4]; 9. (DNF) 316-Brandyn Johnson[3]; 10. (DNS) AK47-Rex Higgins; 11. (DQ) 14E-Justin Erickson[1]
IMCA Stock Cars:
A Feature (20 Laps): 1. 57-Brendon LaBatte[3]; 2. 2H-Gene Henrie[5]; 3. 3C-Steffan Carey[7]; 4. ZERO1-Troy Jerovetz[4]; 5. 88X-Kevin Roberts[2]; 6. 16-Aaron Spangler[6]; 7. 7-Nuggett Shupe[9]; 8. 007-Tony Hill[12]; 9. 8J-Leslie Gill[11]; 10. (DNF) 6-Chanse Hollatz[1]; 11. (DNF) 82P-JC Parmeley[13]; 12. (DNF) 00-Andy Altenburg[10]; 13. (DNF) 47-Jake Smith[8]
IMCA Hobby Stocks:
A Feature (20 Laps): 1. 5G-Tim Gonska[4]; 2. 12K-Eric Knutson[6]; 3. 04J-Joshua Cordova[7]; 4. 43-Brad King[8]; 5. 21T-Scott Tenney[2]; 6. 19-Nathan Deragon[1]; 7. 33-Jason Duggins[12]; 8. 31-Jim Robinson[10]; 9. 98-Jason Penny[5]; 10. 04-Francisco Cordova[3]; 11. 171-Andy Pearce[17]; 12. 41-Rick Hibbard[14]; 13. 64-Jason Beshears[9]; 14. 133-Hunter Cavanagh[13]; 15. 23-David Callis[16]; 16. 8-Kenzie Olsen[11]; 17. 32-Oscar Duarte[15]
---
Article Credit: Mike Spieker
Submitted By: Jackson Braun
Back to News