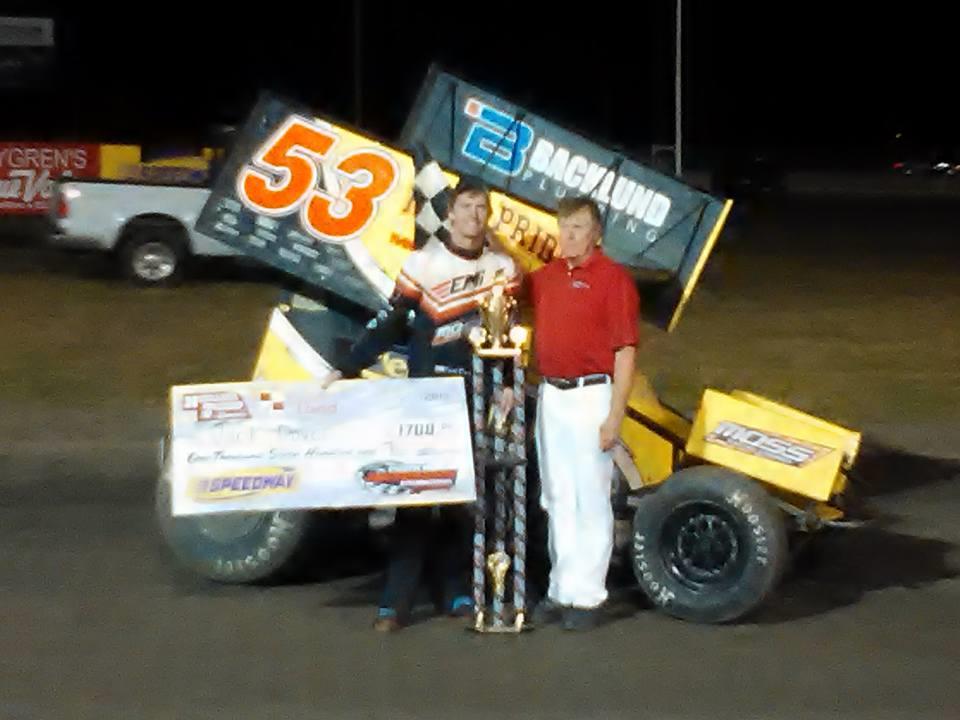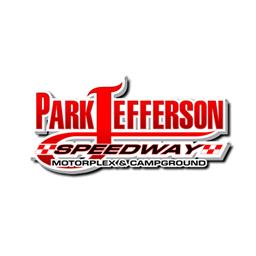 9/29/2015
Park Jefferson International Speedway
---
Dover Passes Grosz for Open Wheel Fest 360 Sprint Car Victory
MSTS 360s and the Nebraska 360s finally got a chance to race at Park Jefferson Speedway on Sunday after Mother Nature caused the cancellation of 2 races earlier this year. Mother Nature tried going 3 for 3 by dumping nearly 4 inches of rain midweek, but management postponed Open Wheel Fest to a day later which allowed for more drying time and a great racing surface. Also on the card for the evening were Nebraska Mod Lites, Pederson Machine Sport Mods, and Sign Masters Modifieds.
Nebraska Mod Lites kicked off the nights feature action. Scott Naggatz and Doug Pollack put much distance between them and the field in the first laps. Scott Naggatz eventually separated from Pollack as he cruised to victory. Following Naggatz at the finish included Pollack, Ted Jensen, Larry Fox, and Kurtis Krieger.
Pederson Machine Sport Mods entered the race track next for their 16 lap feature. Pole sitter Kirk Beatty jumped to the lead early but a large bobble in turn 4 on lap 2 cost him the lead as AJ Boulware and Rusty Montagne took over the top 2 spots. Karl Brewer moved into 3rd and pressured the 2 leaders constantly. While Montagne and Brewer were challenging AJ Boulware, 10th place starter Todd Boulware was carving his way through the field to the front. With laps winding down, Brewer went to the extreme high side of the 4/10 mile to get by Montagne, and then by AJ Boulware for the lead in turn 4. With 2 laps to go, Todd Boulware moved into 2nd while Brewer cruised to his first victory of the year at Park Jefferson. Following Brewer at the checkered included Todd Boulware, Montagne, AJ Boulware, and Beatty.
Twenty MSTS 360 Sprint Cars and Nebraska 360s Sprint Cars started the 25 car feature which saw pole sitter Lee Grosz lead the first 12 laps. 8th place starter Jack Dover made his way to the front quickly as he went a lane above bottom dweller Grosz in turns 3 and 4 to take the lead at the halfway mark. Dover survived multiple yellows and restarts as he used the cushion in turns 1 and 2 and bottom in 3 and 4 to keep some distance from Grosz. Dover went on to win followed by Grosz, Billy Alley, Cody Ledger, and Seth Brahmer.
Sign Masters Modifieds would end Open Wheel Fest at Park Jefferson. Chris Abelson started from the pole and cruised out front unchallenged in the first 8 laps as 8th place starter Justin Zeitner moved his way up to 4th before the caution flag flew. On the restart, Zeitner moved by 2nd row restarters Anthony Roth and Jim Cole in turn 1. With 9 laps remaining, Zeitner, who was quick through the middle, moved by Chris Abelson who was running the high side of the track. A very tricky turns 3 and 4 caused many front runners including Abelson, Roth, Jay Noteboom, and Ricky Stephan to go over the edge which jumbled up the finishing order. A late caution called for a GWC finish, but it did not phase Justin Zeitner as he claimed the Open Wheel Fest modified victory. Travis Hatcher finished 2nd from 10th, with Bob Moore, Jim Cole, and Jim Thies rounding out the top 5.
The final night of racing is Saturday October 3rd featuring SLMR Late Models and the season championships in our 5 regular classes. For more details visit www.parkjeff.com, find us on Facebook, or call 712-202-5540.
---
Submitted By: Michael Lund
Back to News