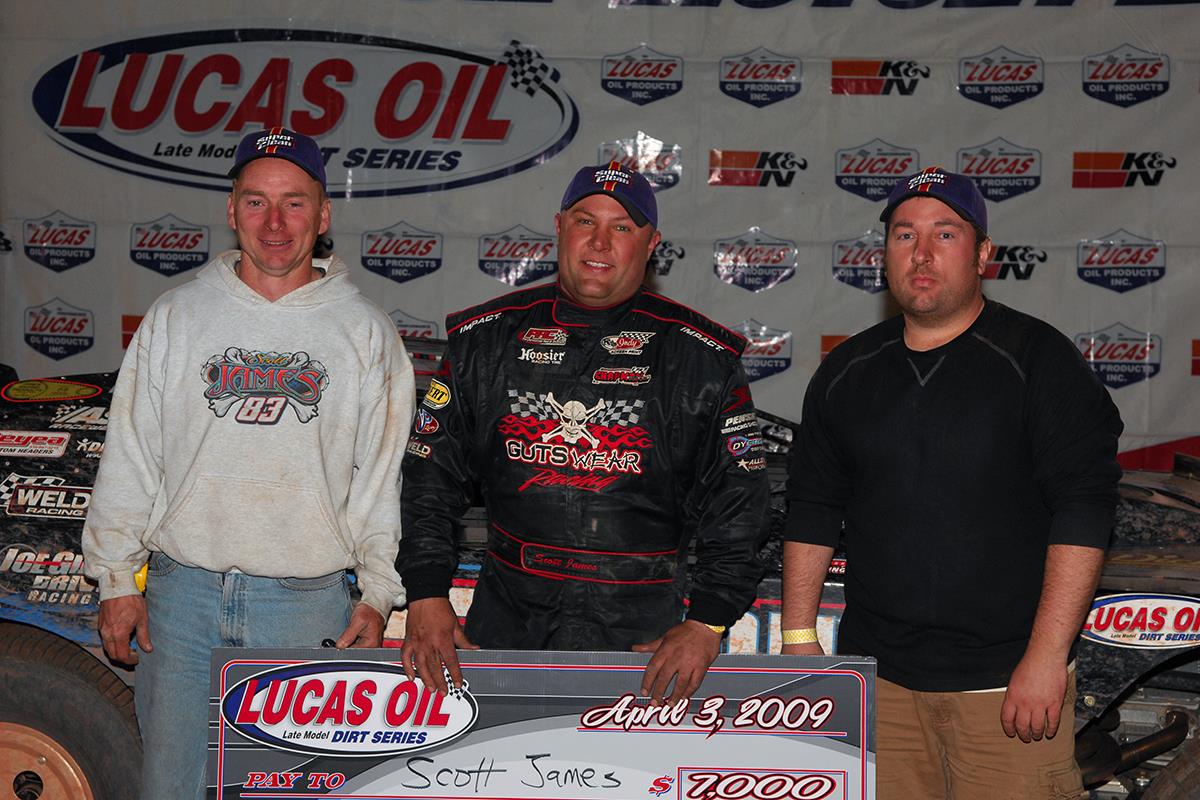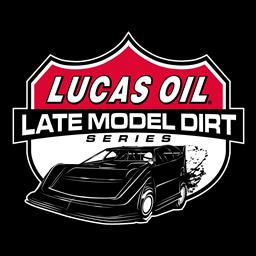 4/3/2009
Lucas Oil Late Model Dirt Series
---
James Takes Thrilling Win Over Franklin at Screven on Friday Night
SYLVANIA, GA (April 3, 2009) – Battling both Dennis "Rambo" Franklin and an overheating problem in the last five laps, Scott James of Lawrenceburg, IN won the Lucas Oil Late Model Dirt Series race at Screven Motor Speedway. For the second year in row on Friday Night, the 37-year old second generation driver found himself in Lucas Oil Victory Lane. He came from the 12th starting spot to capture the $7,000 first place prize money in an absolute barn-burner of a finish, in which he and Franklin swapped the lead on several times in the waning laps of the race, with James coming home as the winner by a narrow margin over Franklin, 17th starting Jimmy Owens, Josh McGuire and Tyler Ivey.
McGuire and Ivedent Lloyd Jr. started on the front row of the 40 lap feature. McGuire led the first lap until fourth-starting Billy Moyer made a daring three-wide move for the lead on the second lap. Moyer brought Lloyd along into second with McGuire, Earl Pearson Jr. and Scott James on the move from 12th to fifth by lap three.
Pearson brought out a caution with three scored, as he looped his car in turn one. On the restart, Moyer led Lloyd to the line as the pair of number 21 pilots was setting a rapid pace. Those two drivers ran first and second until McGuire moved by Lloyd on lap ten to take second behind Moyer, dropping Lloyd to third with James and Franklin in the top five.
James moved into third on lap 15 advancing another spot as he picked off McGuire for second and was rapidly gaining on the race-leader, Moyer. "Mr. Smooth" then started to pick-up the tail-end of the field and with 17 laps in the books, and then suddenly Moyer's race took a dramatic change for the worse. The lapped car in front of Moyer got sideways and Moyer had to check up, causing him to spin in turn two, bringing out another caution.
James took over the lead, with Moyer now relegated to the back of the field. On the restart, it was James, McGuire, Lloyd, Franklin and Ivey in the top five running order at the half-way mark of the race. On the restart, Lloyd battled McGuire for second but lost control of his car coming off of turn number, pounding the concrete wall and ending his night.
Franklin moved up to the second spot on the restart, he closed right up to James and started to pressure him. Owens took the third position with Jeep VanWormer and Scott Bloomquist, who took a provisional to make the race running in fifth.
In the final 14 laps there would be no cautions as James and Franklin put on a phenomenal show for the fans. They would go at it tooth and nail in the race for the lead with Franklin gaining the advantage coming off of turn two, James rallying and regaining the lead time and after time. In the final five circuits James looked like he might have given the race away, developing an overheating issue with his car.
Franklin gained a swift two-car length advantage in the closing laps as it looked like he might have enough to pull off his first-ever LOLMDS victory, but it was not to be as James fought back, pulling a nice slide-job on Franklin and then passing the car of John Mason at the same time, going on to a thrilling win for the second year in a row at Screven.
In the Lucas Oil Victory Lane for the sixth time in his career, James was relieved the race was over. "That was a heck of a race for the lead, I thought at one point I gave it away, he ran a good line out of two, but my car was starting to get hot and I thought I was done," said James who was joined in victory lane with his crew chief Kenny Kenneda and his brother, Shane James. "We both raced each other clean and that's all you can ask for, the fans saw a great finish, there were a lot of cautions out there tonight and I can't wait to come back here to race again."
James' winning ride came in the Powell Motorsports, Welsh Excavation and Development, Baylor Trucking, VP Racing Fuels, New Vision Graphics, Szabo Industrial, Joe Gibbs Driven Racing Oils and Integra Shocks, Jay Dickens Racing Engines, Rocket Chassis GTO.
Franklin thought he had the race for a moment. "I got the lead and then I got hit by a rock and it knocked the wind out of me for a little bit and during that time he (James) was by me and then the race was over. We raced each other clean out there and my hats off to him," said Franklin who drove the Cherokee Landscaping/Clements Racing Engines/Barry Wright Impala SS to his best ever Lucas Oil Late Model Dirt Series finish.
Finishing third was Owens in the Mike Reece owned/Reece Monuments/Bloomquist Race Cars Ford Fusion followed by McGuire in the D.J.'s Kitchen Corner/GCP Racing Engines/C.J. Rayburn as Tyler Ivey finished fifth in the Crowder Disaster and Recovery/Barry Wright GTO.
Completing the top ten were Scott Bloomquist, Jeep VanWormer, Steve Casebolt, Earl Pearson Jr. and Dale McDowell.
In preliminary action, Dennis Franklin was the PRC fast timer in qualifications among the 44 entrants with a lap of 13.906 seconds. Heat races were won by Josh McGuire, Ivedent Lloyd Jr., Bart Hartman and Billy Moyer. Jimmy Owens and Ray Cook won the B-Mains.
The Lucas Oil Late Model Dirt Series will be at Swainsboro Raceway in Swainsboro, GA on Saturday Night April 4th for the "April Fools 50"paying $10,000 to win. For more information, go to www.swainsbororaceway.com.
To find out more about the Lucas Oil Late Model Dirt Series, log on to www.lucasdirt.com or call the series office at (951) 532-2503.
Lucas Oil Late Model Dirt Series
Race Summary
Saturday Night, April 3, 2009
Screven Motor Speedway; Sylvania, GA
PRC Fast Time: Dennis Franklin 13.906 seconds
Hawk Brake First Heat (10 Laps-Top 4 Advance): Josh McGuire, Casey Roberts, Dennis Franklin, Eric Jacobsen, John Mason, John Blankenship, Freddy Smith, Donnie Moran, Steve Casebolt, Tommy Weder, Jordy Nipper-DNS
Hawk Brake Second Heat (10 Laps-Top 4 Advance): Ivedent Lloyd, Tyler Ivey, David Breazeale, Jeep VanWormer, Jimmy Owens, Scott Bloomquist, Monk Gulledge, Brad Neat, Mark Davis, Jason Fitzgerald, Michael Akeson
AFCO Racing Products Third Heat (10 Laps-Top 4 Advance): Bart Hartman, Earl Pearson Jr., Ches-ley Dixon, Ed Basey, Dan Schlieper, Jeff Fortner, Brian Nutall, GR Smith, Travis Varnadore, Mike Nasworthy, Don O'Neal
Tiger Rear Ends Fourth Heat (10 Laps-Top 4 Advance): Billy Moyer, Wayne Chinn, Scott James, Jeremy Faircloth, Ray Cook, Dale McDowell, Michael Walker, Tommy Gandy, Ben Faircloth, John Henderson, Bo Smith
Mason Racin' Rebel Shock Dyno First B-Main (12 Laps-Top 3 Advance): Jimmy Owens, John Mason, John Blankenship, Scott Bloomquist, Donnie Moran, Brad Neat, Steve Casebolt, Tommy Weder, Monk Gulledge, Jason Fitzgerald, Mark Davis, Freddy Smith, Jordy Nipper-DNS, Michael Akeson-DNS
Wiles Drive Shafts Second B-Main (12 Laps-Top 3 Advance): Ray Cook, Dan Schlieper, Dale McDowell, John Henderson, Don O'Neal, Travis Varnadore, Brian Nutall, Tommy Gandy, Michael Walker, Bo Smith, Jeff Fortner-DNS, GR Smith-DNS, Ben Faricloth-DNS, Mike Masworthy-DNS
Screven Motor Speedway Feature Finish (40 Laps): Scott James, Dennis Franklin, Jimmy Owens, Josh McGuire, Tyler Ivey, Scott Bloomquist, Jeep VanWormer, Steve Casebolt, Earl Pearson, Jr., Dale McDowell, Ray Cook, Wayne Chinn, Eric Jacobsen, John Mason, John Blankenship, Monk Gulledge, Jeremy Faircloth, Dan Schlieper, Billy Moyer, Ed Basey, Ivedent Lloyd, Jr., Ches-ley Dixon, Freddy Smith, Bart Hartman, Casey Roberts, David Breazeale
Race Statistics
Entries: 44
Caution Flags: Casebolt (Lap 1); Hartman (Lap 2); Roberts, Breazeale, Chinn (Lap 2); Pearson (Lap 3); Faircloth (Lap 4); Debris (Lap 10); Moyer (Lap 17); Cook, Jacobsen, Faircloth, Pearson, Chinn (Lap 18); Jacobsen, F.Smith (Lap 20); Lloyd (Lap 20); Faircloth (Lap 20); Basey, Shlieper (Lap 23); Moyer (Lap 24); Schlieper, Pearson, Faircloth (Lap 25).
Lap Leaders: Josh McGuire (Lap 1), Moyer (Laps 2-17), James (Laps 18-30), Franklin (Laps 31-32), James (Laps 33-35), Franklin (Lap 36), James (37-40)
Lucas Oil Late Model Dirt Series Provisionals: Freddy Smith and Scott Bloomquist
Emergency Provisional: Steve Casebolt
PBM/Erson Cams Hard Charger of the Race: Scott Bloomquist (started: 24th, finished 6th, advanced 18 positions)
Allstar Performance Performer of the Race: Steve Casebolt
K&N Filters Clean Pass of the Race: Scott James
Quarter Master Rookie of the Race: Jeep VanWormer
COMP Cams Engine Builder of the Race: Jay Dickens Racing Engines
Time of the Race: 1 Hour 6 Minutes
---
Submitted By: Jeremy Shields
Back to News