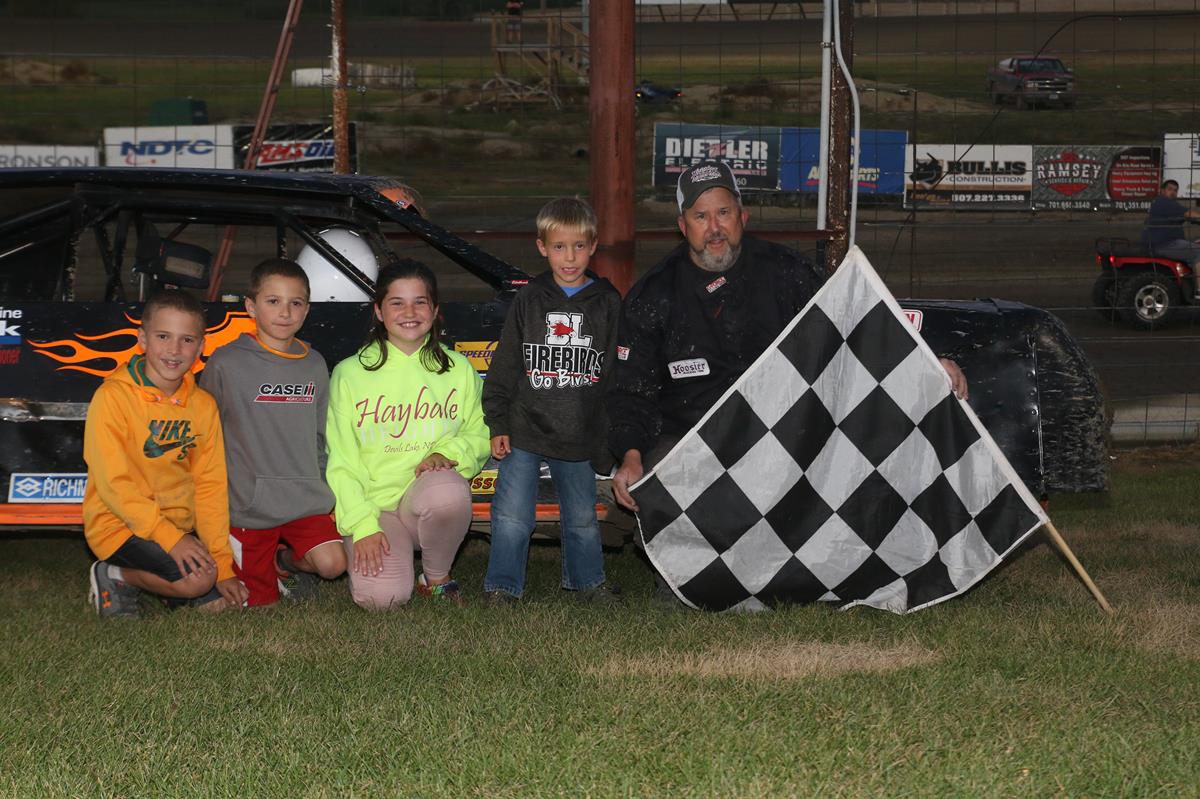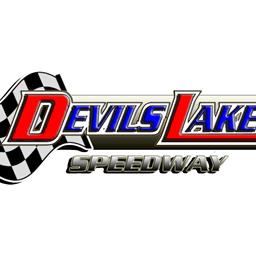 8/16/2020
Devils Lake Speedway
---
Race Report for 08/15/2020
The racing has been hot at the Devils Lake Speedway!!!!
In the Purestock division #1CJ Joe Armstrong started 6th in the feature. Armstrong slowly worked his way to the front. But he had to get passed Daniel Bromstad of Laverne and Carter Tuenge of Rugby who were both having an Epic side by side battle for 1st place. After a car spinning brought the caution out. It bunched the cars back up giving Armstrong an opportunity. Not long later Armstrong muscles his way to the lead and ultimately took the checkered. But he wasn't show stopper watching Bromstad and Tuenge go door to door without touching for half the race was where the excitement was.
Top 5
1.) #1CJ Joe Armstrong 2.) #35 Dan Bromstad 3.) #19 Carter Tuenge 4.) #16 Mikara Johanson 5.) #43 Dan Arends
The Western Renegade Non-Wing Sprints just continue to grow in numbers and driver ability throughout the season. The class has had some support from the Northern Renegade Non-Wing Sprints this season. Jack Berger of Lake Elmo MN made the trip west to join the Western Renegades this Saturday night. This class started this year in the North Dakota area so everyone is a rookie. But has grown in popularity week after week. Joel Larson of Fertile MN had some tough luck in the heat ending up on his lid. The 16 race teams that were present all came together and helped put Larsons car back together again. Borrowing him parts and manpower. It is truly a great community to be apart of. Larson started 15th in the Feature and ended up finishing 5th. Winning the Shocks by Mindy Hard Charger Award. Veteran 410 Sprint Car Driver Dusty Lawson was driving a flawless race on the bottom and then all of a sudden gets passed by the founder of the Western Renegade Brand Myles Tomlinson on the top. After Tomlinson passed Lawson it was a photo finish coming across the line. Tomlinson ultimately took the checkered flag by .263 seconds. If you are interested in joining the class please reach out to the track or Myles Tomlinson.
Top 5
1.) #15T Myles Tomlinson 2.) #20L Dusty Lawson 3.) #11T Stan Tomlinson 4.) #22 Brandon Palm 5.) #126 JoelTrey H Larson
The Powri Minn-Kota Lightning Sprints joined in on the fun Last Minute. The club brought some rookie drivers for the non points race. 79 Year old Lawrence Veralrud of Oslo MN started pole for the feature after winning his heat race. For the Feature #100 Jason Berg of West Fargo who started 4th and #51 Cody Swenson of Middle River MN who started 7th charged to the front to diced it up have an exciting race. Swenson took the lead from Berg with a nice clean slide job but Berg dove down and took the lead back from Swenson.
Top 5
1.) #100 Jason Berg 2.) # 51 Cody Swenson 3.) #40 Lawrence Veralrud 4.) #19S Travis Surerus 5.) #1 Mark Williams
The Wissota Street Stocks have been the talk to the town lately. Many nights have 4 to 5 wide racing action. The class has been stellar all year and on any given night can turn up a new winner. #1J Cody Armstrong of Devils Lake started pole for the feature and drove a really good race finishing 3rd. #4 Trey Hess of Lakota has been a rocket this season. Starting 7th for the Feature and working his way to the front where he had to battle #33 Dan Aberle of Finley who is all around a tough competitor. Aberle and Hess put on a great race for the fans. Hess had a real challenge getting around Aberle. Moving from the top to the bottom just trying to find a line that would work. Hess eventually got around Aberle and parked it in Victory Lane for the 2nd time at the Devils Playground this season.
Top 5
1.) #4 Trey Hess 2.) #33 Daniel Aberle 3.) #1J Cody Armstrong 4.) #28 Greg Jose 5.) #34 Ryne Uhrich
The Wissota Midwest Mods is another class that has been full of excitement. With multiple different winners. The racing was action packed and had lots of side by side action. Lot's of slide jobs that kept it entertaining for the fans. #3L Logan Salazar of Neche lead a good portion of the race and held off #6R Nate Reynolds. Reynolds eventually did get around Salazar but they went many laps switching up the lead. The #10C Cole Haugland of Brocket started 8th in the feature and moved up 6 positions. Haugland ran out of laps and Reynolds took another checked flag this season.
Top 5
1.) #6R Nate Reynolds 2.) #10C Cole Haugland 3.) #3L Logan Salazar 4.) #20 Kyle Lovcik 5.) #96 Jeremy Lizakowski
The Devils Lake Speedway will be back in action this Saturday night August 22nd with the Hometrack Rules Purestocks, Wissota Street Stocks, Wissota Midwest Mods and the Western Renegade Non-Wing Sprints. Saturday nights race is sponsored by Lake GM in Devils Lake.
Gates open at 4pm
Hot Laps start at 6:15
Racing starts at 7pm
---
Submitted By: Nolan Olmstead
Article Media
Back to News