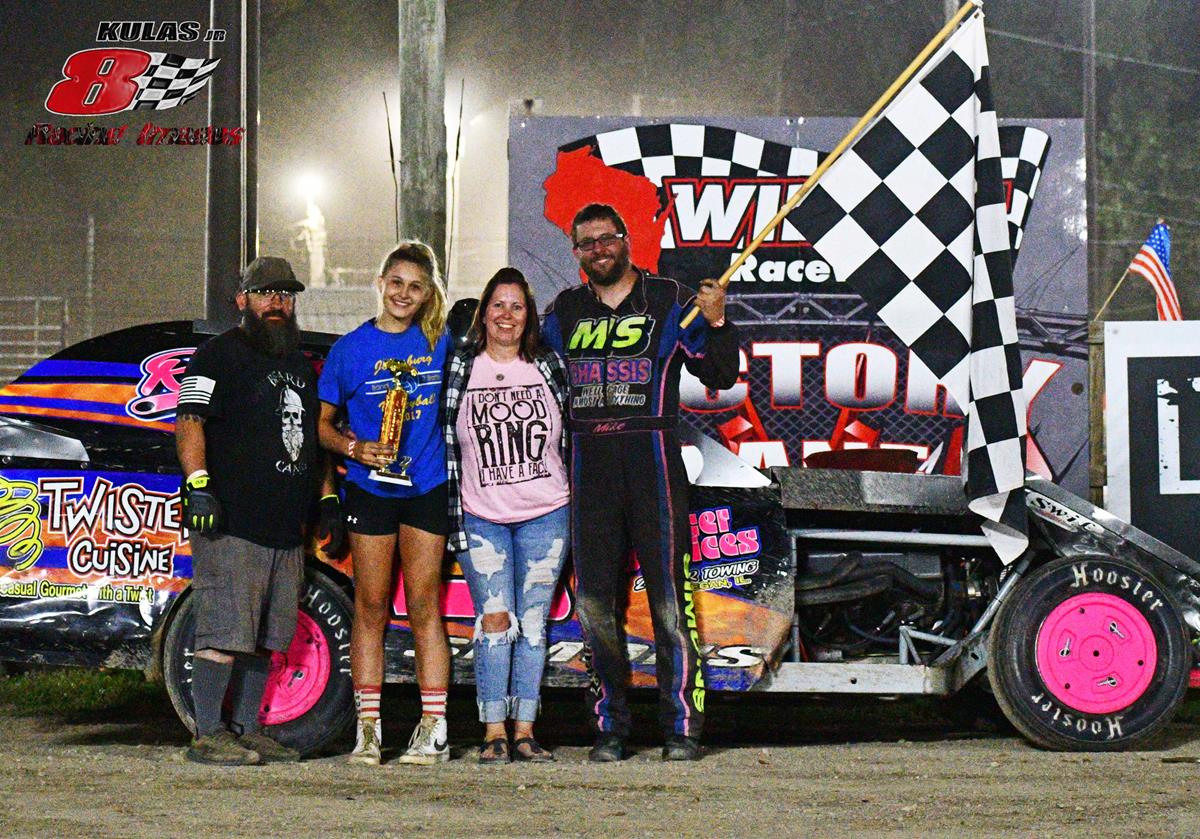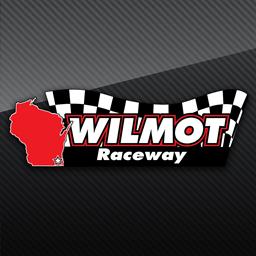 ---
Simon's and Rossmann Continue Rolling
Clayton Rossmann of Wadsworth, IL added to his Wilmot Raceway early racing legacy by capturing his second 20-lap AutoMeter/Brewington Electric Wisconsin WingLESS Sprints feature of his career on Wm. J. Meyer & Son of Libertyville, IL Night Saturday, July 30.
Rossmann, who won his first ever feature at age 15 last summer, took the lead following a caution on a restart with 11 laps remaining. Ryan Marshall of Kansasville, who held top spot through three early cautions, suddenly lost power with 12 laps remaining while leading bringing out a yellow and retiring to the pits. On the restart, Ryan Zielski of Oconomowoc, who inherited the lead, also lost power retiring to the pits and bringing out another yellow.
Rossmann took over the point on the restart with one final yellow coming with four laps remaining. The now 16-year-old second generation driver became the second youngest sprint car feature winner in Wilmot's history. Nathan Crane of Waukegan, IL was second. Bristol's Chris Klemko came from 10th starting spot to finish third. Greg Olsen of Round Lake Heights, IL was fourth. Tim Cox of Park City, IL came from 11th to finish fifth.
"I really wish that I could have battled Ryan (Marshall) and Ryan (Zielski), who both had mechanical woes," said Rossmann, joined by his family in victory lane. Rossmann's win in 2021 made him the youngest ever sprint car feature winner ever. "The first one was when I was 15 and now I'm only 16 and have a second one. It feels great."
The Pfeiffier Trailer Sales IRA Lightning Sprints seemed to be another feature where it was not good to be in the lead. C.J. Malueg of Johnsburg, IL, who was in a tight three and even four-way battle for the top spot in the race's early going, inherited the lead with two laps left following a red flag. The stoppage came when John Kirk of Johnsburg, IL had his car roll onto its side going into turn one after losing a left-rear wheel on a restart after a caution.
Franksville's Derek Fortier, had the early lead, losing it to Pleasant Prairie's Mike Neau with 15 laps remaining after a red flag restart when Union Grove's Andrew Kiedrowski flipped in turn one. Kiedrowski was not injured. Fortier retook the front when Neau brought out a caution as he lost power while leading and retired to the pits.
The mechanical gremlins continued for the front runners when Fortier was not able to refire after the red flag for Kirk's incident. That put Malueg in front on the restart and he was able to maintain the lead to the checkered although he had engine problems in the closing laps he revealed in victory lane. Bristol's Adam Schroeder was second. Tim Brannam of Holiday Hills, IL third. Slinger's Jeff Schmidt fourth. Max Brannam of Holiday Hills, IL fifth.
"I didn't know if we'd make it to the finish when I got the lead because the motor was running hot and we were almost out of water, so I was afraid the engine might blow," admitted Malueg. "I'm glad it stayed together, but I felt bad for the guys in front of me who kept having problems. I'd much rather have raced them for it."
Genoa City's Mike Simons won his fourth Modified Feature of the season in a curfew shortened 11-lap main event. Simons took the lead from early pacesetter Jason Wirth of Elkhorn three laps into the feature after three cautions slowed the early pace. A red flag came out with 11 laps to go when David Powers of Woodlawn, TN, substitute driving for Lee Tibbitts, flipped in turn three with the mangled car landing upside down. Following an extensive clean up and having to carefully get Powers out, who walked to the ambulance for a checkup, set up a final restart attempt. Unfortunately, five cars tangled behind Simons bringing out a final caution.
With the curfew reached, the cars were lined up in their restart order with M. Simons taking the yellow/checkered first for the win. His younger bother Nick Simons of Genoa City started 9th and finished second. Waterford's Mike Wittenburg started tenth finishing third. Bristol's John Dost fourth. Tom Neubauer of Round Lake, IL started 11th finishing fifth.
"This isn't the way I'd like to get the win," said M. Simons, three-time Wilmot champion and current point leader . "I have to thank my sponsors and everybody who helps out. We'll be back next week."
The Bandit 4-Cylinder Stock Car feature, which was including some bonus money, is tentatively planned to be added to the Kenosha County Fair Opening Night on Wednesday, August 17. The Bandits would run twin-features that night, with the main event from July 30 being the first race of the evening after the National Anthem. Added purse money thanks to sponsors C.K. Contractors, Johnny Z's Pour House, MLS Auto Clinic, Jordan Paulsen Racing and JLL Trucking, which has 1st place paying $500.00, 2nd $200 and 3rd $175, along with a $75 Hard Charger award, would be included for the July 30 feature and that line up would be already set based on the July 30 lineup for the feature which was not able to be run due to the curfew.
Family Night is next up for Wilmot Raceway on Saturday, August 6 featuring the Brewington Electric/AutoMeter Wisconsin WingLESS Sprints, Gerber Collision & Glass Modifieds, Pfeiffer Trailer Sales IRA Lightning Sprints and Wilmot Mountain Street Stocks. Grandstands open at 5 p.m. with on track activity at about 5:30 p.m. and racing to follow.
August 6 adult grandstand admission is $15.00 for ages 12 & over, while all children ages 11 & under will be admitted free. Pit gates open at 3 p.m. with all pit passes being $27.00.
Advance tickets are available on the track Website
For weather updates check the trackside race line 262-862-2090 or the official Wilmot Raceway Facebook page.
Photo Credits: Jerry Kulas
---
Article Credit: Mike Babicz
Submitted By: Dakoda Tennyson
Article Media
Back to News