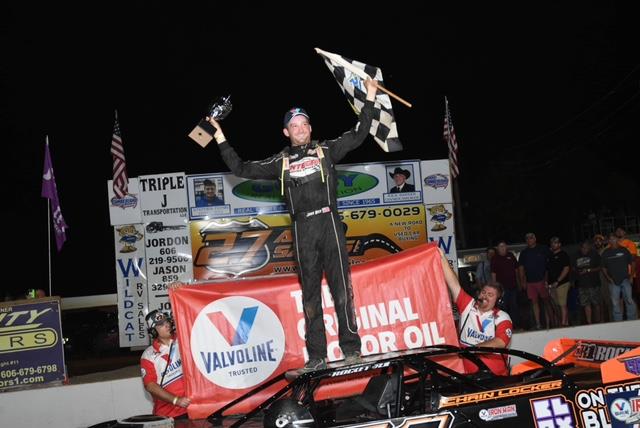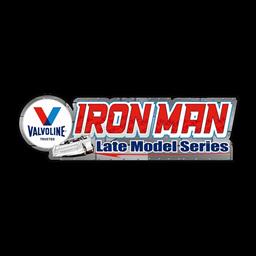 8/28/2022
Iron-Man Late Model Series
---
Josh Rice Hits Paydirt in Valvoline Iron-Man Late Model Series 11th Annual Harold Hardgrove Memorial
BURNSIDE, KENTUCKY (August 27, 2022)– The Valvoline Iron-Man Late Model Northern and Southern Series would return to Lake Cumberland Speedway in Burnside, KY on Saturday evening for the 11th Annual Harold Hardgrove Memorial and Josh Rice of Verona, KY would take the lead on lap two and survive a last lap scare to claim the victory. The event paid $10,022 to win, but with lap money, Rice would claim the biggest payday in track history as his victory was worth $12,472.
The win for 24-year-old Rice would be his second of the season with the tour and sixth career Valvoline Iron-Man Late Model Series victory. Rice's winning entry is a Rocket Chassis powered by a Jay Dickens Race Engine with sponsorship from Sunesis Holdings, Blox Spiked Ice, Chain Locker USA, Map It Right Land Survey and Development, ATC Bolts and Fasteners, Base Racing Fuel, Extreme Sportswear Sales, Maxwell Trucking, Valvoline, Integra Shocks, Rice Brothers Racing, and Slicker Graphics.
Victor Lee would lead the opening lap the 11th Annual Harold Hardgrove Memorial main event, trailed by Josh Rice, Zack Dohm, Sam Seawright, and Skylar Marlar. Rice would squeeze past Lee on the outside to take the lead on lap two, while Dohm would claim the runner-up slot from Lee on lap three. The front five would remain the same as Rice would set a rapid pace up front and would start working slower traffic on lap eight. Dohm would close momentarily, however Rice would work lapped traffic to perfection as he would rim-ride his way around the top side of the track and would increase his lead, while Marlar would pressure Seawright for the fourth position. The first caution of the event would wave on lap twenty-one when Rod Carter, Jr. would make contact with the backstretch outside retaining wall and Tommy Bailey would slide into Carter, Jr. after the caution waved. The restart would see Rice maintain the lead, with Dohm outdueling Lee for the second position, while Marlar and Seawright would resume their battle for fourth, with Marlar taking the fourth position on lap twenty-two. Rice would pick up where he left off prior to the caution with his torrid pace at the point and would start working lapped traffic again on lap twenty-eight. The second and final caution of the event appeared on lap thirty-four when A.J. Hicks would go up in smoke on the frontchute and be finished for the event. Rice would again get a good restart and keep the race lead, while Dohm again would win the battle for second with Lee, while Marlar and Seawright remained fourth and fifth. Rice would appear to pace himself at this point while maintaining a comfortable advantage over Dohm until Rice would catch lapped traffic again by lap forty-six. Rice would catch a pair of slower cars racing for position as the field received the two lap to go signal and on the final lap, Rice would make contact with one of the slower cars attempting to get by him, allowing Dohm to close in quickly, but Rice would recover and take the checkered flag ahead of Dohm, with Lee completing the podium finishers in third. Skylar Marlar and Seawright would complete the top five. Camaron Marlar would finish sixth, with Eli Beets, Payton Freeman, 19th place starting Michael Chilton, and Dakotah Knuckles rounding out the top ten finishers.
The next events for the Valvoline Iron-Man Late Model Southern Series will be at Ponderosa Speedway in Junction City, KY on Friday September 2 for the 24th Annual Pete Abell Memorial paying $10,000 to win (this will also be a Northern Series points event), Saturday September 3 at Boyd's Speedway in Ringgold, GA for the 2nd Annual Labor Day Showdown paying $5,000 to win, and Sunday September 4 at Tazewell Speedway in Tazewell, TN for the 14th Annual Buddy Rogers Memorial paying $5,044 to win.
For more information about the Valvoline Iron-Man Late Model Series, please contact Chris Tilley at (828) 361-5981 or visit the tour's webpage at www.IMDIRT.net or visit the tour page Iron-Man Racing Series on Facebook and Iron-Man Series (@CTPROMOTE) on Twitter.
The Valvoline Iron-Man Late Model Series would like to thank the following sponsors and marketing partners for their support of the 2022 racing season: Valvoline, Zerex by Valvoline, Brucebilt Performance Parts, Hoosier Racing Tire, E-Z-GO, Sunoco Race Fuels, Bazell Race Fuels, DirtonDirt.com, MyRacePass, FloRacing, Impact Race Gear, XS Power Batteries, Vic Hill Racing Engines, American Racer Tires, Keltner Contracting, TW Taylor Trucking, Earnhardt Technologies Group, Swafford Signs, KY Clutch, Brown Haven Homes, Knowles Race Parts and Bodies, Coosa Heating and Cooling, SFP Performance Systems, KND Safety, Chattanooga Valley Auto Parts, Race Clean, Denby's J&J Construction, Advanced Transportation, Lowe's Tows, Reno's Roadhouse, and Racetrack Safety Initiative.
About Valvoline™
Valvoline Inc. (NYSE: VVV) is a leading worldwide marketer and supplier of premium branded lubricants and automotive services, with sales in more than 140 countries. Established in 1866, the company's heritage spans more than 150 years, during which time it has developed powerful brand recognition across multiple product and service channels. Valvoline ranks as the No. 3 passenger car motor oil brand in the DIY market by volume. It operates and franchises approximately 1,400 quick-lube locations, and it is the No. 2 chain by number of stores in the United States under the Valvoline Instant Oil ChangeSM brand and the No. 3 chain by number of stores in Canada under the Valvoline Great Canadian Oil Change brand. It also markets Valvoline lubricants and automotive chemicals, including the Valvoline High Mileage with MaxLife technology motor oil for engines over 75,000 miles; Valvoline Advanced Full Synthetic motor oil; Valvoline Premium Blue™ heavy-duty motor oil; Valvoline Multi-Vehicle Automatic Transmission Fluid; and Zerex™ antifreeze. To learn more, visit www.valvoline.com.
Official Summary of Results
Feature Results for the Valvoline Iron-Man Late Model Northern/Southern Series 11th Annual Harold Hardgrove Memorial at Lake Cumberland Speedway in Burnside, KY Saturday August 27, 2022
Josh Rice-Verona, Ky.
Zack Dohm-Cross Lanes, West Va.
Victor Lee-Danville, Ky.
Skylar Marlar-Winfield, Tenn.
Sam Seawright-Fort Payne, Ala.
Camaron Marlar-Winfield, Tenn.
Eli Beets-Knoxville, Tenn.
Payton Freeman-Commerce, Ga.
Michael Chilton-Salvisa, Ky.
Dakotah Knuckles-Ewing, Va.
Adam Ahl-Morristown, Tenn.
Dustin Nobbe-Batesville, Ind.
Justin Rattliff-Campbellsville, Ky.
Logan Walls-Junction City, Ky.
Tommy Bailey-Corbin, Ky.
Shane Irvin-Dunnville, Ky.
Heath Hindman-Signal Mountain, Tenn.
A.J. Hicks-Grayson, Ky.
Austin Lay-Walton, Ky.
James Rice-Verona, Ky.
Tim Taylor-Science Hill, Ky.
Rod Carter, Jr.-Woodbine, Ky.
Ricky Weiss-Headingly, Manitoba CAN
Time of Race: 22 minutes, 3 seconds
Margin of Victory: 0.532 seconds
Yellow Flags: Two (lap 21, 34)
Red Flags: None
Lap Leaders: Victor Lee 1, Josh Rice 2-50
Entries: 33
E-Z-GO Time Trials Top Qualifier: Josh Rice (Group B) 12.984 seconds
SFP Performance Systems Hard Charger Award ($100 product certificate): Michael Chilton (started 19th-finished 9th-advanced 10 positions)
Provisionals: Heath Hindman (series), Tim Taylor (series), Shane Irvin (track)
Sunoco Race Fuels Heat Race One Finish (8 laps/top 4 transfer): Victor Lee, Skylar Marlar, Rod Carter, Jr., Dustin Nobbe, Tim Taylor, Jeremy Barr, Bryant Woodcock, Michael Chilton, Kyle Fogt
Sunoco Race Fuels Heat Race Two Finish (8 laps/top 4 transfer): Sam Seawright, Payton Freeman, Adam Ahl, Austin Lay, A.J. Hicks, David Webb, Heath Hindman, Bradley Strong
Sunoco Race Fuels Heat Race Three Finish (8 laps/top 4 transfer): Josh Rice, Eli Beets, Camaron Marlar, James Rice, Tommy Bailey, Jeff Watson, Dalton Brown, Shane Irvin
Back to News