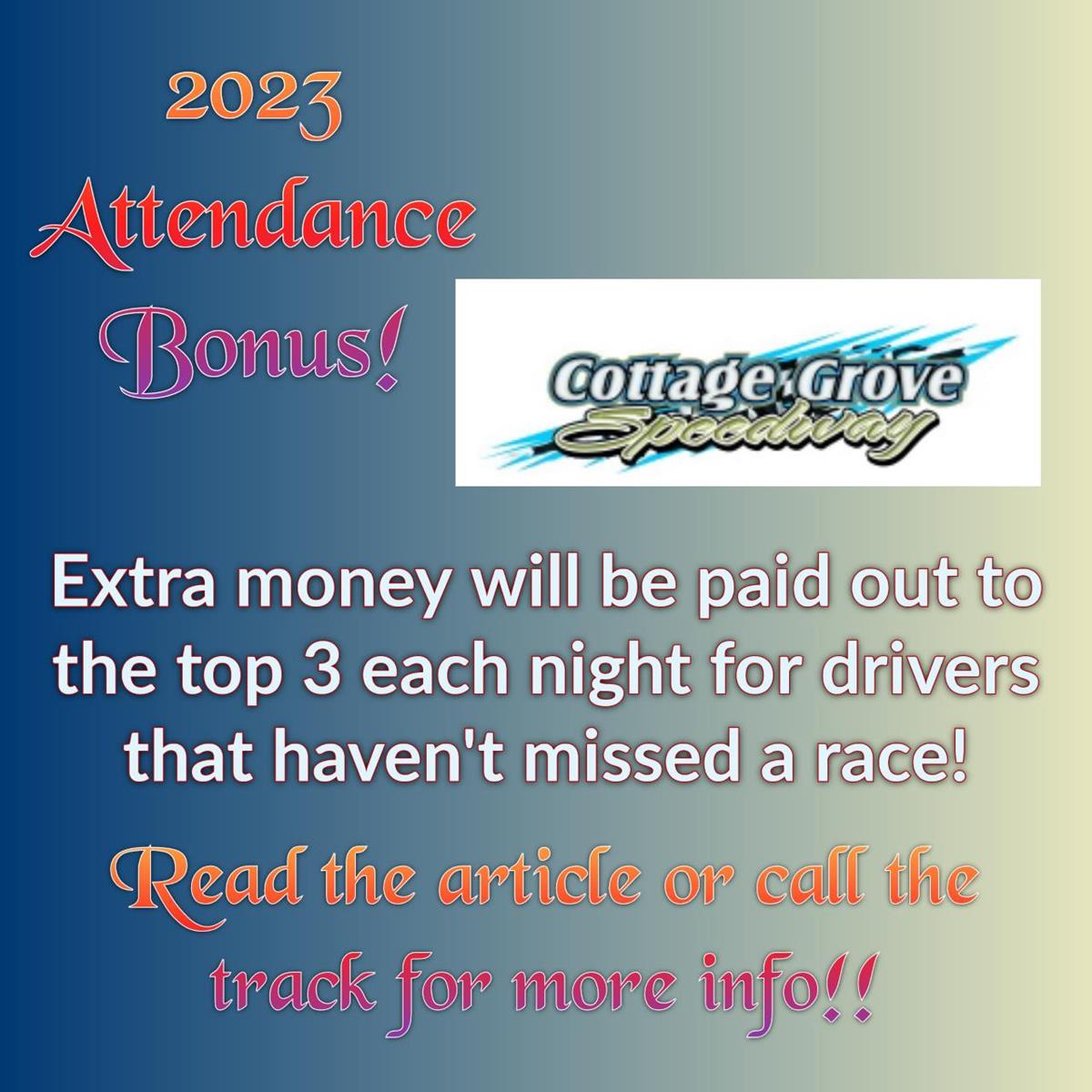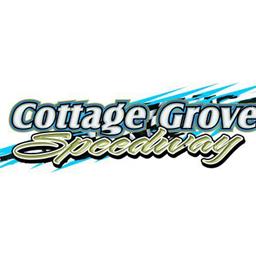 2/2/2023
Cottage Grove Speedway
---
BONUS MONEY ON THE LINE FOR DRIVERS THAT MAKE CG HOME ALL SEASON!!
We are very excited to announce this new incentive program for 2023 and be able to offer a little something extra to those drivers that put in the effort and dedication required to race a full season at Cottage Grove Speedway!
Any driver that hasn't missed a race will be racing for some extra money in the top 3 spots each night, this money will compound each event making for some pretty impressive payouts by the end of the season.
If you can't make every race there is no reason to worry, you will still be racing for the payouts that were increased in 2022, we will not be lowering payouts to offset this new compounding bonus program.
What this means is that on night #1 everyone is racing for standard payout, on night #2 all of those that raced on night #1 are racing for the increased payout, on night #3, those that raced the first 2 events are racing for the payout that has now been increased twice. There is a full breakdown below by class to make this a little easier to figure out.
The night of the race you will receive standard payout in cash at the back gate like always and the bonus money will be awarded at the following pit meeting (except for the final night, we will pay all bonus money at the end of the night).
We are all very excited to welcome you back to Cottage Grove Speedway and hope you are all enjoying the last few weeks of the off season and getting those racecars ready to hit the dirt!
Late Models
Each night of racing 1st place will be increased by $40.00, 2nd place increased by $30.00 and 3rd place increased by $20.00. Actual payout will look like this
Night #1 - 1st place - $650.00; 2nd place - $400.00; 3rd place - $250.00
Night #2 - 1st place - $690.00; 2nd place - $430.00; 3rd place - $270.00
Night #3 - 1st place - $730.00; 2nd place - $460.00; 3rd place - $290.00
Night #4 - 1st place - $770.00; 2nd place - $490.00; 3rd place - $310.00
Night #5 - 1st place - $810.00; 2nd place - $520.00; 3rd place - $330.00
Night #6 - 1st place - $850.00; 2nd place - $550.00; 3rd place - $350.00
Night #7 - 1st place - $890.00; 2nd place - $580.00; 3rd place - $370.00
Night #8 - 1st place - $930.00; 2nd place - $610.00; 3rd place - $390.00
Night #9 - 1st place - $970.00; 2nd place - $640.00; 3rd place - $410.00
Night #10 - 1st place - $1010.00; 2nd place - $670.00; 3rd place - $430.00
Night #11 - 1st place - $1050.00; 2nd place - $700.00; 3rd place - $450.00
Night #12 - 1st place - $1090.00; 2nd place - $730.00; 3rd place - $470.00
Night #13 - 1st place - $1130.00; 2nd place - $760.00; 3rd place - $490.00
Modifieds
Each night of racing 1st place will be increased by $40.00, 2nd place increased by $30.00 and 3rd place increased by $20.00. Actual payout will look like this
Night #1 - 1st place - $650.00; 2nd place - $400.00; 3rd place - $250.00
Night #2 - 1st place - $690.00; 2nd place - $430.00; 3rd place - $270.00
Night #3 - 1st place - $730.00; 2nd place - $460.00; 3rd place - $290.00
Night #4 - 1st place - $770.00; 2nd place - $490.00; 3rd place - $310.00
Night #5 - 1st place - $810.00; 2nd place - $520.00; 3rd place - $330.00
Night #6 - 1st place - $850.00; 2nd place - $550.00; 3rd place - $350.00
Night #7 - 1st place - $890.00; 2nd place - $580.00; 3rd place - $370.00
Night #8 - 1st place - $930.00; 2nd place - $610.00; 3rd place - $390.00
Night #9 - 1st place - $970.00; 2nd place - $640.00; 3rd place - $410.00
Night #10 - 1st place - $1010.00; 2nd place - $670.00; 3rd place - $430.00
Night #11 - 1st place - $1050.00; 2nd place - $700.00; 3rd place - $450.00
Night #12 - 1st place - $1090.00; 2nd place - $730.00; 3rd place - $470.00
Night #13 - 1st place - $1130.00; 2nd place - $760.00; 3rd place - $490.00
Night #14 - 1st place - $1170.00; 2nd place - $790.00; 3rd place - $510.00
Night #15 - 1st place - $1210.00; 2nd place - $820.00; 3rd place - $530.00
Night #16 - 1st place - $1250.00; 2nd place - $850.00; 3rd place - $550.00
Night #17 - 1st place - $1290.00; 2nd place - $880.00; 3rd place - $570.00
Night #18 - 1st place - $1330.00; 2nd place - $910.00; 3rd place - $590.00
Night #19 - 1st place - $1370.00; 2nd place - $940.00; 3rd place - $610.00
Limited Sprints
Each night of racing 1st place will be increased by $40.00, 2nd place increased by $30.00 and 3rd place increased by $20.00. Actual payout will look like this
Night #1 - 1st place - $650.00; 2nd place - $400.00; 3rd place - $250.00
Night #2 - 1st place - $690.00; 2nd place - $430.00; 3rd place - $270.00
Night #3 - 1st place - $730.00; 2nd place - $460.00; 3rd place - $290.00
Night #4 - 1st place - $770.00; 2nd place - $490.00; 3rd place - $310.00
Night #5 - 1st place - $810.00; 2nd place - $520.00; 3rd place - $330.00
Night #6 - 1st place - $850.00; 2nd place - $550.00; 3rd place - $350.00
Night #7 - 1st place - $890.00; 2nd place - $580.00; 3rd place - $370.00
Night #8 - 1st place - $930.00; 2nd place - $610.00; 3rd place - $390.00
Night #9 - 1st place - $970.00; 2nd place - $640.00; 3rd place - $410.00
Night #10 - 1st place - $1010.00; 2nd place - $670.00; 3rd place - $430.00
Night #11 - 1st place - $1050.00; 2nd place - $700.00; 3rd place - $450.00
Night #12 - 1st place - $1090.00; 2nd place - $730.00; 3rd place - $470.00
Night #13 - 1st place - $1130.00; 2nd place - $760.00; 3rd place - $490.00
Night #14 - 1st place - $1170.00; 2nd place - $790.00; 3rd place - $510.00
Night #15 - 1st place - $1210.00; 2nd place - $820.00; 3rd place - $530.00
Night #16 - 1st place - $1250.00; 2nd place - $850.00; 3rd place - $550.00
Sportmods
Each night of racing 1st place will be increased by $25.00, 2nd place increased by $15.00 and 3rd place increased by $10.00. Actual payout will look like this
Night #1 - 1st place - $300.00; 2nd place - $200.00; 3rd place - $150.00
Night #2 - 1st place - $325.00; 2nd place - $215.00; 3rd place - $160.00
Night #3 - 1st place - $350.00; 2nd place - $230.00; 3rd place - $170.00
Night #4 - 1st place - $375.00; 2nd place - $245.00; 3rd place - $180.00
Night #5 - 1st place - $400.00; 2nd place - $260.00; 3rd place - $190.00
Night #6 - 1st place - $425.00; 2nd place - $275.00; 3rd place - $200.00
Night #7 - 1st place - $450.00; 2nd place - $290.00; 3rd place - $210.00
Night #8 - 1st place - $475.00; 2nd place - $305.00; 3rd place - $220.00
Night #9 - 1st place - $500.00; 2nd place - $320.00; 3rd place - $230.00
Night #10 - 1st place - $525.00; 2nd place - $335.00; 3rd place - $240.00
Night #11 - 1st place - $550.00; 2nd place - $350.00; 3rd place - $250.00
Night #12 - 1st place - $575.00; 2nd place - $365.00; 3rd place - $260.00
Night #13 - 1st place - $600.00; 2nd place - $380.00; 3rd place - $270.00
Night #14 - 1st place - $625.00; 2nd place - $395.00; 3rd place - $280.00
Night #15 - 1st place - $650.00; 2nd place - $410.00; 3rd place - $290.00
Night #16 - 1st place - $675.00; 2nd place - $425.00; 3rd place - $300.00
Night #17 - 1st place - $700.00; 2nd place - $440.00; 3rd place - $310.00
Night #18 - 1st place - $725.00; 2nd place - $455.00; 3rd place - $320.00
Night #19 - 1st place - $750.00; 2nd place - $470.00; 3rd place - $330.00
Street Stocks
Each night of racing 1st place will be increased by $20.00, 2nd place increased by $10.00 and 3rd place increased by $5.00. Actual payout will look like this
Night #1 - 1st place - $150.00; 2nd place - $100.00; 3rd place - $75.00
Night #2 - 1st place - $170.00; 2nd place - $110.00; 3rd place - $80.00
Night #3 - 1st place - $190.00; 2nd place - $120.00; 3rd place - $85.00
Night #4 - 1st place - $210.00; 2nd place - $130.00; 3rd place - $90.00
Night #5 - 1st place - $230.00; 2nd place - $140.00; 3rd place - $95.00
Night #6 - 1st place - $250.00; 2nd place - $150.00; 3rd place - $100.00
Night #7 - 1st place - $270.00; 2nd place - $160.00; 3rd place - $105.00
Night #8 - 1st place - $290.00; 2nd place - $170.00; 3rd place - $110.00
Night #9 - 1st place - $310.00; 2nd place - $180.00; 3rd place - $115.00
Night #10 - 1st place - $330.00; 2nd place - $190.00; 3rd place - $120.00
Night #11 - 1st place - $350.00; 2nd place - $200.00; 3rd place - $125.00
Sport Compacts
Each night of racing 1st place will be increased by $20.00, 2nd place increased by $10.00 and 3rd place increased by $5.00. Actual payout will look like this
Night #1 - 1st place - $75.00; 2nd place - $50.00; 3rd place - $40.00
Night #2 - 1st place - $95.00; 2nd place - $60.00; 3rd place - $45.00
Night #3 - 1st place - $115.00; 2nd place - $70.00; 3rd place - $50.00
Night #4 - 1st place - $135.00; 2nd place - $80.00; 3rd place - $55.00
Night #5 - 1st place - $155.00; 2nd place - $90.00; 3rd place - $60.00
Night #6 - 1st place - $175.00; 2nd place - $100.00; 3rd place - $65.00
Night #7 - 1st place - $195.00; 2nd place - $110.00; 3rd place - $70.00
Night #8 - 1st place - $215.00; 2nd place - $120.00; 3rd place - $75.00
Night #9 - 1st place - $235.00; 2nd place - $130.00; 3rd place - $80.00
Night #10 - 1st place - $255.00; 2nd place - $140.00; 3rd place - $85.00
Night #11 - 1st place - $275.00; 2nd place - $150.00; 3rd place - $90.00
Night #12 - 1st place - $295.00; 2nd place - $160.00; 3rd place - $95.00
Night #13 - 1st place - $315.00; 2nd place - $170.00; 3rd place - $100.00
Night #14 - 1st place - $335.00; 2nd place - $180.00; 3rd place - $105.00
Night #15 - 1st place - $355.00; 2nd place - $190.00; 3rd place - $110.00
Night #16 - 1st place - $375.00; 2nd place - $200.00; 3rd place - $115.00
---
Submitted By: Heather Boyce
Back to News