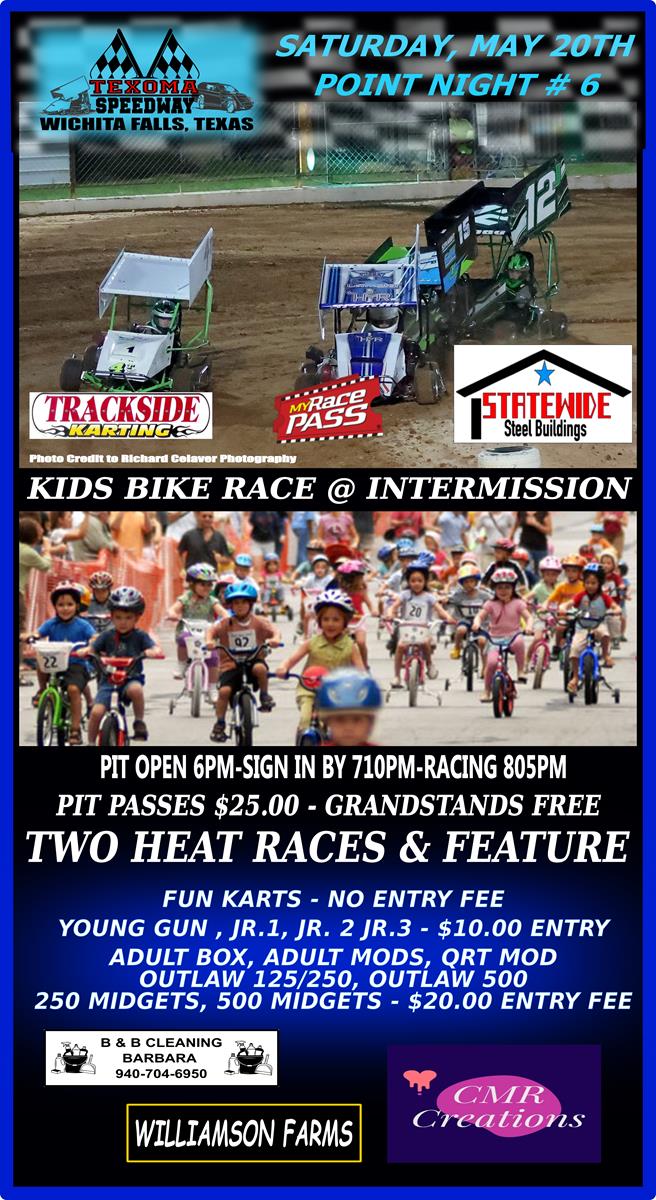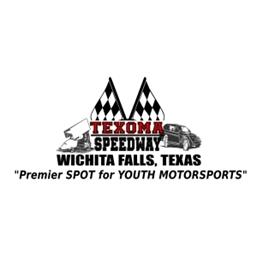 ---
We will try again this Saturday Night May 20 - Plus Kids Bike Race.
Mother Nature has had her shares of Victory Lane this season at Texoma Speedway. It time for some outlaw karts to have a shot.
We hope this Saturday the nice little system around the speedway will be moving on to the east so this young drivers can have there fun.
We will make up the Bike Race from May 6 and the Special Cups for the Mother Day Race from May 13. The Cups are from our Marketing Sponsor CMR Creations. Winner in the Young Guns, Jr.1, Jr.2 and Jr.3 will get a nice mother day tumbler from CMR Creations to give to the mothers for winning there feature event Saturday May 20.
At intermission the fans and driver will battle it out in a bike race that has been postponed from Saturday May 6. Everyone will need a helmet for this event.
Pit Passes $25.00 All Ages
Grandstands FREE
Race format for Texoma Speedway - Two Heats and a Feature
+++Receiver Required in all classes except Fun Karts, recommended in Young Guns +++
We use Westhold Timing We do have transponder to rent for $10.00 Nightly
Rules at www.texomaspeedway.com
Running Order:
Non - Entry Fees Classes:
8 and Under Fun Kart
9 - 15 Fun Kart
Trophy Classes: Weekly $10.00 Fee
Driver Can ONLY Race in ONE Trophy Class Nightly
3 . Young Guns
4 . Jr. 1 Beginner Box
5. Jr. 2 Box Stock
6. Jr. 3 Box Stock Open
Payout Classes: Weekly $20.00 Fee - 100% Payback
7 .Adult Box Stock+
8. Quarter Mods +
9. Outlaw 125 / 250 Sprints+
10. Adult Modified Box +
11. Open 500 Sprints +
12. 250 Midgets +
13. 500 Midgets +
---
Submitted By: Robert Isaacs
Back to News