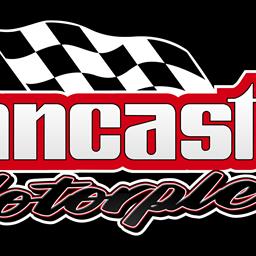 5/12/2023
Lancaster Dragway
---
Drag Racing Opener Begins 2023 Season Under WDRA Sanction
Lancaster, NY – May 12, 2023 The second season of drag racing for Lancaster Motorplex and the first under the new WDRA sanction body was off to a great start Friday night with exceptional weather and many racers, old and new. 3 of the 4 finals Friday included racers who were in the last final of 2022, picking up where they left off.
Mason Fix won Mallare-Noltee Racing Top E.T. after Justin Hardman had a foul start. Hardman had won the last race of 2022. Mason Fix was the Mod class Champion in 2020 and the Street Class Champion 3 years before then.
Reigning Champion Mike Peters won Buffalo Chopper Bikes & Sleds over Timothy Becht in an all-bike final.
It was an all-star family feud in the Gianni Mazia's Mod final round. The winner was Dale Eckert with his first win in two years. He beat his brother-in-law Clay Ricketson in a close race with almost identical reaction times. Ricketson is the 2022 Mod Champion and Dale has won 10 Mod Championships.
Kale Wischman took the win in Big Indian Street against Conner Wieserner. Wischman was the 2021 Street Champion. Wieserner was in the points finale final in 2022.
Wednesday will be the weekly Grudge Drags and Cruise Night. Friday May 19 will be the next WDRA points race for drags. Stock Cars are running Saturday May 20 and the Tuesday night program will start May 23. See the Lancaster Motorplex and Lancaster Dragway Drag Racers Facebook pages for more information.
RESULTS FROM WEEK 1 May 12
Mallare – Noltee Racing TOP E.T.
Justin Hardman Baldwinsville, NY 7.22 index .4921 RT 7.2130 ET 90.31 mph
W) Mason Fix Lockport, NY 7.25 index .5149 RT 7.2451 ET 89.44 mph
Gianni Mazia MOD
Clay Ricketson E Aurora, NY 7.06 index .5231 RT 7.0819 ET 94.36mph W) Dale Eckert S Wales, NY 6.79 index .5238 RT 6.8051 ET 96.77mph
Big Indian STREET
Conner Wieserner Cheektowaga, NY 10.18 index .5259 RT 10.2252 ET 69.10mph
W) Kale Wischman Getzville, NY 7.94 index .5310 RT 7.9658 ET 81.69mph
Lancaster Motorplex Bikes & Sleds
Timothy Becht Tonawanda, NY 7.47 index .7549 RT 7.5420 ET 88.93 mph
W) Mike Peters Derby, NY 5.55 index .5699 RT 5.6361 ET 106.39 mph
---
Article Credit: Sharon Hughes
Submitted By: Steven Petty
Article Media
Back to News