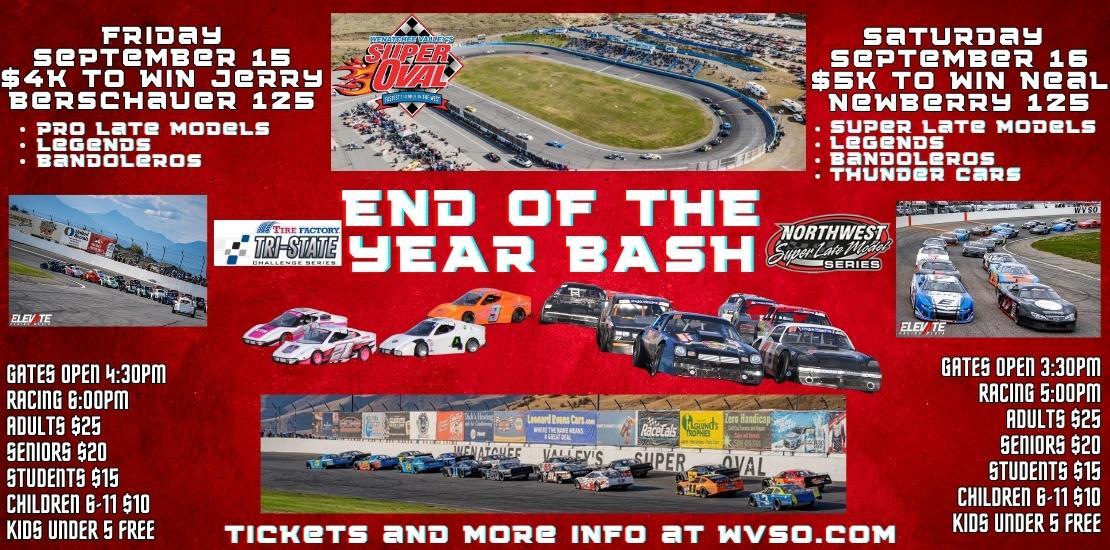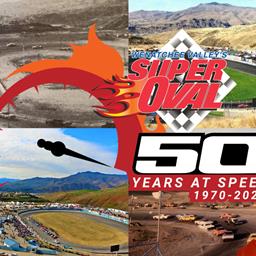 8/25/2023
Wenatchee Valley Super Oval
---
End of the Year Bash September 15-16
It's one of the biggest weekends of racing in the Northwest for the End of the Year Bash at WVSO Friday September 15 & Saturday September 16. Tickets, Drivers Registration and Camping is all now available at wvso.com. You won't want to miss this great event.
The event will kick off Friday September 15th with the $4,000 to win Jerry Berschauer 125 Presented by Jerry's Auto Supply. This will be race #4 for the Big 4 Series for the Jerry's Auto Supply Pro Late Models and race #3 for the Tire Factory Tri State Challenge Series. Friday night will also include night #1 for the Wenatchee Legends Cup and the Angels Bail Bonds Bandoleros.
Saturday will showcase the Northwest Super Late Model Series as they battle it out for the $5,000 to win Neal Newberry 125. The Wenatchee Legends Cup will battle it out as Saturday will be a Regional Qualifier. The Angel Bail Bonds Bandoleros will also be on hand for their Regional Qualifier. Plus the Dick's Heating & Air Conditioning Thunder Cars will cap off thier season on the Championship Night.
Drivers need to pre-register at wvso.com as the pits will be full and there will be assigned pit stalls.
Tickets are now on-sale at https://wvso.ticketspice.com/wenatchee-valley-super-oval-2023 we do offer a discounted combo ticket for both days online only. Tickets are also available at the gate on race nights..
We will have camping for the event for $50 for the weekend. You can check in starting at 10am Friday and must be out by 9am Sunday 9/17. You can make your camping reservation at https://www.myracepass.com/tracks/3071/registrations/8411/previous
Friday September 15th
11:00am Registration Opens
12:30m Practice Opens
1:00-1:200 PLM
1:20-1:30 Bandos
1:30-1:40 Legends
1:40-2:00 NWSLM
2:00-2:15 Legends
2:15-2:35 PLM
2:35-2:45 Bandos
2:45--3:05 NWSLM
3:05-3:20 Legends
3:20-3:40 PLM
3:40-3:55 Bandos
4:00pm Drivers Meeting
4:30pm Fan Gates Open
4:45 Group Qualifying Bandos
Single Car Top 20 Locked in Legends & PLM
Opening Ceremonies
6:00pm B-mains if needed
6:00-6:20pm NWSLM Practice
6:20pm
Main Events(Top 3 Podium Interviewed on
Front Stretch)
Bandos 20 Laps or (25minutes)
Legends 40 Laps (40 minutes)
Pro Late Model Jerry Berschauer 125 Laps Presented by Jerry's Auto Supply
All PLM Teams need to move cars out after main
Saturday September 16th
10:00am Registration Opens
11:00am NWSLM Race Tire Selection
12:00-12:10 Bandos
12:10-12:20 Thunders
12:20-12:35 Legends
12:35-1:05 NWSLM
1:05-1:20 Bandos
1:20-1:30 Thunders
1:30-1:45 Legends
1:45-2:15 NWSLM
2:15-2:25 Bandos
2:25-2:35 Thunders
2:35-2:45 Legends
2:45-3:00 NWSLM
3:10pm Drivers Pit Meeting
3:30pm Fan Gates Open
3:35pm Group Qualifying for all Bandos Single Car Top 20 Locked in On Time
Thunders, Legends & NWSLM
5pm Opening Ceremonies
Trophy Heats Races Bandos & Thunders
B Mains if needed Top 4 Transfer
Legends 20 Laps
SLM 25 Laps or 10 minute practice
6:00pm Main Events
Bandos 20 Laps or (25minutes)
Thunders 30 Laps or (25 minutes)
NW Legend Nationals 40 Laps or (40 Mins)
NWSLM Neal Newberry 125
Back to News