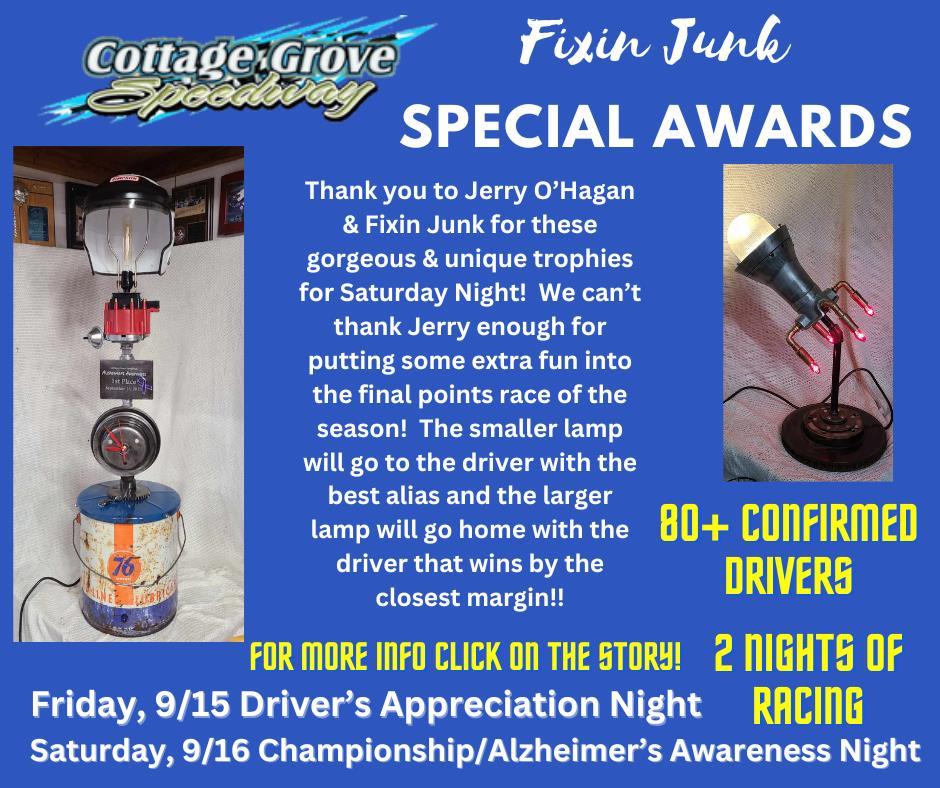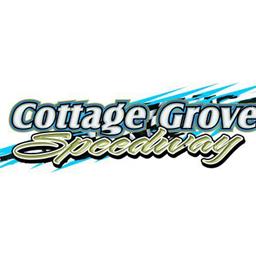 9/14/2023
Cottage Grove Speedway
---
CHAMPIONSHIP NIGHT JUST GOT EVEN BRIGHTER!!
Championship Night just got even brighter with these 2 very cool trophy lamps courtesy of Jerry O'Hagan & Fixin Junk! The smaller lamp will be going home with the driver that comes up with the best alias in the "I forgot my name" challenge so be ready Saturday night to give us your alias at sign in. You will have to register your alias and there are no duplicates so be sure to check in early to ensure you get the name you want!
The larger lamp will be going home with the driver that wins by the closest margin! You better believe this is gonna make the racing even more intense! Everyone is gonna be driving extra hard to get to take this thing home. Not to mention the point battles that will be going on to see who will be crowned the 2023 Cottage Gove Speedway Champions!
The final weekend of regular season racing is this weekend at Cottage Grove Speedway! Friday September 15th is Driver Appreciation Night & Saturday September 16th is Championship Night. 6 classes of cars will be running each night, Late Models, Modifieds, Todd's Auto Body Sprints, Royalty Core Sportmods, Street Stocks, & Kiefer Compacts!
We are so thankful to all of the drivers that choose to race at Cottage Grove each week and we are ready to show you how much we appreciate you this Friday! If you haven't already gotten your free tickets to giveaway please get a hold of Heather and get them picked up this week. On Friday we will tally up how many tickets were redeemed from each driver and at intermission we will give away a whole lot of prizes including a new racing suit from Tiner Hirst Enterprises! We want you guys and gals to pack the stands with all of your fans, sponsors, friends, and anyone else you meet! There is no limit to the number of tickets you can get to giveaway, the only rule is that you cannot hand them out in the ticket line the day of the race. Please be sure to put your name on the tickets so you get awarded for everyone you bring in and be sure you let your people know they will only be good for Friday's race!
Then it all comes down to Saturday night when we crown the final 6 champions of 2023 at Cottage Grove Speedway! With some really tight point battles this is sure to be a great night of racing that you will not want to miss!!
Online tickets can be purchased until 9am each day at www.cottagegrovespeedway.com. You can also find more information at that website or by liking and following us on Facebook!
Times:
Pit Gate - 2pm
Front Gate - 4:30pm
Hot Laps/Qualifying - 5:30pm
Racing - 6:30pm
Prices
General Admission
Adults - $15.00
Juniors (13-17) - $12.00
Seniors (62+) - $12.00
Military - $12.00
Youth (6-12) - $5.00
5 and Under - Free
Family Pass (2 Adults & 4 Youth (6-12)) - $40.00
VIP Skybox Seat - $35.00
Pit Pass - $40.00
---
Submitted By: Heather Boyce
Back to News