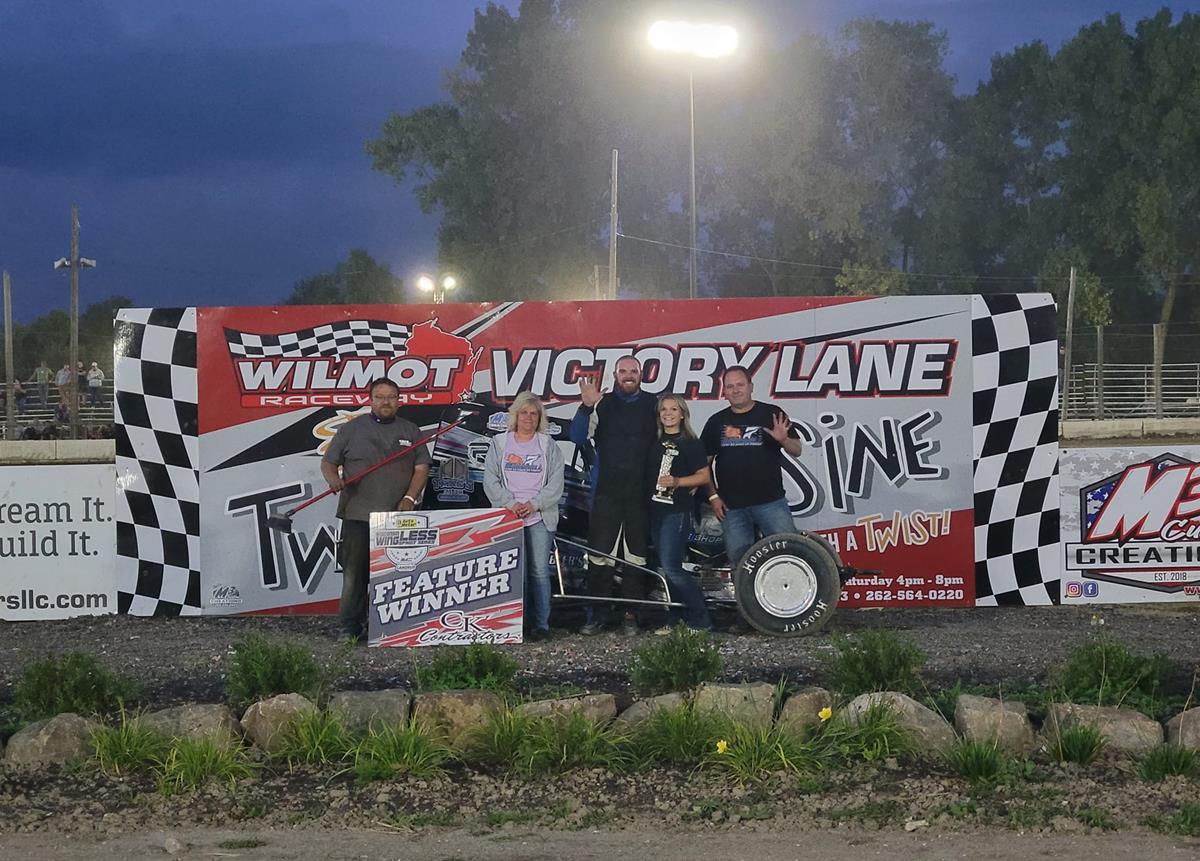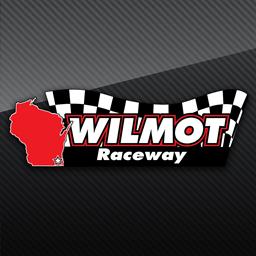 ---
Final Night and Bandit Championship
With lightning in the air and rain not far off, the 2023 Wilmot Raceway season came to a close with the Fall Spectacular on Saturday, September 16. Wilmot completed its entire season schedule without losing a single night to weather.
The Bandit 4-Cylinder Stock Cars concluded the point championships for Wilmot classes to highlight the program. Ryan Johnson of Salem, an automotive technician completing his fifth season of racing, captured his second title as he showed up for the National Anthem lap earning him appearance points. Johnson had three second place finishes sandwiched between his 2019 crown his rookie season and this year's title.
"I have to thank my sponsors, my family and crew, and all of the fans who came to meet us at the autograph session and signed my car themselves so they actually road along with me," said Johnson following his driving the #38 backing up in reverse around the 3/8-mile oval. "With five feature wins in ten nights of racing, that's pretty good. I can't wait until 2024 but we're going to celebrate this one for sure."
Terry Davis of Oak Creek took the early lead in the 20-lap feature as dark clouds began rolling in. WIth four laps to go, Salem's Austin Orth, Johnson's brother, took the top spot just prior to the race's only caution. On the restart it became a three-way battle between Orth Johnson and David McKellips of Mt. Pleasant.
On the white flag lap, McKellips, who started eighth on the grid, powered past Orth to become the sixth different Bandit feature winner of the season. Orth finished second by less than a car length. Johnson was a close third. Davis ended up fourth. Scott Ludtke of Lyons finished fifth.
"It is great to finally get a feature win, my first this year, on the final night of the season," said McKellips. "I felt a little sorry for Austin (Orth) because he has had a tough year this year and it would have been nice to see him win. We've had our problems, too, so we'll take it. Congratulations to 'Tiny Horse' Ryan Johnson on his second championship. Looking forward to seeing everyone next season."
Tommy Sexton of Antioch, IL took the checkered flag in a hotly contested 20-lap 604 Crate Engine Winged Sprint Car feature. Bristol's Chris Klemko took the initial lead, maintaining it until seven laps remained.
Sexton shot into the lead just prior to a pair of back to back cautions for unrelated incidents. Sexton, who came out of retirement for the August 16 fair race of the 604 Crate Engine Winged Sprint Cars at the suggestion of Klemko, scored the win. Klemko held on to second with a fast finishing Brian Kristan of Zion, IL taking a close third. Kansasville's Ryan Marshall was fourth. Trevor's Ellie Hensley, who earlier won her first heat race ever, was fifth.
"Chris talked me into giving it a try for the fair race," said "Mr. Excitement" Sexton. "Then I saw the car roll out of the trailer and it's replica paint scheme of my championship car from years ago. Then it's mainly his crew that also pits for me. It was a fun race and to be in victory lane after all of these years, I have to thank my family, sponsors and the ones who were behind me back then too. This is a great way to end the season."
The 20-lap Open Competition Non-Winged Sprints saw a spin to eventually win and a flip coming for the initial checkered flag attempt setting up overtime with a green-white checkered finish.
Second generation driver Tyler Davis of Franklin jumped in front from his pole starting position. Weathering a couple of early cautions three laps into the feature and a second with six laps to go kept erasing sizeable advantages Davis built up. The first caution was for Ryan Marshall who spun in turn four while battling Davis sending "The Kansasville Comet" to the rear on the restart.
With five laps to go, Marshall took the lead in turn four as Davis drifted high in almost the same spot as Marshall's earlier spin but the recently turned 21-year-old kept going. The two battled on the initial white flag lap, but Bryce Andrews of Kenosha bounced off the front straightaway wall flipping into the turn one entrance road with a small fire erupting in the engine department. Andrews was not injured.
Davis ended up withdrawing to the pits during the caution with mechanical woes. Marshall went on to the win holding top spot through the extra laps. Trevor's Jordan Paulsen came across second. Silver Lake's Michael Decker third. Will Lynn of Zion, IL fourth. Davis was credited with fifth.
"I learned a lot driving a winged car for the first time which helped me to drive this car even better," said Marshall, the 2023 Steel Block Crate Motor National Champion, who scored a clean sweep having posted fast time and winning the heat race earlier. "I have to thank my car owners Eddy and Debbie Boyd of MLS Auto Clinic who allowed me to run the two cars, and to Matt Vandervere who helped with the winged car, too. To have a win in the wingless and a fourth in the winged is a pretty good night. I am looking forward to being at Plymouth for the Watson next Saturday, September 23, and back at Plymouth again on Saturday, September 30, for the Wisconsin Sprint Car Championships in the final two Wisconsin Wingless Sprint Series points races. To win my last race of the year at Wilmot is good."
The 20-lap Modified feature closed out the night with lightning and some thunder beginning to close in on the Kenosha County Fair facility. A yellow on the initial start attempt eliminated AJ Izzo of Capron, IL who had started on the front row and had contact with Franklin's Scott Barnharst.
Barnharst went on to take the final checkered of the season scoring his first ever modified feature win and his initial trip to Wilmot's Twisted Quisine victory lane. Milwaukee's Don Scheffler took second in a fast closing charge to catch Barnharst which came up just short. Sheboygan's Joel Seegert, 2023 Wilmot modified champion, was third in a tight battle with fourth place Bart Sievert of West Allis. Mike Learman of Woodstock, IL was fifth.
"I didn't care if it started to rain, or anything, I just kept counting the laps hoping to see the white and checkered," said Barnharst, whose last feature win of any kind came in 1994 at the closed Hales Corners Speedway. "I have to thank my crew who doubles as David Paskiewicz crew too. Thanks to the fans who stuck it out despite the forecast. It's neat to win the final race of the year here with lightning in the background."
In addition to the on track action, which had starting times moved up by Wilmot Raceway officials, featured a candy drop from lift vehicles provided by CK Contractors and Happ'y Services of Burlington, for youngsters ages 14 & under. Candy sponsors were The Track at Burlington Hobbies, Johnny'Z Poor House, CK Contractors, D. Wells Automotive, Shane Benge, Hesse Family, Dr. Ken Schenk Chiropractic Center of Elkhorn and Kenosha County Fair Association.
Some candy pieces had tickets attached which won children bikes donated by Cove Realty-Michael Zacker, Jax Helmet Design, Johnny 'Z Pourhouse, CK Contractors, Shane Benge, Folz's in Loving Memory of Addison Dahlke and an anonymous donor.
Happ'y Services of Burlington provided free checkered flags to the first 50 youngsters.
Wilmot Raceway will be holding an awards night honoring the achievements of drivers from the 2023 season at a date and location to be announced. Details along with the 2024 Wilmot Raceway schedule will be announced on the track website at wilmotraceway.com and on the official WIlmot Raceway Facebook page.
---
Article Credit: Mike Babicz
Submitted By: Dakoda Tennyson
Back to News