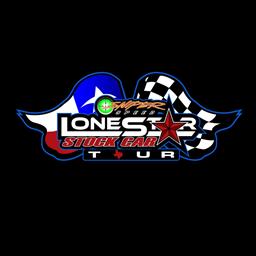 12/7/2020
IMCA Lone Star Stock Car Tour
---
S&S Fishing and Rental Manufactures Cup Set for Thursday Stop at Kennedale
The S&S Fishing and Rentals Manufactures Cup could prove to be bountiful for one driver during the Sniper Speed Lone Star IMCA Stock Car Tour in February. For every chassis manufacture or builder that contributes $250.00 to the prize pot, two of their cars will be eligible for the inaugural race during the Thursday night Freedom Firewood Pit Party and open practice at Kennedale Speedway Park.
Tour officials will take the top 2 in points from each contributing chassis manufacture after the Wednesday race at Boyd Speedway. Those drivers will go into qualifying to be determined by the number of cars qualifying for the event. Once the field is set, they will race for the top prize money contributed by the chassis builders. The winning chassis builder will get a one-of-a-kind commemorative trophy, and a year bragging rights as the inaugural S&S Fishing and Rentals Manufacturers Cup Champion Chassis Builder during the Sniper Speed Lone Star IMCA Stock Car Tour.
So far, two chassis builders have contributed the $250.00 to enter 2 of there cars to this event. Sniper Speed of Gillett, Wi and GRT by Bigg Johnson of De Witt, Ne. The more manufacturers, the more chances 2 drivers will see big money on Thursday during the tour.
Chassis manufactures, if you would like information on how to become involved, contact Justin Graves at 423-664-8089 or email justingravescwptx@gmail.com and get 2 of your customers into the event.
See you all on Tour this February!
Sponsor info:
S&S Fishing and Rental, Inc., was established in 2011. Our employees have over 100 combined years' experience in the down hole fishing and rental market. Our primary goals are to provide exceptional service and quality equipment, and we strive to maintain a safe work environment. Our field supervisors and operations support staff help reduce time and cost to our customers.
S&S Fishing & Rental, Inc. has all of the products and services that you need and we are professional, competent, and competitive in everything that we do.
We take great pride in providing innovative and cost-effective industrial solutions. http://ssfishingrental.com
Sniper Speed Chassis
Sniper speed is a chassis builder for Stock Cars along with a supplier of high-performance racing parts. We will also build Street/Hobby Stocks.
https://www.facebook.com/Sniper-speed-1712935368992964/
GRT by Bigg Johnson
https://www.facebook.com/BIGG-Johnson-Racing-134940539912653
---
Article Credit: Jerry Vansickel
Back to News