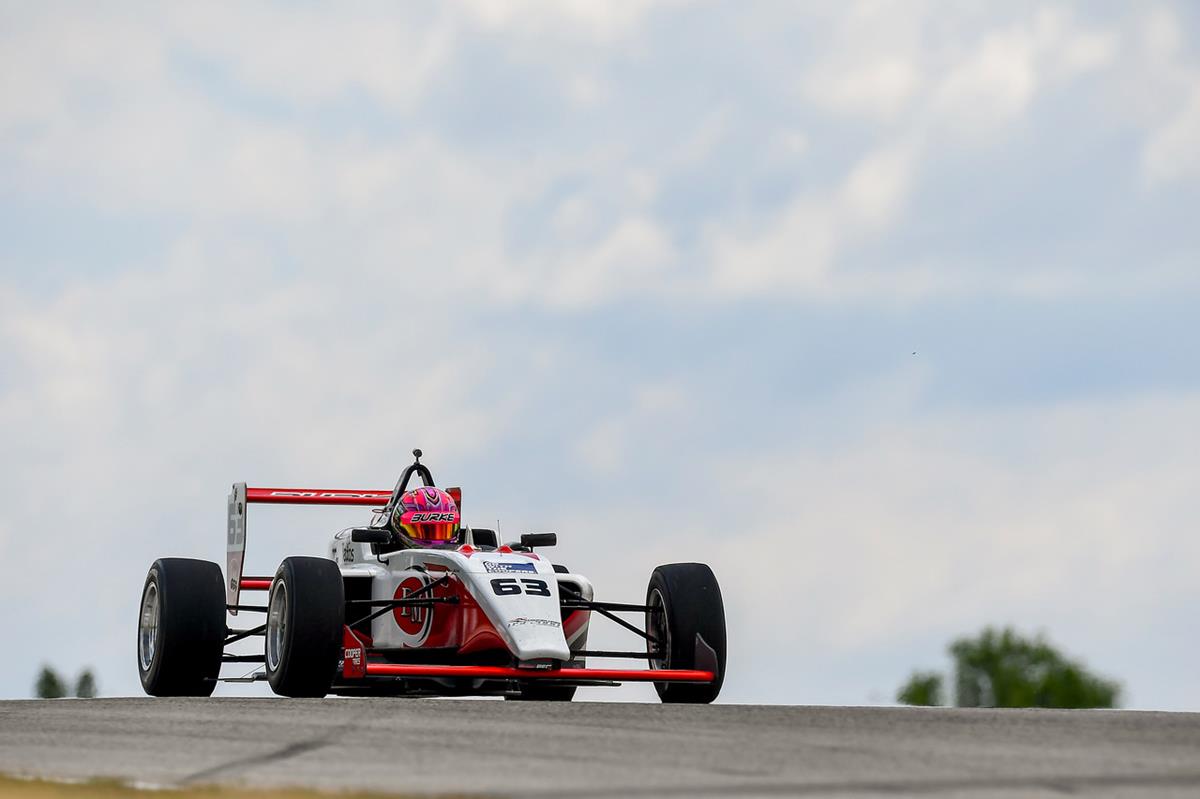 10/12/2021
Inside Line Promotions
---
Burke Builds Momentum and Confidence Throughout First Cooper Tires USF2000 Championship Season
(Photo by Gavin Baker Photography / Road to Indy)
Inside Line Promotions – ALVIN, Texas (Oct. 12, 2021) – Trey Burke's first season as a full-time Cooper Tires USF2000 Championship driver was a success.
Joe Dooling Autosports created a team prior to the 18-race season and the 16-year-old made the most of the opportunity. Burke improved throughout the year and finished as the series' Hard Charger Award winner for passing the most cars.
"I think we met the goals in terms of doing everything we wanted to during the process of building the team and learning on this level," he said. "Sometimes the lows hit us pretty hard, but also gave us motivation to keep pushing.
"The goal is to keep carrying momentum into next year. If we look back at the dirt stuff I've done momentum does carry over. If we can keep the progress moving forward I think we'll take leaps next year."
Burke produced a season-best performance of 21st to 13th during the final feature of the season a week and a half ago at Mid-Ohio Sports Car Course in Lexington, Ohio. In fact, Burke delivered his three best results of the season during the final four rounds of the season.
With momentum on his side and a year under his belt Burke said the biggest benefit coming in Year 2 will be returning to numerous tracks for the second time. He only had one repeat track on the 2021 schedule.
"I think that's huge," he said. "If you look at Mid-Ohio, where we went back a second time, it yielded us our best finish of the year. I think it's obviously to us what going back a second time does for us. It takes away the unknown and allows us to focus on greater aspects of the setup."
The offseason will be anything but dormant for Burke, whose first test session is this weekend.
"We have a lot of big testing stuff planned," he said. "We want to continue to figure out the car and improve. Maybe last time we wrote something down setup-wise we wanted to test, but didn't get the chance to because we were racing. These tests allow us to learn without the pressure of points being on the line."
The 2022 Cooper Tires USF2000 Championship season is slated to begin Feb. 17-18 at Homestead Road Course in Homestead, Miami.
SEASON STATS –
19 races, 0 wins, 0 top fives, 0 top 10s, 4 top 15s, 12 top 20s
MEDIA LINKS –
Website: http://treyburke.myracepass.com/
Twitter: https://twitter.com/treyburkeracing
Facebook: https://www.facebook.com/treyburkeracing/
SPONSOR SPOTLIGHT – Dooling Machine Products
Dooling Machine Products is a machine shop located in Freeport, Texas, that specializes in rotating equipment. For more information, visit http://www.DoolingMachine.com.
"My grandfather has known Joe Dooling's dad for a long time," Burke said. "They raced together and so our families go way back. My dad and Joe are good friends and our families are close. Joe has helped my racing career and we're grateful for the support from the Dooling Family."
INSIDE LINE PROMOTIONS –
Inside Line Promotions specializes in affordable public relations and media management for motor sports drivers, teams, sponsors, tracks, series, events, organizations and manufacturers. ILP Founder Shawn Miller leverages professional journalism with new media technologies and social networking to improve your exposure and the return on investment for your sponsors.
To meet the media relations needs of your program by joining Team ILP, contact Shawn at 541-510-3663 or Shawn@InsideLinePromotions.com. For more information on Inside Line Promotions, visit http://www.InsideLinePromotions.com.
---
Article Credit: Inside Line Promotions
Submitted By: Shawn Miller
Back to News