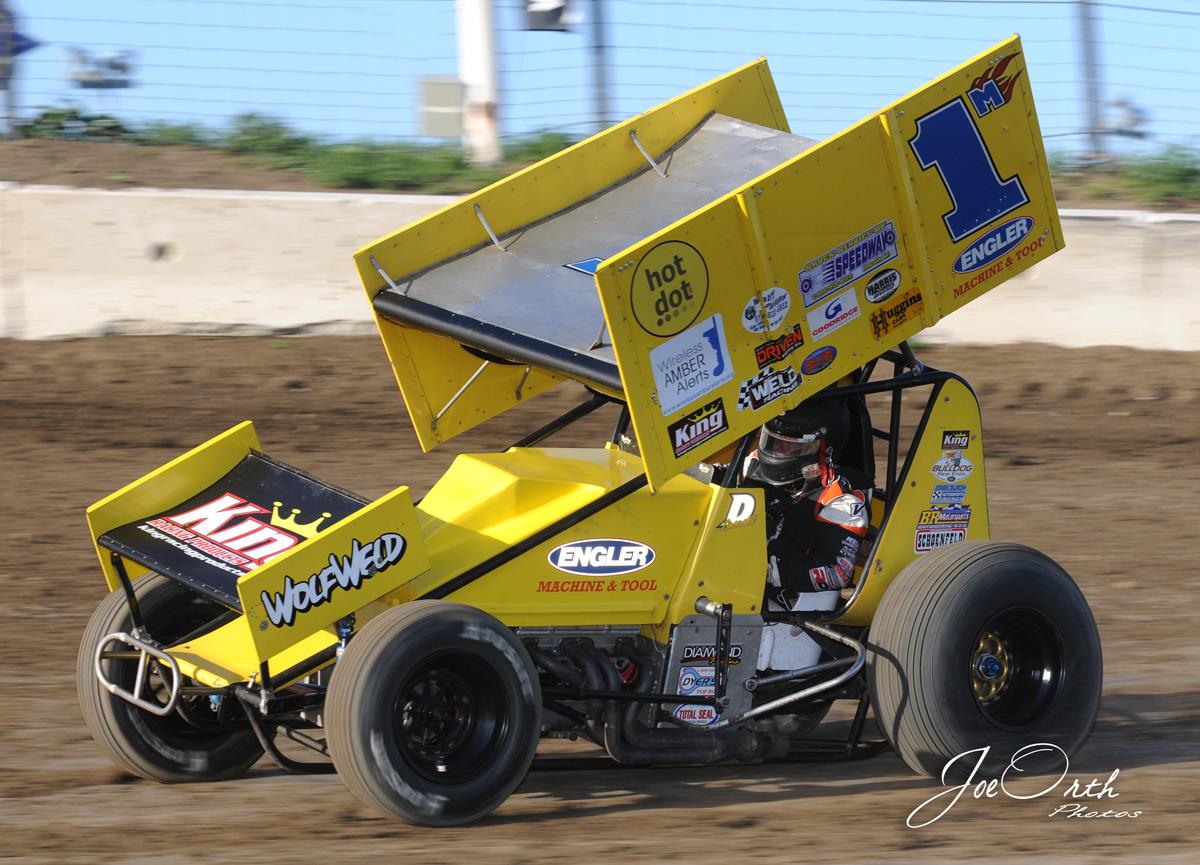 7/13/2015
Inside Line Promotions
---
Mark Burch Motorsports Tackling JSTS Tripleheader This Week
(Photo by Joe Orth Photos)
Inside Line Promotions – LINCOLN, Neb. (July 13, 2015) – Mark Burch Motorsports will compete in a JSTS tripleheader this week with Danny Lasoski behind the wheel.
The team holds high expectations entering the three races despite a slow start to the year, which has resulted in a pair of DNFs during two events contested.
"We don't dwell on the bad," Lasoski said. "No matter where I go I feel confident we have a car that can win the race. Mark does a great job working on the car, maintaining it and reading the race track."
The duo, which combined to win 10 feature races during 47 races the last two years, has a great opportunity to tally a win – or more – with races on Wednesday at Sioux Center Speedway in Sioux Center, Iowa; Thursday at Jackson Speedway in Jackson, Minn.; and Friday at Fairmont Raceway in Fairmont, Minn., which is the only track of the three Lasoski hasn't raced at during his storied career.
"Although I don't have many laps around Sioux Center Speedway and have never been to Fairmont Raceway I think we have a great shot at winning every night this week," he said. "That's the goal every time we show up to race."
Lasoski has earned at least one top-five finish during each of the last four years at Jackson Speedway.
"I'm really looking forward to getting back to the race track and getting after it," Burch said. "Obviously, any chance I get to race with Danny is a premium. Every time out is an opportunity to learn. We have a few new things we are working on and having three half-mile fairgrounds tracks in a row will be fun. We both cut our teeth on the fairgrounds."
SEASON STATS –
2 races, 0 wins, 0 top fives, 0 top 10s, 0 top 15s, 2 top 20s
UP NEXT –
Wednesday at Sioux Center Speedway in Sioux Center, Iowa; Thursday at Jackson Speedway in Jackson, Minn.; and Friday at Fairmont Raceway in Fairmont, Minn., with the JSTS Series
MEDIA LINKS –
Website: http://www.MarkBurchMotorsports.com
Twitter: https://twitter.com/mbmotorspt
SPONSOR SPOTLIGHT – Weld Wheels
Weld Wheels have more wins than any other manufacturer in oval track racing. Manufactured in Kansas City, Mo., Weld Wheels feature exclusive Roll Forged Rim Lip to keep the wheel rigid and round on the most abusive racing surfaces. For more information, visit http://www.WeldRacing.com.
"The Mark Burch Motorsports 1m has been rollin' on Weld Wheels since its very first race in 1994," Burch said. "Weld's 100 percent CNC machining process allows for exact sizing and balancing. They exceed the USAC Racing standard and specifications for all sprint car wheel racing applications. We have always put our trust in Weld Wheels and look forward to many more races to come."
Mark Burch Motorsports would also like to thank Engler Machine & Tool, Inc., Wolfweld Chassis, AFCO Gas Shocks by Speedway Motors, Hot Dot Inc., King Racing Products, Speedway Motors, Speedway Shock Service, Schoenfeld Headers, Joe Gibbs Driven Race Oil, Gessford Machine, Dyer's Top Rods, Total Seal Piston Rings, Wireless Amber Alerts, Hoosier Tire, Arrow Truck Sales, Donovan Blocks, Rod End Supply, Diamond Pistons, Saldana Racing Products, MSD Ignition, Vortex Wings, S & S Welding, Inc., Sweet Manufacturing, DMI Bulldog Rears, Wulff Pumps, Red Devil Brakes, Huggins Cams, Goodridge Fluid Transfer Systems, Harris Decals, Lincoln Auto Auction and DUDE. be nice for their continued support.
INSIDE LINE PROMOTIONS –
Inside Line Promotions specializes in affordable public relations and media management for motor sports drivers, teams, sponsors, tracks, series, events, organizations and manufacturers. ILP Founder Shawn Miller leverages professional journalism with new media technologies and social networking to improve your exposure and the return on investment for your sponsors.
To meet the media relations needs of your program by joining Team ILP, contact Shawn at 541-510-3663 or Shawn@InsideLinePromotions.com. For more information on Inside Line Promotions, visit http://www.InsideLinePromotions.com.
---
Article Credit: Inside Line Promotions
Submitted By: Shawn Miller
Back to News