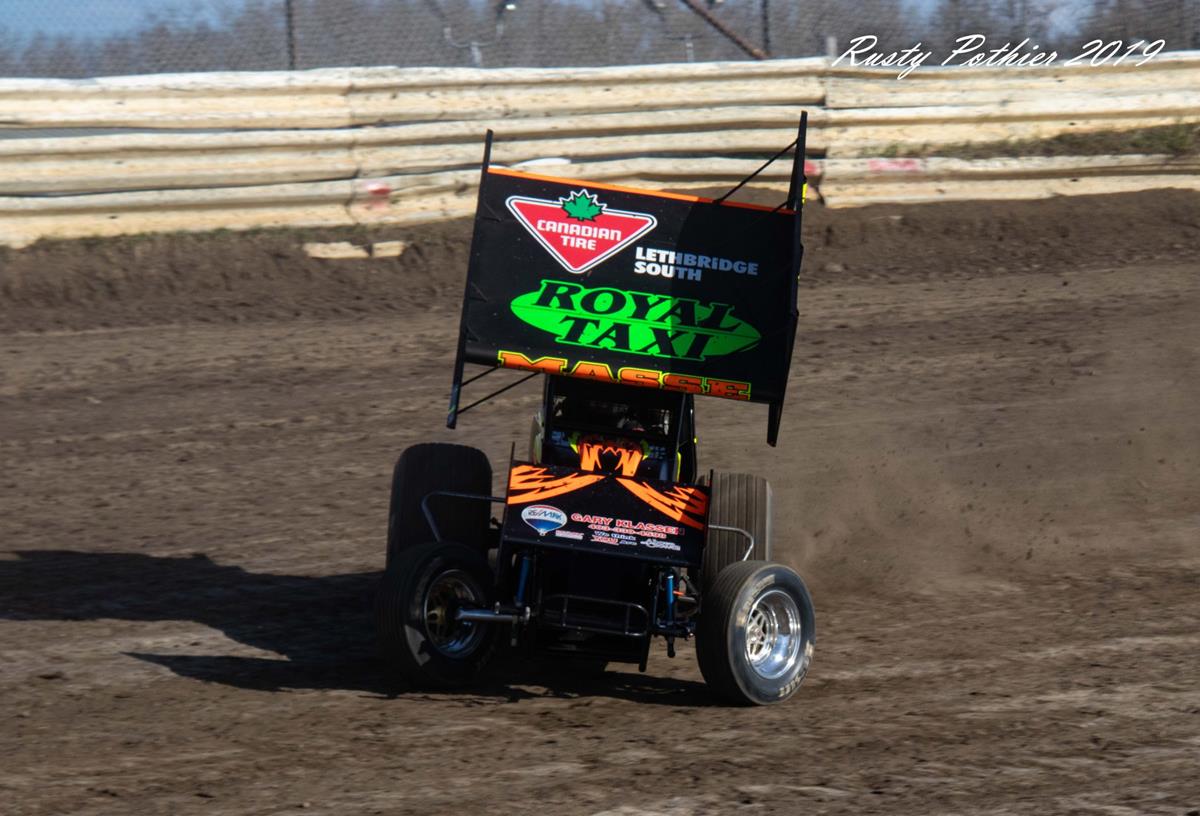 5/14/2019
Inside Line Promotions
---
Masse Scores Pair of Top-10 Finishes at Castrol Raceway During Season Debut
(Photo by Rusty Pothier)
Inside Line Promotions – EDMONTON, Alberta, Canada (May 14, 2019) – Cody Masse advanced each night to earn a pair of top-10 finishes during his season debut last Friday and Saturday at Castrol Raceway.
The solid runs came in spite of challenges with a mechanical problem throughout most of the weekend.
"It was a good start to the season for us," he said. "We had a bit of a mechanical issue, but that can happen when you have new stuff. I'm confident we'll get it figured out and running right."
Masse began the NSA Series doubleheader on Friday by qualifying seventh quickest out of 17 cars. That lined him up on the pole in his heat race.
"The race started okay and I ran second for a while," he said. "Then the engine started losing power in the second half of the race and we faded back and eventually finished sixth."
The team addressed the issue and Masse returned to the track for the feature, in which he started 11th.
"I had a poor start and lost a few positions," he said. "But the car ran well and I spent the rest of the race gaining those spots back and eventually ended with a ninth-place finish, which was a solid start to our year."
Masse returned to the track with confidence for Saturday's event. He started fifth in his heat race.
"I had to dodge a spinner on the first lap and that dropped us to the back so again we had to fight our way forward," he said. "About midway through the race the engine began running just a little bit off again and we finished where we started."
Masse began the feature in the 11th starting spot for the second night in a row.
"We made some more changes to the engine after the heat race and thought we had it figured out," he said. "We had a really good car for about the first five or six laps of the feature. It was handling well, the engine was running strong and we were able to pick up a couple of spots. But as the race went on, the same problem returned and we weren't able to advance any further and we finished eighth."
The team will strive to diagnose and resolve the mechanical gremlin this week.
"I'll check with the engine builder and hopefully he'll have some ideas," Masse said. "I'm confident we'll get it fixed and I know we'll have a really fast race car because it was fast when it ran well.
"The one thing that makes it tough to fix is that the issue didn't occur until a number of laps into a race, so it's not something that we can tell is fixed in the shop. We won't know until we've been on the track for a bit."
Next up on Masse's racing schedule is a doubleheader this Friday and Saturday at Electric City Speedway in Great Falls, Mont., with the NSA Series.
"I'm excited to go back to Great Falls," he said. "We have more experience there than at any other track. We're at the point now where our experience there should benefit us. Hopefully our issue will be fixed and we'll have a good weekend."
QUICK RESULTS –
May 10 – Castrol Raceway in Edmonton, Alberta, Canada – Qualifying: 7; Heat race: 6 (1); Feature: 9 (11).
May 11 – Castrol Raceway in Edmonton, Alberta, Canada – Heat race: 5 (5); Feature: 8 (11).
SEASON STATS –
2 races, 0 wins, 0 top fives, 2 top 10s, 2 top 15s, 2 top 20s
UP NEXT –
Friday and Saturday at Electric City Speedway in Great Falls, Mont., with the NSA Series
MEDIA LINKS –
Twitter: https://twitter.com/Cody_Masse
Facebook: https://www.facebook.com/Masse-Racing-244487932229555/
SPONSOR SPOTLIGHT – RE/MAX – Gary Klassen
Gary Klassen has 24 years of experience in real estate, servicing the Lethbridge and Coaldale areas. He specializes in new construction, farm and land, investments, business opportunities, relocation, foreclosure properties, residential acreages, condominiums and buyer brokerage. For more information, visit http://www.garyklassen.remax.ca/ or call (403) 327-2221.
"Gary has been Masse Racing's longest tenured supporter," Masse said. "The No. 35m sprint car has never taken to the track without Gary Klassen's name and RE/MAX's signature logo emblazoned on its nose wing. We sincerely appreciate everything Gary has done for our race team these past seven years."
Masse would also like to thank DaVinci Signs, Beaches Pub and Grill, Canadian Tire Lethbridge South, Dunlop Ford, D.A. Building Systems, Critical Hazard, Silver Automotive, Flaman Rentals, Royal Taxi, C.E.P. Automotive, Noble Powder Coating, Kustom Auto Body, AMSOIL and Kawneer Lethbridge for their continued support.
INSIDE LINE PROMOTIONS –
Inside Line Promotions specializes in affordable public relations and media management for motor sports drivers, teams, sponsors, tracks, series, events, organizations and manufacturers. ILP Founder Shawn Miller leverages professional journalism with new media technologies and social networking to improve your exposure and the return on investment for your sponsors.
To meet the media relations needs of your program by joining Team ILP, contact Shawn at 541-510-3663 or Shawn@InsideLinePromotions.com. For more information on Inside Line Promotions, visit http://www.InsideLinePromotions.com.
---
Article Credit: Inside Line Promotions
Submitted By: Shawn Miller
Back to News