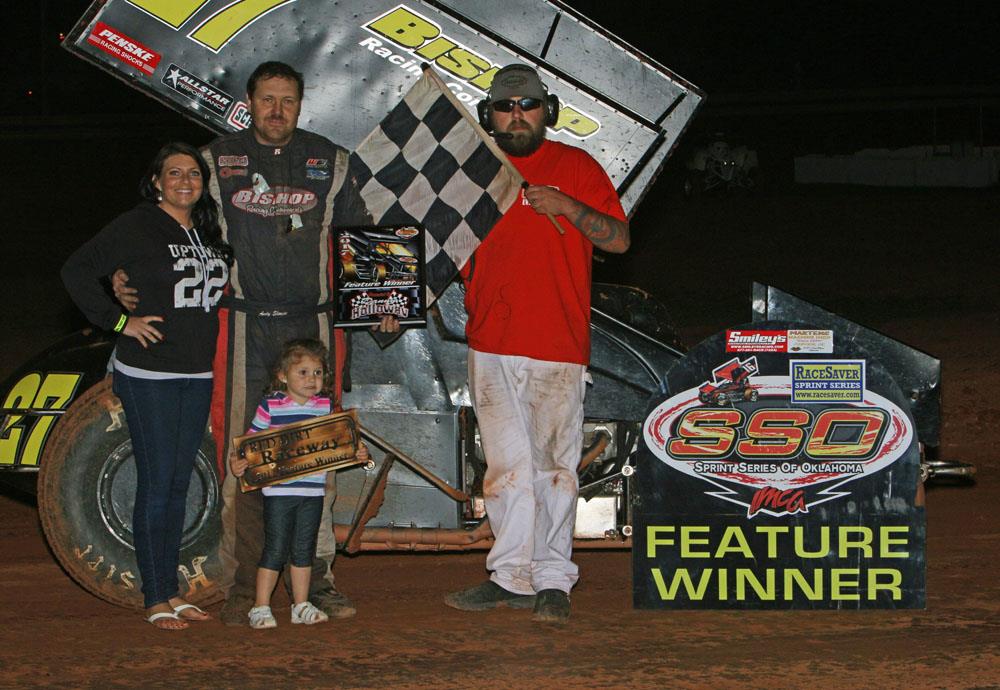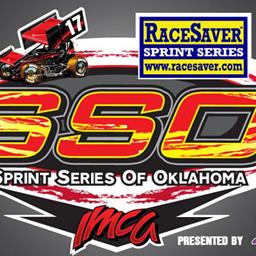 8/19/2017
Sprint Series of Oklahoma
---
Dacus Misfortune is Shouse Sprint Series of Oklahoma Victory!
Dacus Misfortune is Shouse Sprint Series of Oklahoma Victory!
Lawton, Oklahoma – August 19, 2019 - Defending series champion Andy Shouse took advantage of race long leader Blake Dacus misfortune to claim victory as the Sprint Series of Oklahoma IMCA RaceSaver Sprint Car Series presented by Smiley's Racing Products made their inaugural appearance at Lawton Speedway in Lawton, Oklahoma on Saturday night.
Dacus and Shouse started on the front row for the twenty-five-lap feature with Dacus taking the quick lead as the green flag fell.
Only a lap was complete before the first caution of the race fell when third running Tristan Oakes spun in turn four.
The restart saw Dacus on the point with Shouse, Gary Owens, Brandon Anderson and Jake Martens the top five as Dacus opening a five-car-length lead. Lap five would see Shouse get a strong run entering turns one and two and looked to get underneath Dacus for the lead but could not prevail.
A lap six caution for a spin in turn two by Oakes would bunch the field yet Dacus was up to the task as he had opened a six-car-length lead over Shouse by lap nine.
At the races midway point it was still Dacus with the lead followed by Shouse, Owens, Anderson and Martens with slower cars being approached on lap sixteen.
That is when the complexion of the race would change and end in Dacus misfortune.
With Dacus approaching turn three, Oakes and Steven Shebester tangled in front of the leader. Dacus had nowhere to go and was collected in the melee and came to a stop with damage. He would be credited with a disappointing fifteenth place finish.
This would give Shouse the lead on the lap seventeen restart with Owens on his rear bumper. Behind them, current series points leader Martens disposed of Anderson for third before the final caution of the night fell when Anderson and ninth starting and fast closing Michael Day got together coming down the front stretch in a battle for the fourth position, ending both drivers night.
The final restart saw Shouse pull away from the rest of the field while Martens set his sights on Owens for second. Martens set up Owens entering low in turns one and two and would take over the runner-up position entering the back stretch.
But in the end there was no catching Shouse as he would go on to claim his fifth series victory of the season by a half straight away over Martens. Owens settled for third while eleventh starting Chris Kelly came home fourth. Twelfth starting Sterling Hoff came on strong late and was round out the top five.
Thirteenth starting Chad Koch came home sixth while eighteenth starting Michelle Melton, Josh Toho, Loyd Clevenger and Jeff Day, Jr. rounded out the top ten.
The four, eight lap heat races for the thirty-one-car field were won by Oakes, Martens, Owens and Shouse while Travis Scott led wire-to-wire in the twelve-lap "B" feature.
Next up for the Sprint Series of Oklahoma will be next Saturday night, August 26, at Longdale Speedway in Longdale, Oklahoma for their first and only appearance of the season. They will be joined by the Kansas-based United Rebel Sprint Series (URSS).
Back to News