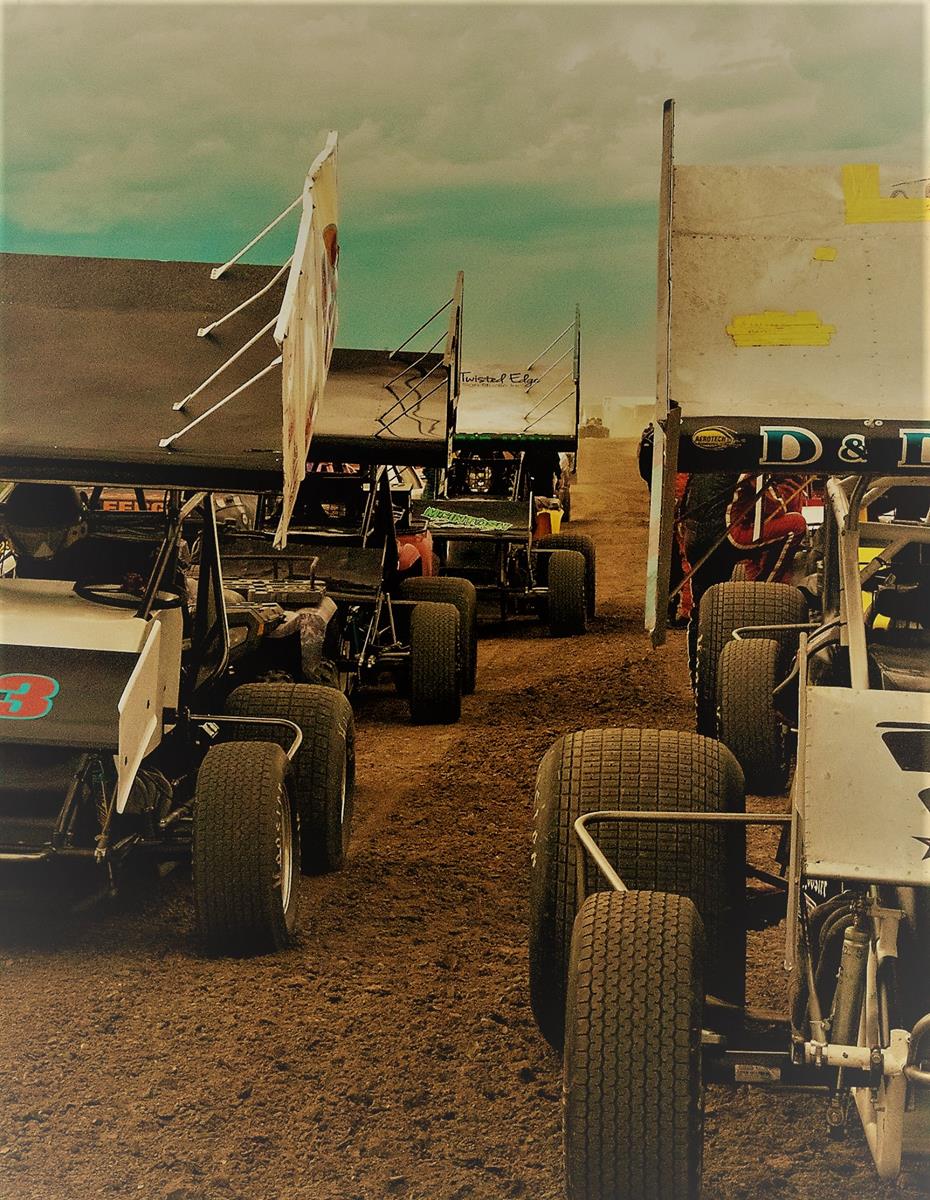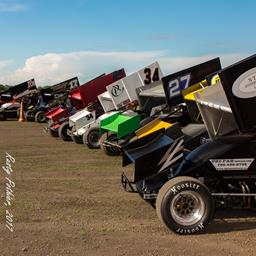 7/5/2018
Alberta Extreme Sprints
---
Extreme Sprints and Rain do not mix well. Dinosour Downs Speedway, Drumheller, Alberta
June 30, July 1, 2018 Alberta Extreme Sprints at Dinosaur Downs Speedway, Drumheller, Alberta.
Photo Courtesy - Rusty Pothier
2nd Annual Canada Day race weekend. 2017 Champion 8 Pierre Guyon.
Always a pleasure racing at Dinosaur Downs being up high on the hills of the hoodoos and Drumheller Valley, Great scenery.
On June 30, we were able to get the Heat races in before rain washed us out for the Main race. We had hoped to pack the track in for the Main races but was just too much moisture.
On July 1, One of our Extreme Sprints teams attended the Drumheller Canada Day Parade. #14 Rob Orgar of Orgar Motorsport and his crew did a great job representing Alberta Extreme Sprints.
June 30 Friday the track was rough in areas and track officials worked on the track all day on July 1 and the track looked great and smooth.
Approx 1 hr before the race program was to start we once again had thunderstorms in the area and hoped it would miss us. But the clouds opened up and we had rain for a couple of hours wiping out any chance of getting the second night in on the 2 day race program.
Want to thank Dinosaur Downs Speedway track operator Mike Hansen and staff on working hard on trying to get the races in and with the help to pull the race team rigs out with his tractor.
Results from
June 30th.
Heat 1A Finish
8 Pierre Guyon
14 Rob Orgar
50 Scott Shaw
09 Al MacIntosh
Heat 2A Finish
57 Ed Wiersma
22D Darrell Belanger
65 Wayne Callihoo
13 Brett Nykoluk
56 Logan Falkenberg
Heat 1B Finish
8 Pierre Guyon
14 Rob Orgar
09 Al MacIntosh
50 Scott Shaw
Heat 2B Finish
57 Ed Wiersma
65 Wayne Callihoo
22D Darrell Belanger
56 Logan Falkenberg
13 Brett Nykoluk
July 1 Rained Out.
Extreme Sprints next race July 6th and 7th at Central Alberta Raceways, Rimbey, Alberta.
---
Submitted By: Wayne Callihoo
Back to News