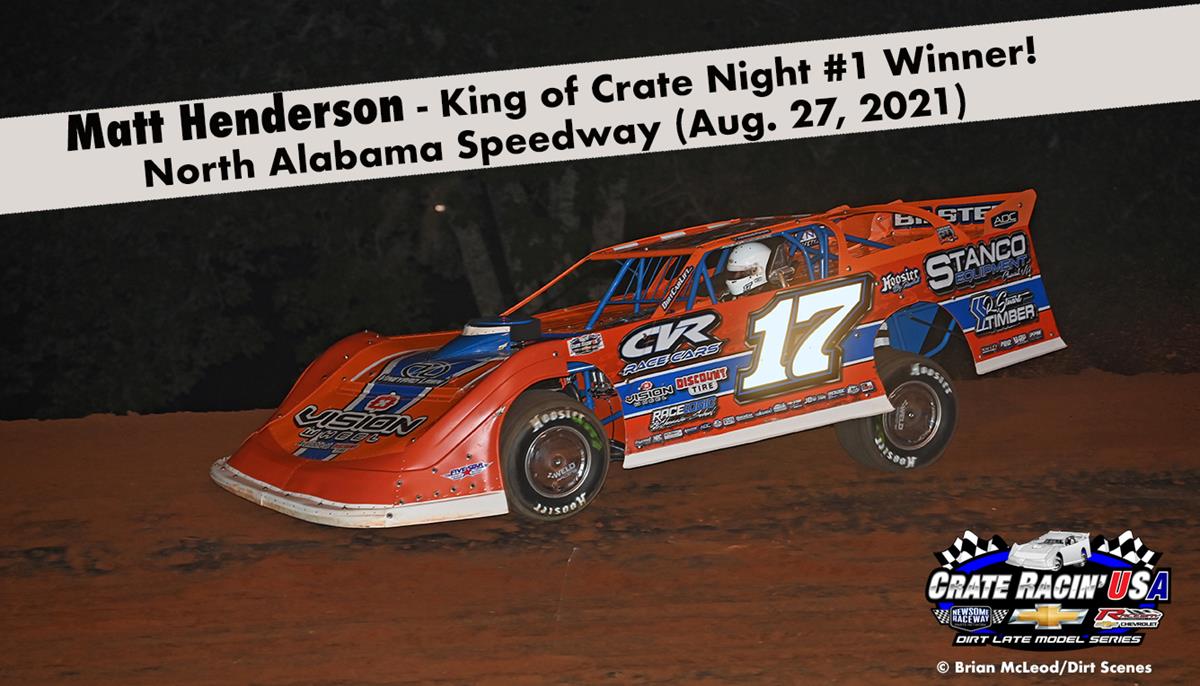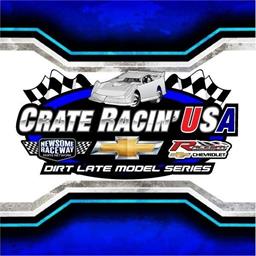 9/4/2021
Crate Racin' USA Dirt Late Model Series
---
Henderson Tops at North Alabama Speedway
TUSCUMBIA, Ala. (Aug. 27) — Adding another victory to a steadily-growing sheet of successful outings during the 2021 racing season, Lenoir City, Tenn., driver Matt Henderson claimed a flag-to-flag victory in a 30-lap Newsome Raceway Parts-sponsored Crate Racin' USA Dirt Late Model Series event that opened the fifth edition of the King of Crate weekend Friday night at North Alabama Speedway.
If you're keeping score, it was Henderson's 11th victory of the season in various events, and his second of the campaign on the Adam Stewart-managed touring circuit. Henderson also won the traveling series' season opener April 23 at Talladega Short Track in Eastaboga, Ala.
The doubleheader weekend's first night drew a very strong 43-car field to the 3/8-mile oval that was built by property owner Sam Bates in the early-to-mid 70s, and Henderson earned $2,000 for his victory after setting fast time in qualifications with a lap clocked at 14.424 seconds.
Completing the top five in the 25-car field were Jadon Frame, Evan Ellis, Bryant Marsh and Corey Posey,
The Race
Henderson romped from the pole to victory lane, only slowed by a caution flag with five laps remaining that set up a potential close finish as Henderson's closest challengers Evan Ellis and Jadon Frame moved in for the challenge on the only restart of the event.
Henderson related after the race that he drove his car harder on the first two laps after that restart than he had all night, and that allowed him to pull away from both Frame and Ellis en route to the winner's circle, leaving behind what had been a wild battle for the runnerup spot.
Racing through the rest of the field was tight and close, and previously the Frame/Ellis duo had raced hard for the position, including some three-wide moves and precision maneuvering through lapped traffic. While the final yellow ended that donnybrook war for runnerup honors, Frame did manage to turn the tables and sneak past Ellis after the final restart to garner a runnerup showing over Bryant Marsh and veteran competitor Corey Posey.
"I did not need that caution," lamented Ellis, who settled for third. "Our car was not good early, but about 10 or 15 laps into the race it came to life. I guess about midway through the race I felt we'd have a shot, but we had fallen back to about sixth place. I found the middle before anyone else, and we made up the ground we'd lost earlier in the race, but on that last five-lap dash we had a tire seal up on us. It didn't ever fire on the restart."
Henderson's string of success this season follows a two-year period where such results were less frequent, and where his racing admittedly took a temporary backseat. He's now feeling like a major league hitter focused on an incoming fastball, and the home run tally has been rising steadily all season.
"Tonight felt kinda like that," Henderson said. "When you're in the zone and everything is going your way, you're so focused that it seems like everything slows down for you and it might seem easier, even thought it's not. It's how I felt out there…like the car was so good, and our CVR cars are so fast right now, it's like you know that nobody else is gonna win that race. I've told them guys we need to race as much as we can right now while we're feeling like we're on top, because the rest of those drivers are working hard every day to get to the point we are right now. Racing is a cycle, and eventually they'll catch us."
Indeed. It wasn't long ago that Henderson was in the midst of what could be called career struggles, and it all suddenly took a turn for the better and he was sitting in the seat of a potent house car ride.
"I went through a period where I probably wasn't selective enough with our opportunities," Henderson said. "I'm thankful to every person who has helped for giving me all of those chances, but sometimes you just can't find the right fit. At the same time, my mom died of cancer during that period, and racing probably really wasn't my top priority at the time.
"Then I started hanging around with Chip [Vineyard] a little bit, and he was needing someone to help him organize and help with his business at the shop, and he eventually said he was planning to have a driver for the company's house car. Nothing else was mentioned, but at the time I was needing a good situation.
"It just worked out. It wasn't poetic or nothing like that. We were talking at the shop one afternoon and he said that he was needing a driver, and he looked straight at me and said, "Well…I guess you'll be the driver. All of a sudden, I'm behind the wheel with a great opportunity. People in the shop knew about it weeks before I did. It just happened real simple."
Sponsors and Upcoming Events
Henderson completed the required distance in his CVR Race Cars entry with support from Stanco Equipment, Vision Wheel, Discount Tire, Bilstein Shocks, R. Stuart Timber, Race Logic Chassis School, KND Safety, Matco Tools by Toomey, Vineyard Enterprises, Crossroads Turf Farm and Hendren Racing Engines.
The series' next event will be Aug. 28 as the two-night King of Crate weekend reaches a conclusion at North Alabama Speedway. A 40-lap contest will pay $2,500 to the winner.
The touring series will then head to Cochran (Ga.) Motor Speedway Sept. 3-5 for the traditional Chevrolet Performance World Championship at the Chris and Joni Martin-owned facility, which is paying $20,000 to the winner.
About Crate Racin' USA
The economical Chevrolet Performance 602 and 604 Circle Track Engine is utilized by competitors in the various divisions presented by Crate Racin' USA. It's in stock and available for free, next-day delivery from Newsome Raceway Parts in Hartsville, S.C.
Each engine is built and sealed at the factory to prevent any expensive modifications. To place an order, call 1-877-497-3624.
For more information and rules, visit the organization's website at www.crateracinusa.com, or follow our extensive social media programs on Facebook, Twitter and Instagram.
Newsome Raceway Parts, a division of Raceway Chevrolet in Hartsville, S.C., is the title sponsor of Crate Racin' USA. E-Z-GO Golf Carts is the title sponsor of the newly-established E-Z-GO $100,000+ Challenge.
Chevrolet Performance is an official sponsor of the organization, along with Advanced Laser & Machine, Cruise with the Champions, Hoosier Racing Tire, KRC Power Steering, Knowles Race Parts and Bodies, My Race Pass, VP Racing Fuels and Lubricants and Willy's Carburetors.
Official chassis sponsors include Warrior Race Cars, Rocket Chassis and CVR Race Cars.
King of Crate (Night One): 1. Matt Henderson, 2. Jadon Frame, 3. Evan Ellis, 4. Bryant Marsh, 5. Corey Posey, 6. Colton Leyendecker, 7. Jimmy Thomas, 8. Seth McCormack, 9. Oakley Johns, 10. Tanner Collins, 11. Randall Beckwith, 12. Chase Walls, 13. Jake Knowles, 14. Matthew Brocato, 15. Bryson Mitchell, 16. Mike Henn, 17. Jason Welshan, 18. Matt Cooper, 19. Mike Combs, 20. Troy Dixon, 21. Logan Palmer, 22. Cale Finley, 23. Brad Skinner, 24. Robert Moore, 25. Blake Ray. ?
Current points standings: 1. Jimmy Thomas, 836 points; 2. Jake Knowles, 828; 3. (tie) Jason Welshan and Tanner Collins, 816; 5. Mike Combs, 682; 6. Troy Dixon, 630; 7. Colton Leyendecker, 538; 8. T.J. Brittain, 384; 9. Christian Hanger, 281; 10. Jadon Frame, 280. 11. Jake Rainey, 270; 12. Mark Whitener, 260; 13. Austin Horton, 256; 14. Pearson Lee Williams, 240; 15. Brad Skinner, 234; 16. Wil Herrington, 230; 17. Cody Martin, 228; 18. Heath Carr, 224; 19. Jimmy Elliott, 220; 20. Logan Palmer, 206.
Total entries: 43
Boyd-Bilt Fabrication Fast Qualifier: Matt Henderson, 14.424 seconds
Lap leaders: Matt Henderson 1-40.
Margin of victory: 1.794 seconds
Cautions: 1
B-mains: Oakley Johns, Colton Leyendecker, Bryson Mitchell.
---
Article Credit: Brian McLeod
Back to News