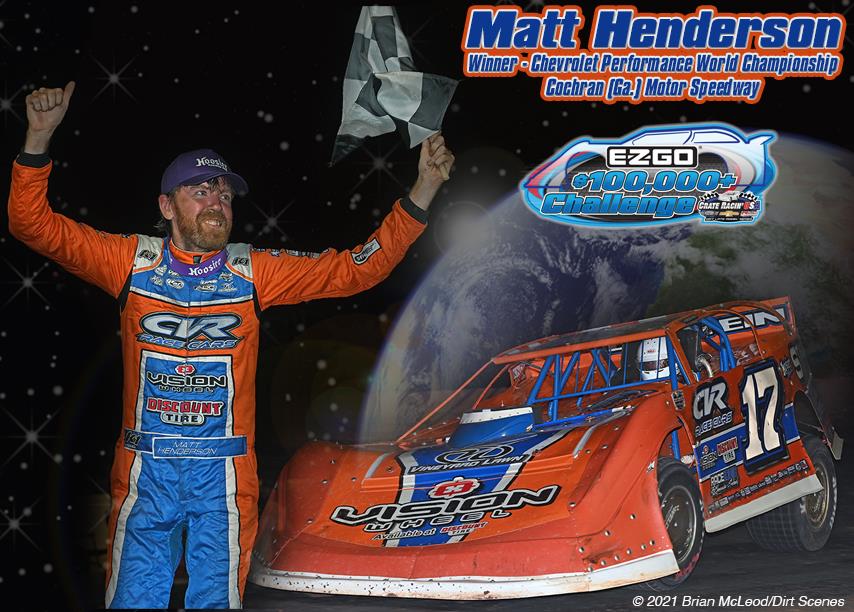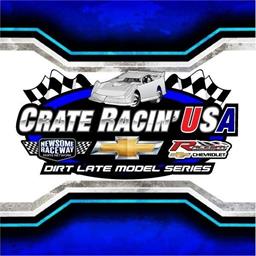 9/14/2021
Crate Racin' USA Dirt Late Model Series
---
Henderson's Hot Streak Continues with $20,000 Cochran Victory
COCHRAN, Ga. (Sept. 5) — Vaulting his Chip Vineyard-fielded CVR Race Cars entry to the lead with a third-to-first leap past top challenger Cory Hedgecock and race leader Carson Ferguson on a lap-53 restart, Matt Henderson of Lenoir City, Tenn., strolled into the top spot and went on to secure his biggest-career payday in the $20,000-to-win Chevrolet Performance World Championship Sunday night at Cochran Motor Speedway.
Henderson paced the final 22 circuits and pulled away over the closing stages to cross the stripe 3.807 seconds ahead of Ferguson, who was trailed to the stripe in the 29-car field by Hedgecock, Joseph Joiner and Wil Herrington.
The lucrative 75-lap contest was sanctioned by the Newsome Raceway Parts-sponsored Crate Racin' USA Dirt Late Model Series. It also served as one of the 10 races scheduled this season for the E-Z-GO Challenge Series, which is a group of events that each pay at least $10,000 to the winner, and carries a separate points fund from the regular touring series.
Hot Streak Continues
Henderson, wheeling the CVR Race Cars house car fielded by Chip Vineyard, has been on a sizzling streak on the Eastaboga, Ala.-based touring circuit that's managed by Adam Stewart, having now won three races in a row on the circuit. He's visited victory lane four times on the tour in just four appearances, counting a win earlier in the season on April 23 at Talladega (Ala.) Short Track.
The win continues a strong emergence into the limelight for CVR Race Cars, which is located a handful of miles from Henderson's home. Henderson became a full-time employee of the company—and later the official driver of the house car—during the early stages of the Covid-19 lockdown.
"Matt was bored and couldn't get out much, and he only lives about four miles from us," Vineyard said. "He started coming to the shop, and that's kinda how it all came together."
Unexpected Pairing is Paying Dividends
Coming together might be an understatement, considering the combo's success during the 2021 racing season. Vineyard's small company, like most who start from nothing and grow into something special, has had its struggles through the years. A former driver with promising talent who never had the extra funds necessary to keep his own racing career on target, Vineyard is respected around the industry as an extremely focused and hard-working guy who is fully committed to building race cars.
He lives his racing dream through the success of his company, which is thriving lately in an industry dominated by much larger operations. It's the little business that could, and the organization's recent success is a David vs. Goliath story that warms the heart of those who appreciate hard-nosed determination and a nose-to-the-grindstone work ethic. The group definitely has it going on right now, and Vineyard is appreciative because he's been through enough ups and downs to know what it feels like to scratch and claw from the bottom all the way to the top of a roller-coaster industry.
"We're just blessed right now," Vineyard said. "This sport is so difficult, and through our growth it has seemed like every time something good is about to happen, something messes up or blows up before it actually happens for us. Right now all I can say is that we've been blessed with enough success to make up for a lot of disappointment. I haven't taken a paycheck in two years to keep this deal going and it's paying off, and that makes it worthwhile."
Vineyard relates a story about selling an enclosed trailer to buy his team tires for their next event, giving his journey a current rags-to-riches feel that he knows can turn on a dime. Riches might be a bit of an exxageration, and nobody knows that better than Vineyard.
"I'm really lucky because my wife Libby works a real job and makes a lot more money, and that enables me to live my dream," Vineyard said with a wry smile. "We've got some extra sponsorship this season from Vision Wheel, and I've got a couple buddies who help out a lot, but basically it's a situation where I'll take away from myself to get what we need. That makes tonight a huge moment for all of us. Our house car just won a World Championship, and people are noticing what we're doing, and that seems so rewarding because it's a long way from the days when nobody seemed to have much faith in us."
It's been a long road for Vineyard and company, and the path to success in this sport it seems is always longer still. Vineyard has made his own way, and admittedly sometimes done it the hardest way, but that bare-knuckle knowledge has prepared him for the future of his company. People are taking notice of the group's success, and the future is bright for CVR Race Cars.
"We had a little trouble a couple years ago and had to pull back a little bit with the house car effort, and then Matt [Henderson] came on board and helped us organize the company's strategy and day-to-day operations a little better," Vineyard said. "It's made a big difference, but during the struggles it also gave us some extra time to do some research and development we had been needing to do, and I think that has produced good results for us. It's my own car and our own design, and we're proud of that. It's not a copy. This is mine, and I believe that has made the whole experience a more satisfying journey. It makes tonight's win a crowning moment."
Henderson remained a contender after starting fifth in a 29-car field, and moved to second during the earlier stages. After swapping the second spot with Hedgecock on restarts and eventually dropping back to third position, he focused on a lap-53 restart and hit the top side for a sudden and demonstrative spurt past both Hedgecock and race-long leader Ferguson to snatch the lead at the Chris and Joni Martin-promoted facility.
"We're just so proud of our cars right now," Henderson said later. "They're running good, and the quality of 'em…we've built the best race cars we possibly can. We're winning races, and everywhere we take 'em someone is always commenting about how good they're built, and how good they look. A few years ago these cars weren't maybe so elegant, but right now they're as top notch as anything you can buy. We feel really good about being able to produce that kind of quality for our customers."
The victory gave him a total of 13 on the season in various events, pretty much doubling his previous career high. It also provided some redemption from last year's version of the race, when Henderson was the fastest qualifier but got involved in a heat race accident.
"Maybe a little redemption, but I can tell you we really wanted to come back here and win this race," Henderson said. "We need to keep riding this momentum until it quits. We were very worried about the No. 00 car [Ferguson], because his car was turning pretty good last night when we had the heat races. I felt like the rest would eventually come back to us in the feature even though we started fifth, but we were definitely worried about him. He opened my eyes a lot, but on that restart after we passed those guys, I felt we had a car that would perform really good in clean air."
Positives Despite Disappointment for Ferguson
Ferguson leaned against his car during post-race festivities, and his facial expressions and body language ran the gamut from finding the positives to dealing with the extreme disappointment of leading 53 laps against a top-flight field, only to finish second. It was a performance that thrust him into a bigger spotlight, and gave some validity to the career success he's already enjoyed.
"There's two sides to the story for me tonight," a disappointed Ferguson said. "I'm kinda feeling two ways about it. I'm super pumped that we ran that well and showed speed against some of the best Crate Late Model racers in the country, but at the same time I'm heartbroken that we didn't win the race. We were so close. We got passed, and it was a product of leading and maybe overthinking where we needed to be on the racetrack."
When Henderson made his sudden move to the front, he had previously hidden his car's ability to operate on the top side.
"I felt like our car was going to be good up there, but I didn't want to try it and reveal too much about what we might be able to do later," Henderson said. "It was the right moment, and the right move, and fortunately it worked. You never really know how it's going to turn out."
Unfortunately for Ferguson, the deft maneuver pulled a potential $20,000 out of Ferguson's tight-fisted grasp just 22 laps from the end.
"He surprised me, and now I realize I might have needed to turn into the corner a little later, and then turn down to keep him behind me," Ferguson said after the race. "Basically I think I gave him too much room. He's a very good driver and he's got a lot of experience, and he used it to beat us."
Henderson completed the distance in a Hendren Racing Engines-powered entry that carried sponsorship from Stanco Equipment, Vision Wheel, Discount Tire, Bilstein Shocks, R. Stuart Timber, Race Logic Chassis School, KND Safety, Matco Tools by Toomey, Vineyard Enterprises and Crossroads Turf Farm.
Weekend Notes:
Twelve of the first 13 starters in the field carried American flags during the parade laps to honor the 13 U.S. Marines who recently lost their lives in Afghanistan. Pole position starter Randy Weaver carried a flag representing the United States Marine Corps…Cleveland, Tenn., driver Jimmy Elliott handled the driving chores in a brand new Savage Race Cars-built entry that was constructed for J.J. Templeton… Sixth-place starter Dillon Brown lost a right-rear tire during the parade laps when a stud broke, but returned to complete five laps before he dropped from the event… Overall handling problems during the weekend for Joseph Brown eventually cleared up in the B-main, and he was on the move in the feature when a tangle in the third corner with Jason Welshan affected the chances of both competitors. Welshan's power steering belt broke, while Brown was able to continue… Russell Brown Jr. won a B-main to make the field, and was driving a car outfitted with a recently-reworked motor from Earl Ramey Racing Engines. "We changed the plugs, fiddled with the timing and tinkered with the carburetor a little bit, and finally got the car a little better," Brown said.… Fifth-place finisher Wil Herrington won an accompanying Pure Stock division main event on the holiday weekend program, but struggled with new tire rules on the touring series that required a harder-compound Hoosier D-55 on the rear of the car. That change was made due to tire shortages that have affected the whole sport for most of the season. "We're just not used to 'em," Herrington said. "Got a little bit to learn about those."… The event drew 46 entries, which was 11 drivers less than last year's total of 57 competitors who vied for the top prize… Past winners of the prestigious event, which has been held at several different tracks over its 17-year history, include Jimmy Owens (2005, 2007), Randy Korte (2006), Shanon Buckingham, (2008), Tim McCreadie (2009), Doug Horton (2010), Jonathan Davenport (2011), Ivedent Lloyd (2012), Ray Cook (2013), Walker Arthur (2015), Dennis Franklin (2016), Kyle Bronson (2017, 2018, 2019) and Michael Page (2020). The race was rained out and not rescheduled in 2014… When his own car couldn't be readied in time, Cody Overton wheeled a ride provided by Florida-based competitor Jeff Mathews… Four heat races were held, and the final one featured a side-by-side battle to the checkered flag between race winner Cory Hedgecock and local favorite Wil Henderson… Randy Weaver started from the pole slot, but dropped back immediately and was listed 20th. He was driving a car usually wheeled by his son Cameron Weaver, who finished 26th. "These are his two cars we have here this weekend, and he's doing his own mounts and brackets on 'em," Weaver said. "He's really doing a great job, but I made some adjustments to the one I was driving that turned out to be three times too much. I did basically what we did to my car here last year, and we ran pretty good a year ago. His cars are different, so it didn't work out as well. It's one of those deals where I kinda wish we had a do-over on this one."… Jake Rainey debuted a 2020 Barry Wright Race Cars-built Icon on the touring series that the second-generation driver acquired approximately a month ago from fellow driver Garrett Smith. It marked the car's first start on the touring circuit. Rainey previously ran the car twice at weekly shows and claimed a victory in his first start in the car at Boyd's Speedway in Ringgold, Ga.… Matt Henderson's fast time in qualifying marked the third straight event on the tour that he was the quickest competitor in time trials. A four-time winner on the series, Henderson has been the fastest qualifier in each of his four appearances on the circuit… Sporting a new wrap on his car, Mark Whitener slipped through the field from 21st on the grid to place ninth after reaching as high as sixth spot. A tangle with Randy Weaver and a difficult track surface in the latter stages hampered his efforts, but the Middleburg, Fla., driver pulled slightly away from Jason Welshan in the E-Z-GO $100,000+ Challenge Series championship chase and leads by a 360-320 margin in the chase for the $5,000 series title…
Chevrolet Performance World Championship: 1. Matt Henderson, 2. Carson Ferguson, 3. Cory Hedgecock, 4. Joseph Joiner, 5. Wil Herrington, 6. Cody Overton, 7. Booger Brooks, 8. Austin Horton, 9. Mark Whitener, 10. Parker Martin, 11. Jake Knowles, 12. Jimmy Thomas, 13. Joseph Brown, 75; 14. Russell Brown, 15. Arthur Walker, 16. Tanner Collins, 17. Trynt Lloyd, 18. Mike Combs, 19. Troy Dixon, 20. Randy Weaver, 21. Garrett Mosley, 22. Garrett Smith, 23. Jason Welshan, 24. Cole Exum, 25. Ty Ellis, 26. Cameron Weaver, 27. Corey Dunn, 28. Jeremy Steele, 29. Dillon Brown.
Crate Racin' USA Dirt Late Model Series (current points): 1. Jimmy Thomas, 1,008 points; 2. Jake Knowles, 982; 3. Jason Welshan, 960; 4. Tanner Collins, 952; 5. Mike Combs, 816; 6. Troy Dixon, 746; 7. Colton Leyendecker, 563; 8. Matt Henderson, 400; 9. T.J. Brittain, 384; 10. Jadon Frame, 372; 11. Mark Whitener, 342; 12. Austin Horton, 340; 13. Brad Skinner, 322; 14. Wil Herrington, 320; 15. Jake Rainey, 295; 16. Christian Hanger, 281; 17. Trynt Lloyd, 262; 18. Ty Ellis, 254; 19. Cody Overton, 246; 20. Pearson Lee Williams, 240.
E-Z-GO $100,000+ Challenge (current points): 1. Mark Whitener, 360 points; 2. Jason Welshan, 320; 3. Cody Overton, 314; 4. (tie) Wil Herrington and Jake Knowles, 290; 6. Trynt Lloyd, 272; 7. Jake Rainey, 207; 8. Pearson Lee Williams, 206; 9. Kyle Bronson, 196; 10. (tie) Jimmy Thomas and Walker Arthur, 192; 12. Cory Hedgecock, 188; 13. Joseph Joiner, 182; 14. Dylan Knowles, 177; 15. Russell Brown Jr., 164; 16. Carson Ferguson, 160; 17. Garrett Mosley, 156; 18. Johnny Collins, 142; 19. (tie) John Baker and Tanner Collins, 140.
Total entries: 46
Boyd-Bilt Fabrication Fast Qualifier: Matt Henderson, 14.793 seconds
Lap leaders: Carson Ferguson 1-52, Matt Henderson 53-75.
Margin of victory: 3.807 seconds
Cautions: 7
KRC Power Steering Heat Winners: Carson Ferguson, Randy Weaver, Jason Welshan, Cory Hedgecock.
KRC Power Steering B-main winners: Russell Brown Jr., Jimmy Thomas.
About Crate Racin' USA
The economical Chevrolet Performance 602 and 604 Circle Track Engine is utilized by competitors in the various divisions presented by Crate Racin' USA. It's in stock and available for free, next-day delivery from Newsome Raceway Parts in Hartsville, S.C.
Each engine is built and sealed at the factory to prevent any expensive modifications. To place an order, call 1-877-497-3624.
For more information and rules, visit the organization's website at www.crateracinusa.com, or follow our extensive social media programs on Facebook, Twitter and Instagram.
Newsome Raceway Parts, a division of Raceway Chevrolet in Hartsville, S.C., is the title sponsor of Crate Racin' USA. E-Z-GO Golf Carts is the title sponsor of the newly-established E-Z-GO $100,000+ Challenge.
Chevrolet Performance is an official sponsor of the organization, along with Advanced Laser & Machine, Cruise with the Champions, Hoosier Racing Tire, KRC Power Steering, Knowles Race Parts and Bodies, My Race Pass, VP Racing Fuels and Lubricants and Willy's Carburetors.
Official chassis sponsors include Warrior Race Cars, Rocket Chassis and CVR Race Cars.
---
Article Credit: Brian McLeod
Submitted By: Brian McLeod
Back to News