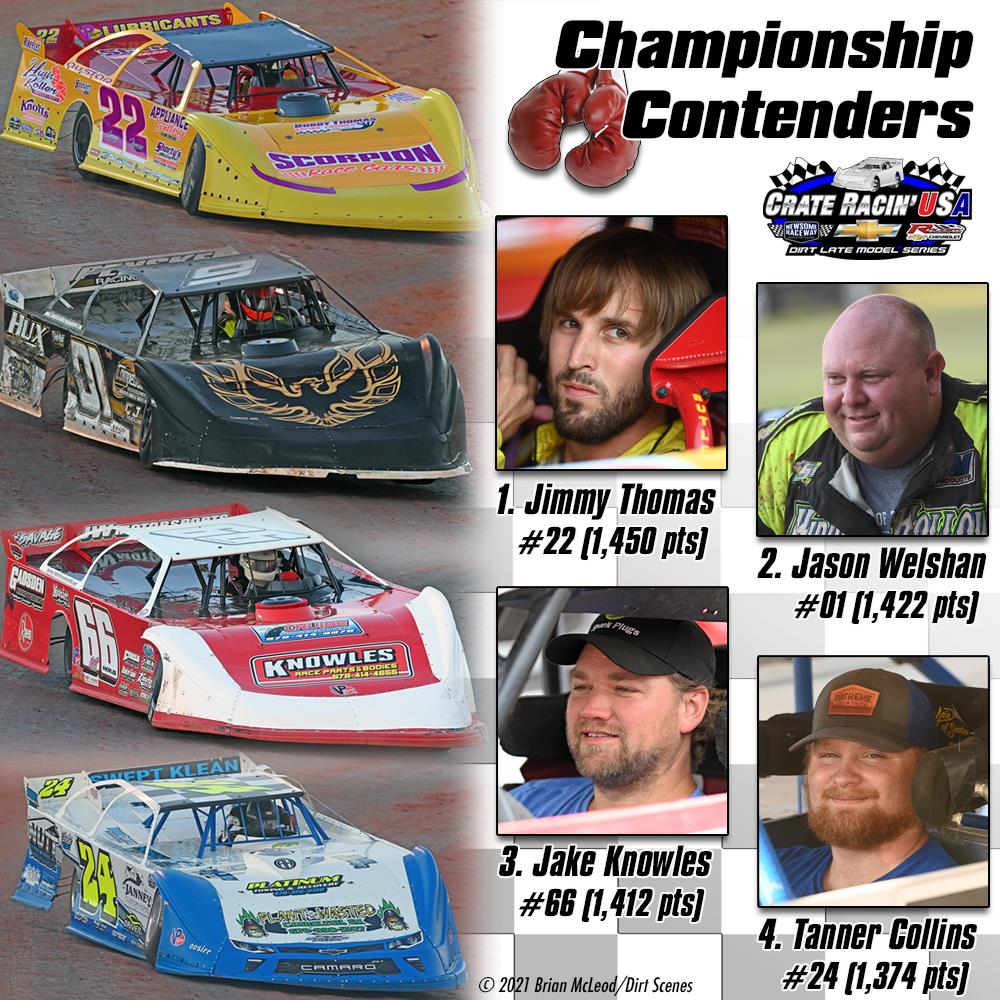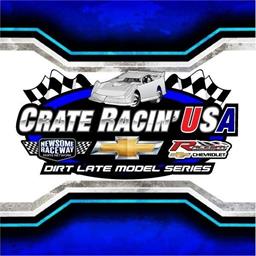 10/22/2021
Crate Racin' USA Dirt Late Model Series
---
Points Battle Rages on Crate Racin' USA Circuit
EASTABOGA, Ala. — After nearly a full season of scratching and clawing for points toward a $10,000 championship on the Newsome Raceway Parts-sponsored Crate Racin' USA Dirt Late Model Series, the outcome between current points leader Jimmy Thomas, Jason Welshan, Jake Knowles and Tanner Collins is perched on the brink of a gut-wrenching, nitty-gritty stretch run to the title.
Heading into the highly-prestigious, $26,000-to-win Powell Family Memorial scheduled Oct. 21-23 at half-mile All-Tech Raceway in Ellisville, Fla., just four points-paying races remain on a 21-event slate, and the battlefield has wrenched itself tighter after Thomas suffered a 23rd-place finish in the touring circuit's previous event held Oct. 16 at Boothill Speedway in Greenwood, La.
The Phenix City, Ala., driver entered that race with a 70-point edge over Welshan, but the Maryville, Tenn., driver chopped that disadvantage to a mere 28 markers behind Thomas with a second-place finish in the traveling series' first-ever visit to the high-banked facility. The top four drivers are now separated by a relatively narrow margin of 76 total points, and it's actually been much closer at various stages of the season-long grind.
After part-time series driver Matt Henderson claimed his series-leading fifth win of the season in the $20,000-to-win Chevrolet Performance World Championship at Cochran (Ga.) Motor Speedway on Sept. 5, the margin among the top four drivers was extremely slim, and the closest it had been all season once the four-driver chase had emerged.
Crate Racin' USA Dirt Late Model Series
(Points thru Oct. 16, 2021)
Jimmy Thomas, 1,450 points; 2. Jason Welshan, 1,422; 3. Jake Knowles, 1,412; 4. Tanner Collins, 1,374; 5. Mike Combs, 1,108; 6. Troy Dixon, 1,032; 7. Colton Leyendecker, 563; 8. Matt Henderson, 525; 9. Jadon Frame, 524; 10. Mark Whitener, 442.
The other three of the four points-paying events that remain will be held Nov. 6 at Magnolia Motor Speedway in Columbus, Miss., and include a weekend doubleheader slated Nov. 19-20 at Needmore Speedway in Norman Park, Ga.
Oct. 23: All-Tech Raceway, Ellisville, Fla. $26,000 to win!
Nov. 6: Magnolia Motor Speedway, Columbus, Miss. $10,000
Nov. 19: Needmore Speedway, Norman Park, Ga. $2,000 to win!
Nov. 20: Needmore Speedway, Norman Park, Ga. $10,000 to win!
All four drivers involved in the title chase have spent most of the year within a few points of each other in the standings, and swapped the top position in the standings repeatedly during the earlier events on the schedule. When the Adam Stewart-managed touring series arrived at North Alabama Speedway in late August for the annual King of Crate doubleheader, the points separation among the top four entering the race was about as sizzling as the midsummer temperatures that hovered like a wool blanket over the 3/8-mile track—a razor-thin 28 points.
Choose your own adjective for this points battle, but these four apply: Intense, Tight, Taut. Suspenseful. It's been a tightrope walk all season for these four teams, and a constant, pressure-filled situation where the wrong mistake or the wrong dose of bad luck at an inopportune time could easily cost a man the points lead. Tightrope? Let's just say the Flying Wallendas would be proud.
Jake Knowles, who is currently listed third in the standings and sits 38 points in arrears, has taken a steady approach and is far from out of the mix. He's a former series titlist, having won the crown in 2019.
"Same thing we've done all season," the Rome, Ga., driver said when asked about his late-season approach to chasing points. "One race at a time, and see how it goes. I'd obviously love to win it, because it'd be cool if we were able to get another championship on this series. We were gonna miss the second race of the season at Greenville (Miss.) Speedway in April, but then it rained out and I guess that lured us into running the deal again."
While drivers often won't admit to looking at the points on a regular basis, this season has been just a bit different. It's been so close that teams have often scurried to cell phones and portable electronic devices after each event to track the latest standings on the organization's My Race Pass-engineered systems, which [based on internet service] allows the points to be posted almost immediately after a race.
"I ain't got no choice but to look at 'em, right?" said Phenix City, Ala., driver Jimmy Thomas when eight races remained on the slate. "I saw the points staying tight for awhile back in the summer, and possibly all the way to the end. What's it gonna take to win the championship? I think being consistent, and trying to post top-10 finishes has been a huge key. Do the best you can, be the best you can every night you hit the racetrack, and just hope for the best outcome possible."
Thomas' bout with an infield tire during some tight-quarters racing with Knowles at Boothill Speedway cost him precious ground, and occurred after he'd advanced from the outside of the sixth row into the sixth spot in a 50-lapper. It was a disappointing turn of events and cost the up-and-coming driver some very important points, but Thomas has tried to be a model of consistency from start to finish, and still has his eyes firmly on the crown. He has three victories to his credit through 17 races.
"We had a bad race in Louisiana last weekend, and I've been trying to just concentrate on racing," Thomas said. "We've been focused on doing that, but it's hard to not look at what's been happening with the points all season. It's tight, but we're still doing what we've been doing, which is to concentrate mostly on our racing."
Welshan looked like a sure bet for the title much earlier in the year, even though it was way too soon to start counting, and held the largest lead of any driver during the earlier stages of the year. That's when a bad luck streak reared its ugly head, and Welshan gave up the points lead a few races later.
"I believe that orange spoiler we have for the points leader is causing trouble for all of us," Welshan said at the time. "All year we've been talking about it and swapping the spoiler back and forth, and we've all said we're gonna tell [series director] Adam Stewart to get us a different one. We had four flat tires in four different races, and lost slightly over a 50-point lead we had been able to establish. I think that might have been the biggest advantage anyone has had all season, at least until the 70 points that Jimmy [Thomas] had over us heading into last weekend at Boothill Speedway."
While the top three have swapped the points lead, Tanner Collins of Franklin, Ga., has also been part of the four-way points war. A rookie on the circuit who was never expected to be "up there" has run extremely well and spent the better part of the season actually "up there." He's never led the standings, but he's been part of the top quartet from the start.
"We used to pull up and see all those guys, and it's not that we'd be completely intimidated, but it's only our fourth year of racing stock cars including Hobby and Late Model divisions, and we never thought we'd be involved in a championship battle like this one so soon," said Collins. "We eat, sleep and breathe racing every single day. We're either at the shop, racing on the series or running a local track near home. It's on my mind constantly, and it's a pretty good feeling to be up there with the top racers on this series battling for a championship title. We started out hoping to run the first three or four races and see where we were, and then we had done so well early in the season that we decided we'd better stick it out."
Along the trail to a coveted trophy and the big check that goes with it, the four drivers have all realized the "fun" side of the sport, and gained respect for each others' efforts. They work hard, sometimes they play hard, but in the end only one will be "the guy."
"Everyone who's racing for this championship deal gets along great, and sometimes we're all hanging out together at the tracks where there's a little extra time," Collins said. "We got rained out on a Friday night a couple months ago at Thunder Hill Raceway Park [Summertown, Tenn.], and everyone was in the parking lot late that night having fun and just hanging out. That's pretty cool when you can do that."
The four competitors often park together, and have been frequently seen talking and sharing their experiences. The overall intensity has cranked up a bit lately, but the closeness has remained.
"We've all become good friends during the season while racing against each other, and that makes it fun," Thomas added, choosing words that were echoed by the others. "I think we all have probably gained more respect for each other."
"Between all of us like it's been all year, it's been a lot of fun," Welshan added. "Jimmy Thomas for instance…I didn't know him that well at the start of the year, but it's been really good racing with him. They have a chassis business [Scorpion Race Cars] and they build cars and sell parts, and we have our own Savage Chassis and Competition Racing Equipment, so we also build cars and sell parts. This has given us a chance to get to know each other, and we're all working well together and racing against each other. I've got a lot of respect for all of those guys chasing this championship."
Collins has opened some eyes, added a flag-to-flag victory to his burgeoning career resume Oct. 8 at Tri-County Speedway in Pollard, Ala., and has already indicated tentative plans to possibly race on the touring circuit again next season. The organization has plenty of forward momentum, and is steadily becoming a place where Crate Late Model drivers want to play.
"It'd be a really big deal for us to win it, and we're aware that we're probably the underdogs among the four drivers who have a shot at it, but I do think it'll come down to the wire before it's decided," Collins said.
Welshan figures the boiling points pot will come down to luck, and as a veteran in the sport who has chased but never won a series championship on a regional tour, the opportunity is there once again. He's looking at his driving strategy over the final races, and is prepped for the short haul grind that remains.
"You can't really control the luck," Welshan said. "We ain't having stuff break or fall off the car, so that's encouraging. In the past while racing for championships on various series, I think sometimes I've been a little too conservative. These last few races I'm gonna be hard on the fuel, and just go for it rather than being too conservative. If I can fit the car in a hole, I'm gonna put 'er in there. That might end with a bad finish or some bad luck as well, but what would be the difference?"
Four drivers, and only so many available points remain. It's been a tense and torrid battle, filled with twist and turns and plenty of miles on the roads. One more long stretch for teams, and someone will be hoisting a championship trophy.
"At this point we have to just win as many races as we can, and let the rest just happen," Knowles said. "We've tried to not look at the points every weekend, but it's such a close battle that you do look. Usually it's just a couple guys involved in the points who are racing for the championship, but we've had four or five drivers all season long who can possibly win it, and they all can still win it as the season winds down. It's been kinda crazy."
Plenty of on-track drama likely remains, and you can place your bets on that. All four competitors will obviously do their best, but only one will be crowned a series champion in mid-November at Needmore Speedway.
"We've got four drivers contending for it, and to have it this tight, it's probably gonna be a helluva finish," Welshan said. "If we all four could go into the final race in a situation where whoever wins the race also wins the championship, wouldn't that be a perfect ending?"
---
Article Credit: Brian McLeod
Back to News