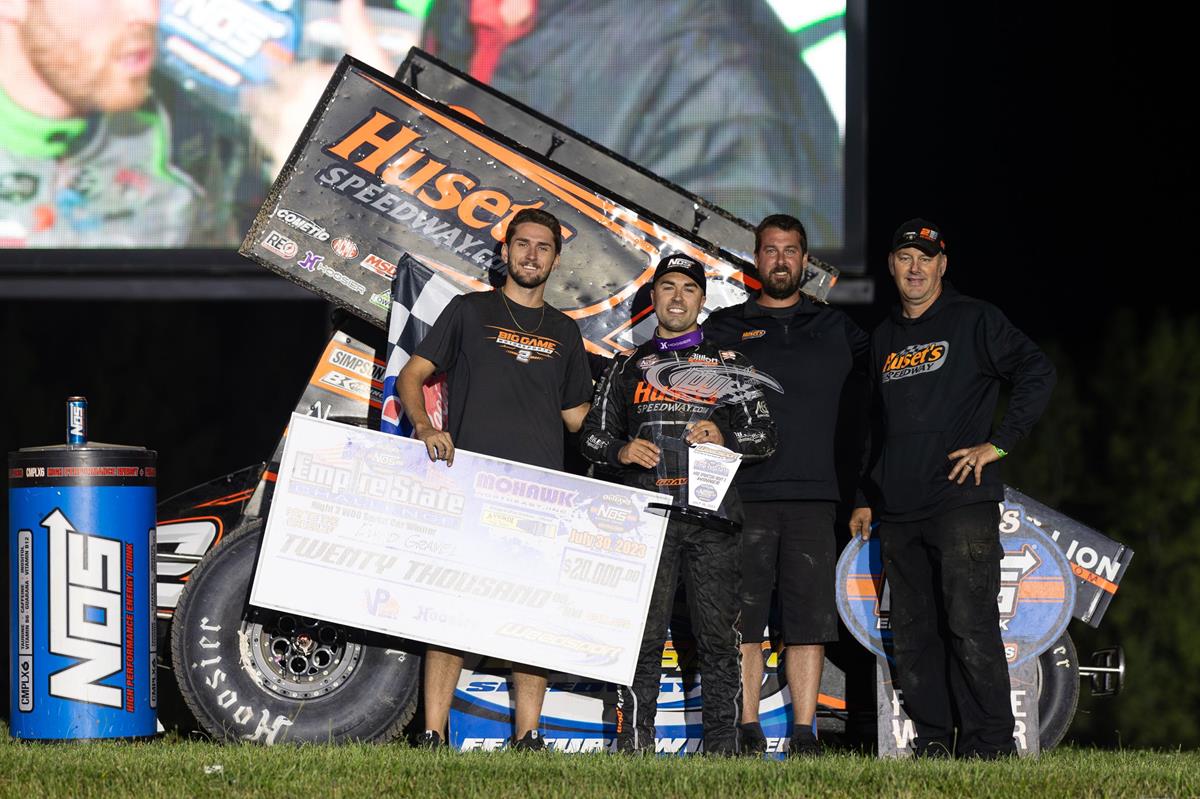 7/31/2023
Inside Line Promotions
---
Big Game Motorsports and Gravel Produce 10th Triumph of World of Outlaws Season
(Photo by Trent Gower Photography)
Inside Line Promotions – WEEDSPORT, N.Y. (July 31, 2023) – David Gravel and the Big Game Motorsports sprint car team reached double digits in the victory column on Sunday during the Empire State Challenge Weekend finale.
Gravel became the first World of Outlaws NOS Energy Drink Sprint Car Series driver to hit the 10-win mark this season and the triumph was his third career – all in the last four races – at Weedsport Speedway to tie him for the most wins in World of Outlaws history at the oval.
"I feel we've been hitting on all eight cylinders most of the year," he said. "We've been very competitive about every single event. I think we have a good thing going on. It was a good night overall and I'm happy to continue our success at Weedsport."
Saturday's opener rained out, setting up a one-night show at the unique track on Sunday. Gravel kicked off the program by timing in second quickest overall. He finished second in a heat race while battling a broken shock. Gravel then gained one position in the dash to end third, giving him the third starting spot in the A Main.
"The pill draw helped going out early in qualifying," he said. "In the heat race I felt good and I thought I did a good job through turns one and two, but I clipped the infield wall off turn two on exit. It bent the axle and broke the shock. We were lucky to hang onto second. Luckily we were at Weedsport and not Knoxville or Eldora because I wouldn't have been able to hang onto second. We probably wouldn't have won the race if we weren't in the dash."
Gravel used the bottom of the track to advance into second place on the opening lap of the feature and then the lead on Lap 3. He moved to the top and varied his lane choice between the extreme bottom and very top grooves throughout the remainder of the feature.
"We got to second quick and could relax there," he said. "I let everything play out and got the lead early in the race.
"I think both lanes were pretty equal. I think turns three and four the bottom was faster at the end of the race. It was so hard to run the bottom consistently and have a good pace. I think you're leaving the door open more if you run the bottom and miss it. I tried to hit the bottom every once in a while just to change it up and have the guy guessing behind me."
Next up is the famed Ironman 55 this Friday and Saturday at Federated Auto Parts Raceway at I-55 in Pevely, Mo.
"It's a race that I want to win," Gravel said. "Pevely can be rough or slick, take rubber or be heavy. It's an intense joint I feel I run really, really solid at, but just don't have that Ironman 55 win yet."
QUICK RESULTS –
July 30 – Weedsport Speedway in Weedsport, N.Y. – Qualifying: 2; Heat race: 2 (1); Dash: 3 (4); Feature: 1 (3).
SEASON STATS –
49 races, 10 wins, 37 top fives, 44 top 10s, 47 top 15s, 47 top 20s
UP NEXT –
Friday and Saturday at Federated Auto Parts Raceway at I-55 in Pevely, Mo., for the Ironman 55 with the World of Outlaws NOS Energy Drink Sprint Car Series
MEDIA LINKS –
Twitter: https://twitter.com/BigGameMotorspt
HUSET'S SPEEDWAY –
Huset's Speedway is a dirt oval located in Brandon, S.D. The track opened in 1954 and has undergone a large renovation within the last few years, making it a premier destination for both marquee racing events and weekly programs. For more information, visit http://www.HusetsSpeedway.com.
JACKSON MOTORPLEX –
Jackson Motorplex is a 4/10-mile dirt oval located in Jackson, Minn. It hosts special events from May through August, including races with the World of Outlaws NOS Energy Drink Sprint Car Series, Midwest Power Series, Midwest Sprint Touring Series and more. For more information, visit http://www.JacksonMotorplex.com.
TICKET LINK –
To purchase online tickets for events at either Huset's Speedway or at Jackson Motorplex, visit http://mpv.tickets.com/schedule/?agency=JKMV_PL_MPV&orgid=55369#/?view=list&includePackages=true.
INSIDE LINE PROMOTIONS –
Inside Line Promotions specializes in affordable public relations and media management for motor sports drivers, teams, sponsors, tracks, series, events, organizations and manufacturers. ILP Founder Shawn Miller leverages professional journalism with new media technologies and social networking to improve your exposure and the return on investment for your sponsors.
To meet the media relations needs of your program by joining Team ILP, contact Shawn at 541-510-3663 or Shawn@InsideLinePromotions.com. For more information on Inside Line Promotions, visit http://www.InsideLinePromotions.com.
---
Article Credit: Inside Line Promotions
Submitted By: Shawn Miller
Back to News