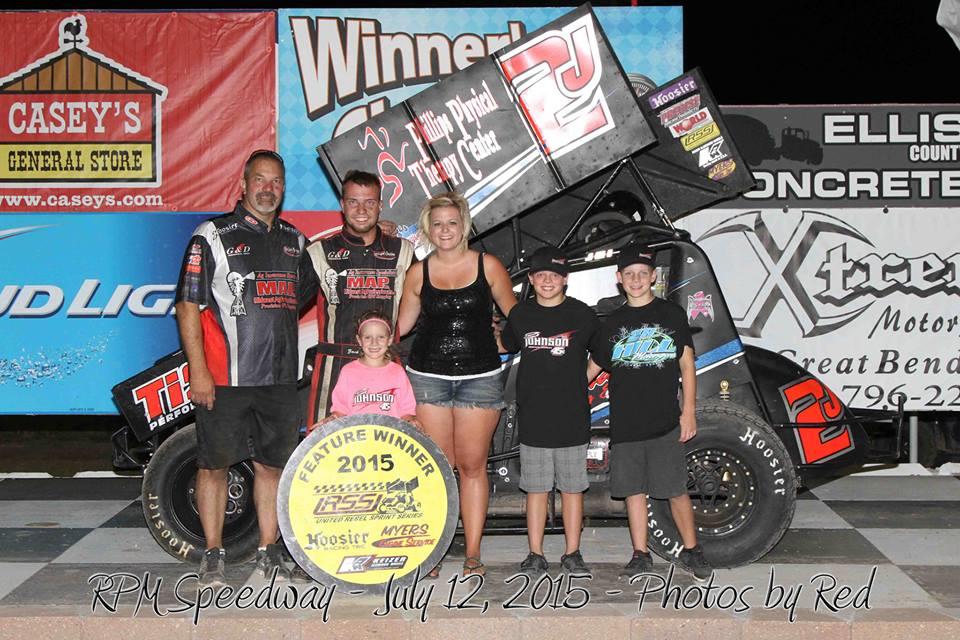 7/14/2015
Inside Line Promotions
---
Blurton Powers to Dramatic Wheatshocker Nationals Triumph at RPM Speedway
(Photo by Photos by Red)
Inside Line Promotions – HAYS, Kan. (July 14, 2015) – Zach Blurton captured his biggest and most exciting victory of his career last Sunday to cap the first weekend of the United Rebel Sprint Series National slate.
Blurton held on despite a brake issue on the final lap to claim the $2,000-to-win Wheatshocker Nationals finale on Sunday at RPM Speedway, which marked his fifth URSS National win and his 10th career sprint car victory.
"I'd say that was my biggest win and definitely the highest payout I've had," he said. "That definitely made it a good weekend."
The weekend began on Friday at WaKeeney Speedway in WaKeeney, Kan., where Blurton overcame a high pill draw to rally from eighth to third place during a heat race. That earned him a spot in the feature redraw, where he was handed the No. 4 during the revenge draw format to start the 30-lap feature on the outside of the second row.
"Right off the start we were into third place," he said. "I came out of turn two and fell back to fifth and then had to pass two cars to get back into third. Once we did that we were within two or three car lengths of the leaders the whole race. I wish we could have got into lapped traffic, but we had a few yellows."
Blurton finished with a third-place result.
"That was a good start to the weekend," he said. "With 30-plus cars from all around the area all three nights, to get a podium off the bat was good to build off."
The team ventured to RPM Speedway on Saturday for Night 1 of the Wheatshocker Nationals. Once again, Blurton maneuvered from the back of his heat – seventh – to place third in a heat race to garner a spot in the feature redraw. This time he was given the No. 8 to start on the outside of the fourth row.
"We really missed the setup in the feature," he said. "We totally missed it and went from being way too loose to way too tight when the track rubbered up. It was one of those races I couldn't wait to see the checkered flag."
Blurton ended 12th, which was his first time finishing outside the top 10 this season.
The weekend wrapped up on Sunday at RPM Speedway with Blurton driving from sixth to second place in a heat race. That made him the high-points driver and earned a spot in the feature redraw.
"Luke Cranston gave me the No. 2 pill so a big thanks to him," he said. "Starting on the front row I was able to get out in front with the open air. The car was working real good. We had like five cautions and that's tough because you never know where the second-place car is running. I was running the bottom, but to get it to stick to the bottom I was holding the brakes pretty good. On the last lap I went into turn three and had to use the brakes a lot to help hold me to the bottom. The brakes weren't there and the pedal went to the floor. I drifted off the bottom and missed my line. It ended up locking the left front wheel up coming off turn four. That allowed the second-place driver to get a run on me and I only won the race by like a foot and a half."
The thrilling win moved Blurton into third in the URSS National championship standings – only 18 points out of the lead.
He returns to URSS National competition this Saturday and Sunday at Dawson County Raceway in Lexington, Neb.
QUICK RESULTS –
July 10 – WaKeeney Speedway in WaKeeney, Kan. – Heat race: 3 (8); Feature: 3 (4).
July 11 – RPM Speedway in Hays, Kan. – Heat race: 2 (7); Feature: 12 (8).
July 12 – RPM Speedway in Hays, Kan. – Heat race: 2 (6); Feature: 1 (2).
SEASON STATS –
14 races, 2 wins, 8 top fives, 13 top 10s, 14 top 15s, 14 top 20s
UP NEXT –
Saturday and Sunday at Dawson County Raceway in Lexington, Neb., with the URSS National Series
MEDIA LINKS –
Website: http://www.ZachBlurton.com
Twitter: https://twitter.com/ZachBlurton
Facebook: https://www.facebook.com/ZachBlurtonRacing
APPAREL –
Visit Blurton's Facebook page at https://www.facebook.com/ZachBlurtonRacing for more information.
RACING OPPORTUNITIES –
Blurton, who earned 2013 Knoxville Raceway 360 Rookie of the Year and 2012 NCRA Rookie of the Year honors, is seeking additional racing opportunities and is willing to travel. To learn more information, contact Blurton at 620-393-5249 or ZachBlurton@gmail.com.
SPONSOR SPOTLIGHT – Phillips Chiropractic & Physical Therapy Center
Phillips Chiropractic & Physical Therapy Center, which is located in Dodge City, Kan., provides patients with the finest quality healthcare by utilizing the most modern technologies. The business strives to provide all of its patients with excellent customer service in a warm, friendly environment dedicated to delivering optimal health and wellness. For more information, visit http://www.PhillipsTherapy.net.
"James Phillips has been with me since 2011," Blurton said. "He's always supported us and I can't thank him enough. He's a big help and without him it'd be pretty hard to do it."
Blurton would also like to thank Midwest Ag Professionals Inc., Tornado Racing Engines, Park Liquor, Randy Patterson Welding, Outlaw Wings, Ti22 Performance, Salon 156, Rob's Fun Center and Rod End Supply for their continued support.
INSIDE LINE PROMOTIONS –
Inside Line Promotions specializes in affordable public relations and media management for motor sports drivers, teams, sponsors, tracks, series, events, organizations and manufacturers. ILP Founder Shawn Miller leverages professional journalism with new media technologies and social networking to improve your exposure and the return on investment for your sponsors.
To meet the media relations needs of your program by joining Team ILP, contact Shawn at 541-510-3663 or Shawn@InsideLinePromotions.com. For more information on Inside Line Promotions, visit http://www.InsideLinePromotions.com.
---
Article Credit: Inside Line Promotions
Submitted By: Shawn Miller
Back to News