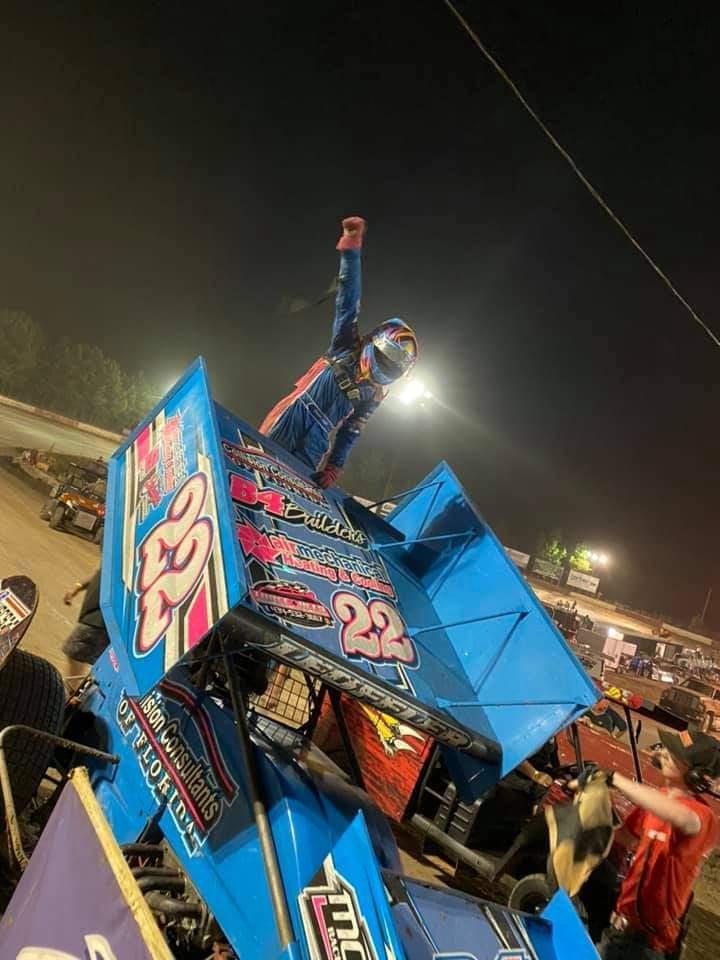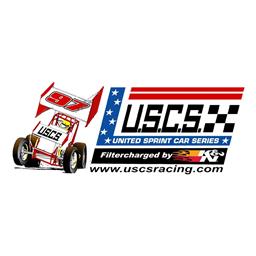 8/29/2020
USCS United Speed Contest Sanction
---
Leoffler strikes again at Senoia on Saturday at Senoia Raceway
Senoia, GA - August 29, 2020 - Phenominal 15-year-old USCS Rookie of the Year point's leader, Connor Leoffler made a deterined and daring last-lap pass of race-leader, Kyle Amerson and second place running Justin Barger down the bach stretch on the final lap of the 30-lap USCS Outlaw Thunder Tour main event at Senoia Raceway on Saturday night to race into the www.RockAuto.com USCS Victory Lane for the second time this weekend at Senoia Raceway on Saturday night.
Barger raced under the checkers in second place and Amerson was third.
Mark Ruel, Jr. recovered from an early race spin to finish fourth and veteran racer Danny Smith rounded out the top five.
Terry Gray won the Hoosier Speed Dash. Amerson won the Engler first heat and Mark Ruel, Jr. won the BMRS second heat. Leoffler was also the race's Wilwood Disc Brakes Hard Charger after starting 6th.
USCS Outlaw Thunder Tour presented by K&N Filters winged sprint car results for 8/29/2020 at New Senoia Raceway - Senoia, GA
USCS Outlaw Thunder Tour Sprint Cars had 17 Entries
USCS Hoosier Speed Dash 6 Laps
10-Terry Gray[1]; 2. 4-Danny Smith[3]; 3. 22-Connor Leoffler[4]; 4. 49-Mallie Shuster[2]; 5. 83-Mark Ruel Jr[6]; 6. 28-Jeff Willingham[5]
Engler Machine & Tool Heat 1 10 Laps
29-Kyle Amerson[1]; 2. 23-Lance Moss[3]; 3. 22-Connor Leoffler[4]; 4. 10-Terry Gray[5]; 5. 5-Justin Barger[7]; 6. 49-Mallie Shuster[8]; 7. 5K-Jake Karklin[6]; 8. 67T-Brian Thomas[9]; 9. 15-Danny Burke[2]
Brown & Miller Racing Heat 2 10 Laps
83-Mark Ruel Jr[2]; 2. 4-Danny Smith[4]; 3. 20C-Matt Kurtz[7]; 4. 9-Danny Oliver[6]; 5. 28-Jeff Willingham[5]; 6. 92-AJ Maddox[3]; 7. 20-Jim Shuster[1]; 8. 33-Joe Larkin[8]
USCS A-Feature 30 Laps
22-Connor Leoffler[6]; 2. 5-Justin Barger[9]; 3. 29-Kyle Amerson[1]; 4. 83-Mark Ruel Jr[3]; 5. 4-Danny Smith[2]; 6. 20C-Matt Kurtz[4]; 7. 23-Lance Moss[5]; 8. 10-Terry Gray[8]; 9. 9-Danny Oliver[7]; 10. 49-Mallie Shuster[10]; 11. 28-Jeff Willingham[11]; 12. 20-Jim Shuster[16]; 13. 67T-Brian Thomas[14]; 14. 33-Joe Larkin[15]; 15. 15-Danny Burke[17]; 16. (DNF) 5K-Jake Karklin[13]; 17. (DNF) 92-AJ Maddox[12]
Photo Caption: Young gun Conner Leoffler got his 2nd USCS Outlaw Thunder Tour victory of the weekend at Senoia Raceway on Saturday night. (USCS photo)
---
Article Credit: Pete Walton
Back to News